Time is a funny thing. It's been 9 weeks and 5 days since my last day in the office, which somehow sounds a lot longer when phrased as almost two and a half months, and even longer when you put it at one-sixth of a year. No matter how many times I look it up by scrolling back in my message history, the date - March 10th, 2020 - refuses to stick in my mind. Maybe I'm better off not remembering, because the precise length of time I've been sheltering in place isn't itself going to have an impact on anything. We will re-open when it's safe to do so — in San Francisco, I'm slightly more confident about that fact than I am for so many other parts of this country — and until then, this is the normal I have to grapple with.
Early on in shelter-in-place Sam and I went on a few walks up the hill near our apartment. It was before the advice came out that we should be wearing masks and instead I remember being hyper-focused on not touching anything, especially my face, on scrubbing my hands raw when I came home and worrying about what to do about my clothes. People were distancing but not always consistently, some fellow walkers and runners breaking your six-foot imaginary bubble to rush by instead of waiting for an opening. The anxiety of being outdoors quickly overtook the stress relief of walking up to beautiful views of the San Francisco skyline, and until this weekend, I hadn't been outside of our neighbourhood for a non-grocery reason in over two months.
Then San Francisco lifted their rule that you could only exercise within walking distance of your house, and on Saturday we drove down the Bay to one of the trails that's still open. The weather was hot and sunny and it quickly became apparent the fact that any fitness gains I'd made in the early part of the year have totally vanished. But being outside, alone but for the occasional fellow hiker (for which we kept masks at the ready) was blissful.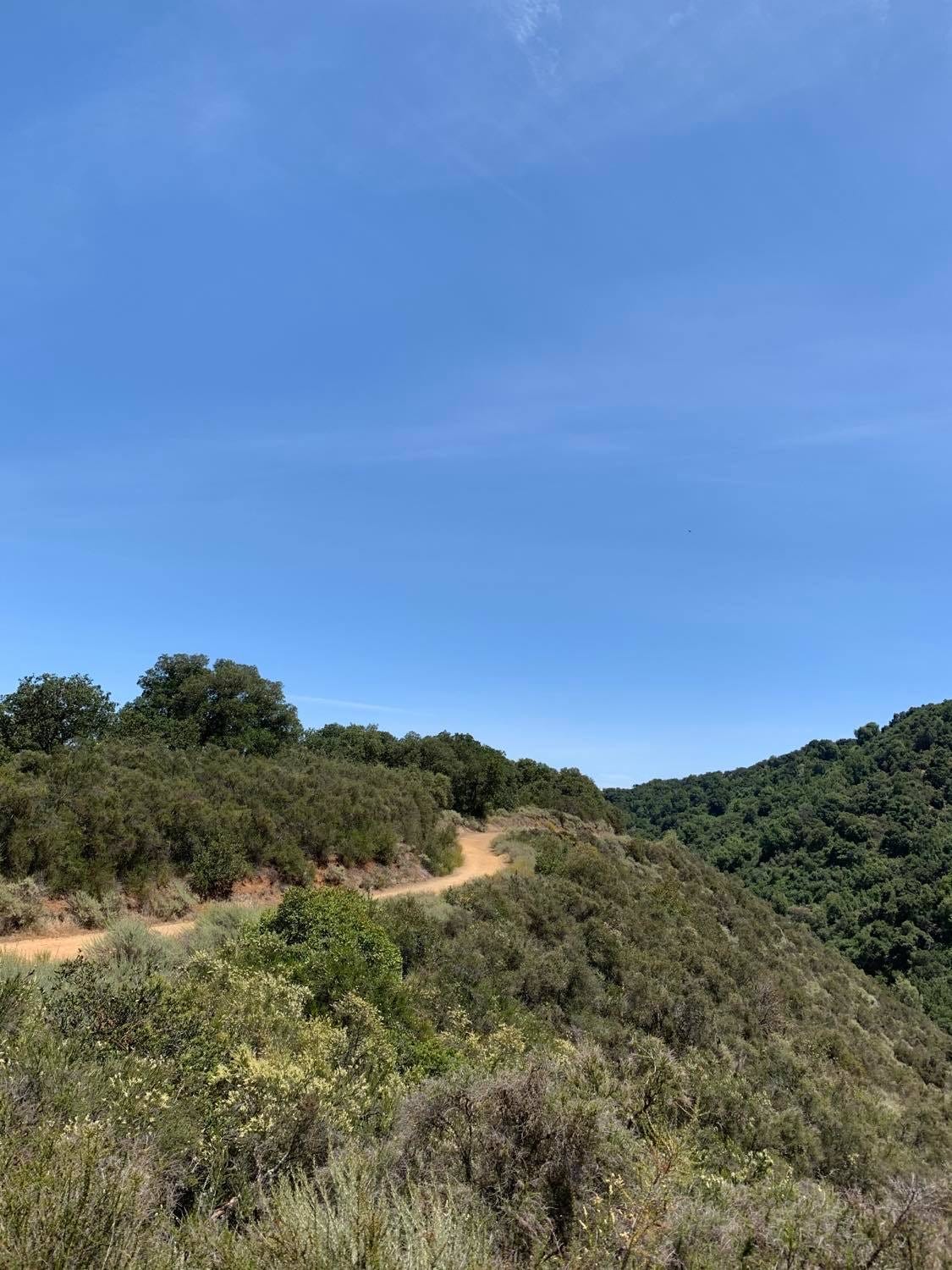 And call it an exercise high, but I woke up this morning feeling immensely grateful - for the fact that we have a car and can do these getaways, that we live in a part of the world that's incredibly beautiful, that I have a good job and technology that lets me stay in touch with my far-flung family. And later, for the fact that I got to say a distanced hi to not one but two friends at the farmer's market today, that I was able to pick up a good latte and that it still tasted wonderful even when hastily transferred to a clean mug - though having only had coffee brewed in our (admittedly very nice) coffee machine since shelter in place began, any kind of espresso drink would have been a wonderful change of pace.
And truly, I don't know how much worse a mood I'd be in all the time if my work didn't feel even more directly relevant and impactful than usual. Over the past few weeks I've gotten to help out a few friends with insurance questions and I feel deeply lucky that all this knowledge rattling around my head is useful to people I love. And of course, getting to work along stellar people I count as friends and mentors doesn't hurt.
This period of sheltering in place may last, in some form or another, for a very long time. But regardless of how long it takes to get back to some semblance of normal - to see our loved ones, hug them, travel long distances and plan large gatherings - we will get there. And in the grand scheme of things, these inconveniences I'm feeling - having to see friends and family on video chats rather than in person, putting a pause on wedding planning, having to cancel vacations - pale in comparison to the privileges I have that make this time bearable.
That doesn't mean things aren't hard sometimes — my sleep schedule is a mess, and not knowing when I'll get to see my family again weighs on me constantly. But I'm trying to focus on the things I can control (charging my phone away from my bed, wearing my earplugs, and scheduling lots of video chats) rather than the things that I have no say in (when it will be safe and even possible to travel internationally.)
Anyway! You're here for the food, so let's get out of my feelings and into that.
---
One of the silver linings of this whole period has been getting to experiment with new recipes that I'd previously not had the time or ingredients or motivation-via-lack-of-eating-out to dive into. And then a few weeks ago, Sam asked me why so few of the new recipes I was trying were Turkish.
It's a fair question. I stopped living in Turkey full time when I was nine and haven't spent more than a couple of weeks at home since I really got interested in cooking. There's also the fact the collection of handwritten recipes I've acquired from loved ones tend to have measurements that are half-guesses, or given in amounts like "one finger's width less than half a tea glass." For a person who's come to love precise, well tested recipes that turn out exactly right every time, it's intimidating. How do you learn to cook by instinct when there's nobody to guide you and no way to compare the products of your instinct to the real deal?
But given that my grandparents gave me a wonderful Turkish cookbook formulated with UK/US weights and ingredients last year and the fact that I'm not cooking for guests any time soon, I was really out of excuses. So when I saw Romano beans as an option in my farmer's market box last week, I jumped on them.
I'm not sure if these are actually the kind of beans we use back home, but they looked close enough and when I snuck a few bites of the raw cut beans they tasted familiar, so I went ahead and braised them with tomatoes and onion and garlic until most of them were tender. I'm not sure why some of them stayed crispy, but I may not have snapped enough of the ends off. A lesson for next time! But at least the flavor was right.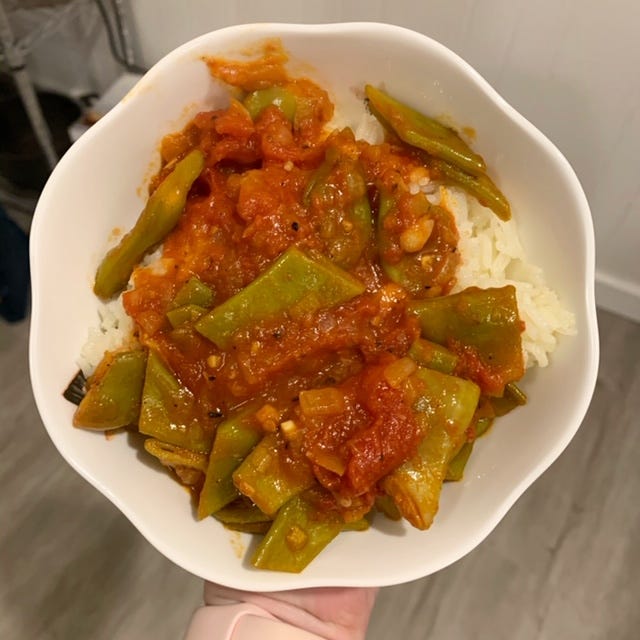 My attempt at rice was more successful. My favorite Turkish method of preparing rice usually involves first frying tiny strands of spaghetti in olive oil and butter, but I did not have tiny pieces of spaghetti nor angel hair pasta to break up to approximate them, so I skipped straight to sautéeing the grains of rice until translucent before adding a ton of chicken stock. You then simmer it until all the liquid is absorbed and let it hang out off heat with some paper towels underneath the lid to absorb the steam, and fluff it up before serving. It was good with the beans, but I admit to eating a few bowlfuls as is, just like I did as a kid.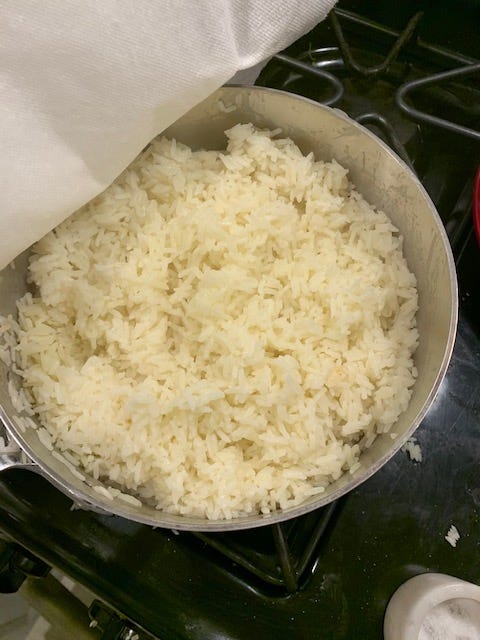 Later in the week, I used up some rapidly aging carrots and long-forgotten lentils in a red lentil soup, one of our go-to meals growing up. There's also apparently a diced potato in there, which I'd forgotten about, and of course the requisite onion and a full head of garlic (my kind of recipe!) When it's cooked through, you blend the whole thing until smooth and thick. We always ate it with cheese toasties, which probably isn't particularly traditional, but it's traditional to me, so I made a decidedly hip version with homemade sourdough and gruyere and it hit the spot.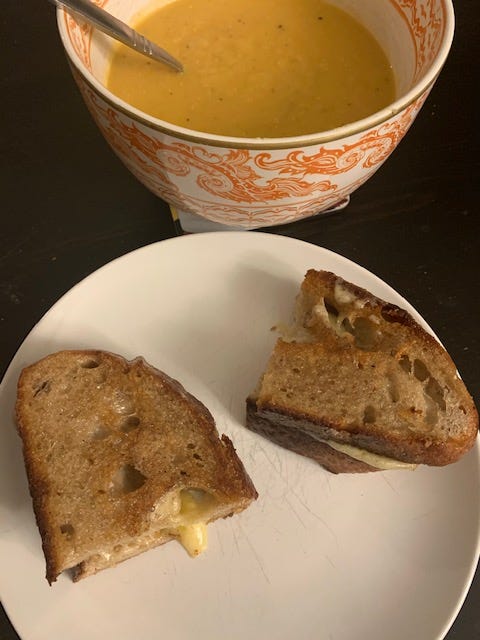 Lest you think our whole week was eating beans and lentils, may I remind you of that 2.5lb ribeye I bought last week? I ended up salting it and letting it hang out in the fridge for a full forty-eight hours, and then reverse searing it.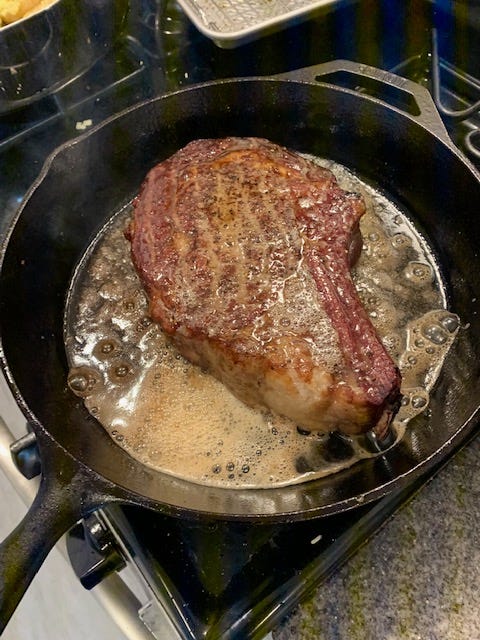 We served it with crispy smashed potatoes, of course, and I was all excited to use what I thought was a jar of Aleppo pepper but later discovered was Sumac. (I should have known when it wasn't particularly spicy, but hey, it still tasted good.) We served the whole thing with big, lemony arugula and herb salad, which was the perfect foil to its fatty, rich companions on the plate.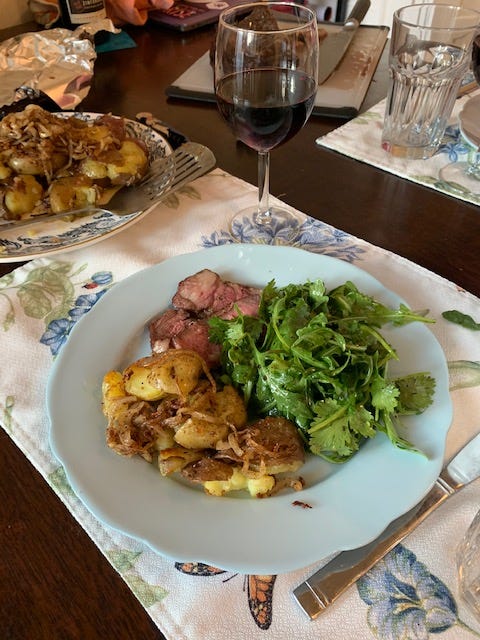 There are fewer recipes highlighted here this week because honestly, I didn't do as much cooking as I normally do. We ate lots of boxed pasta with Kirkland pesto and random bowls of lightly dressed yu choy and a Trader Joe's frozen Künefe, a Turkish phyllo and cheese dessert (pictured below) which sounds weird but is generally delicious -the TJs version was fine but nothing special. And on Friday night, we ordered in from Mission Chinese, our number one takeout spot that had been closed due to the pandemic until fairly recently.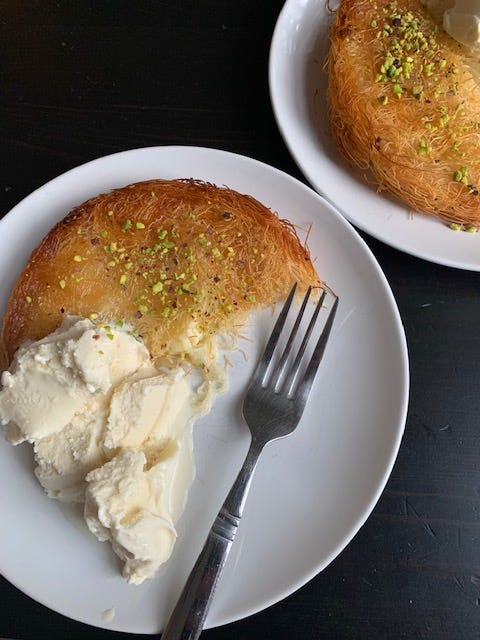 It's 6pm as I write this and I still haven't finished processing my produce from the farmer's market this morning, mostly because I was waylaid by too-warm butter when I went to make biscuits this morning and had to stick it in the freezer and wait before I started making brunch. But I've finally gotten my hands on red shiso, plus mustard greens and more Chinese cauliflower and basil and some battered but fragrant strawberries. Root Down Farm is still out of pork but I managed to acquire another petite whole chicken plus two chicken legs and thighs - I'm thinking it's time for another batch of adobo. And thankfully, my next Ballerina Farm pork and beef box is set to ship soon - I can't wait to see what's inside.
---
That's all for now, folks. See you next week! And in the meantime, you can find me on Instagram or Twitter.