Celebrating the small wins
Plus: mastering chicken, and health coverage options if you're lost your job
We're almost through March. How's everybody doing? 
Personally, I've had a rough week. This was week three of work from home & isolation for me, and the cracks are starting to show. Most days this week, I didn't exercise. My sleep schedule's off. I'm grumpy and snappish and nowhere near the best version of myself.  
So I'm trying to lean on a wonderful piece of advice I got during my sophomore year of college. Just after I walked on to the lightweight women's crew team, I had the opportunity to meet a number of rowers from the legendary US Women's Olympic squad. One of them (I'm ~80% sure it was Adrienne Martelli) told me: celebrate your smallest wins like they're great accomplishments. 
That's really important when you're signing up for a pretty brutal sport with literally zero baseline fitness, but it's also important now when all of our bandwidth has been sucked up by this horrible pandemic and its effects on us and our loved ones. So I'm trying to tell myself: just finish the metaphorical workout. Survive. Be kind to yourself even when you're not "making the most of things" or "using this time wisely."  
My small wins this week: I finally tried on and mailed back a StitchFix order that had been sitting in my room for weeks. I cooked chicken (which I NEVER do) twice and it was a success both times. I used up the sad broccoli in my crisper before it hit the point of no return. And I haven't yet killed my sourdough starter.  
---
So: let's take a moment to talk about chicken. If you've followed my food adventures for any length of times, you'll notice that I almost never make it. I keep a log of all the new recipes I try and in 2019, I tried precisely one new chicken recipe: Alison Roman's roast chicken with anchovy butter croutons. (It was good.) In 2018, I tried zero chicken recipes. There was a period of time in 2017 when I regularly made Kenji's 5-ingredient fried chicken sandwich, which is extremely good, but one time I felt I had undercooked the chicken and had a minor panic about poisoning my guests, and then never made it again.
I am pretty sure this stems from the fact that back in high school, my beloved cooking teacher continually drilled into us the importance of safely handling and thoroughly cooking raw chicken. Every time we cooked with it, we had to wipe down everything with Dettol, a very distinctive-smelling British brand of antiseptic.
This was a smart thing to teach a bunch of irresponsible thirteen year olds. But as a result, I have a deep-set fear of screwing up and giving myself food poisoning, a fear that is only slightly allayed by the fact that I own a good meat thermometer.
I haven't really noticed the absence of chicken in my life because honestly, it's not my favorite, and we very rarely cook any meat except sausages at home. Sometimes we'll buy a steak for a special occasion, but our dinner diet is approximately 80% legumes.
That wasn't going to fly given we are stuck home for the foreseeable future with few outside meals in sight. So when Sam went grocery shopping this week, I asked him to pick up a packet of bone-in, skin-on chicken thighs.
My first order of business was trying Molly Baz's one-pot gingery chicken and rice, which calls for starting your chicken skin-side down in a cold pan and promises it will eventually release once the chicken skin crisps up. I managed to make this happen for 1 of 2 chicken thighs, which honestly, felt like a success. You then add aromatics and rice and cook the whole thing covered and on low heat until the rice is done and the chicken is cooked through.
The thigh meat was far short of perfectly tender, but the rice was super flavorful and the peanut sauce excellent. I've chalked the imperfect meat up to inexperience, and would definitely try this again.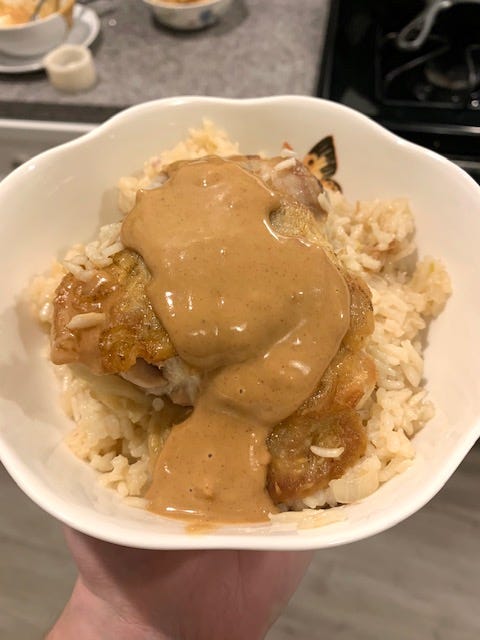 Emboldened, I decided to use up the remaining chicken thighs the following night and try a recipe I've had saved for months: Sho Spaeth's Filipino-Style chicken adobo. This recipe calls for putting the chicken thighs skin side down into hot oil. That, or perhaps the fact that I was instructed by a friend to not be afraid to crank up the heat, meant that the thighs released perfectly! Success!
The rest of the recipe is dead simple - you make a kind of braising liquid flavored with bay leaves, peppercorns, and copious amounts of garlic, and while the chicken is cooking through, prepare a side of garlic fried rice to serve it with. This tasted extremely good and was enough to make me add more chicken to my grocery list. So maybe my chicken dry spell is finally over??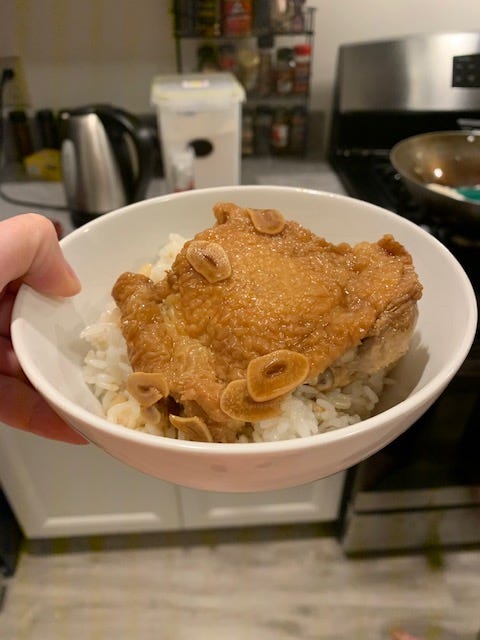 Lest you think all I've eaten this week is chicken, I'd like to assure you that I kicked the week off with chickpeas. Specifically, Alison Roman's frizzled chickpeas and onions with feta and marjoram from Nothing Fancy. This dish has two of my favorite components (read: fried chicken, fried onions) and the feta and marjoram both cut through the oil to make this taste a lot lighter. Do not skimp on the feta! Maybe even double the feta.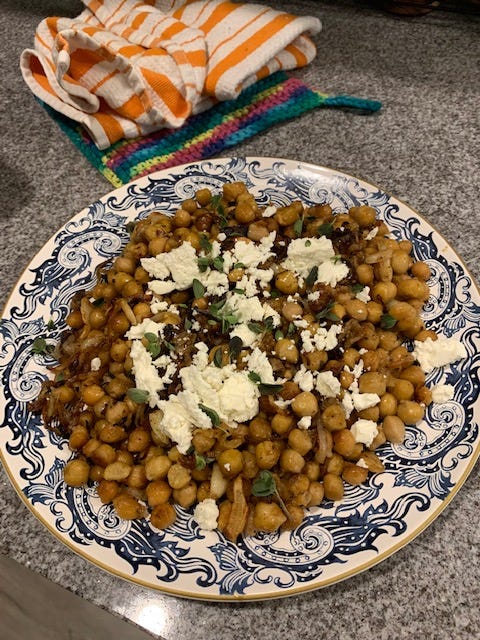 This week I also tried two recipes I've had pinned for ever. The first is Marcella Hazan's 3-ingredient tomato sauce, which has acquired cult status among internet foodies. It could not be easier: you combine a can of tomatoes, an onion, and a hunk of butter in a saucepan, and simmer it for forty-five minutes. It was easy enough that I could make it day-of for lunch, taking a few minutes between work tasks to prep it and occasionally stir.
The effort to outcome ratio here is spectacular, but at the end of the day, it's a basic tomato sauce. I rarely eat a tomato sauce these days without anchovies or meat or at least red pepper flakes, and honestly have never been the biggest marinara fan. This probably won't be a go-to dinner for me, but if you like straightforward tomato sauce, you should try it.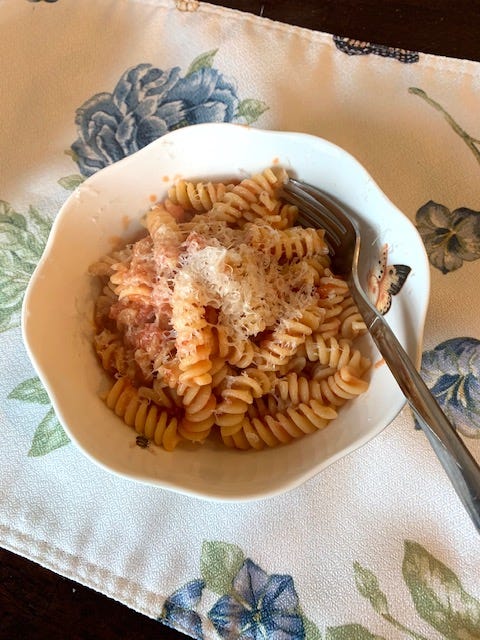 The second long-saved recipe I tried was Roberto, a soup with a human name that has also developed cult status amongst the many fans of food writer Helen Rosner, one of my favorite people on the internet. It's likewise extremely straightforward: cook diced onions, brown sausage, add a can of tomatoes, a can of beans (I used chickpeas) and a mountain of thinly sliced kale. The secret here is a ton of grated parmesan that melds directly into the soup, giving it a salty, savory edge. It was pure comfort food.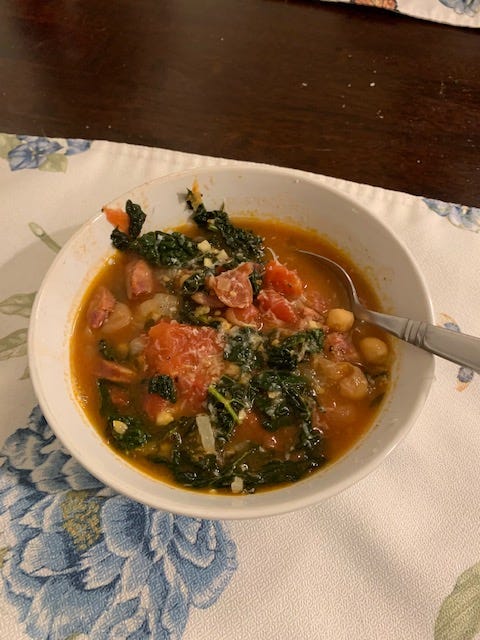 I picked up two green plantains on a whim during my previous grocery run, and it paid off this morning, because I made tostones. These are smashed and twice-fried green plantains, and they are crunchy and salty and addictive. I used Carla Lalli Music's recipe but alas, did not have cilantro and could not make her green dipping sauce, which is excellent. We served them alongside Sam's excellent cheesy scrambled eggs on toast instead.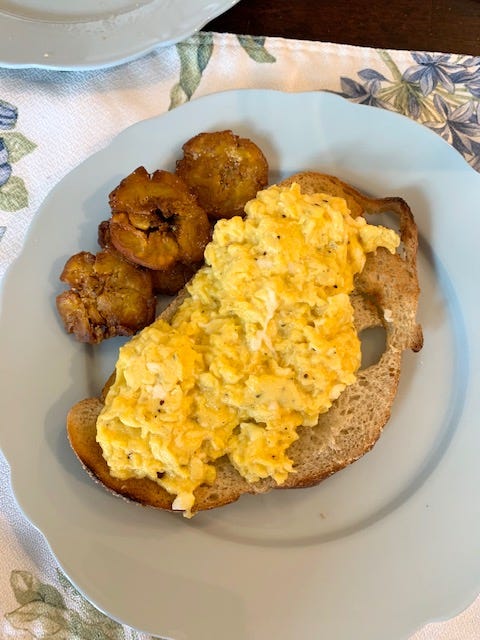 As I write this, I've got two Ballerina Farm pork chops dry brining in the fridge. They're thin (1" thick) so I'm probably just going to pan-sear them and serve them with Alison Roman's crisp smashed potatoes with fried onions, once of my favorite recipes ever. I've got a pound of ground beef defrosting that I think we'll turn into Bon Appétit's Best Bolognese. (Maybe I'll even make fresh pasta to go with it!) And if I'm super ambitious, I might give Sho's homemade ramen noodles a try. I've got my eye on his bacon & egg mazemen, and Alison's ground pork noodle soup.
Check in next week to see if I live up to any of these lofty promises, or follow along on Instagram for the play by play. (And I've got to say, all the kind notes from friends who've made dishes after seeing me make them or just generally seem to like my cooking content is a giant bright spot in this terrible time. Thank you all!)
---
No new books this week, but my SF Public Library digital holds are blowing up (is everybody ploughing through their reading list and shrinking the wait times?) so I'm probably going to have to pry myself away from comfort reading (I'm now up to Broken) and try something new soon.
Specifically, my choices are The Art of Gathering by Priya Parker, How to Hide an Empire by Daniel Immerwahr, Djinn Patrol on the Purple Line by Deepa Anappara, Lost Connections by Johann Hari, Such a Fun Age by Kiley Reid, and Fight of the Century, edited by Michael Chabon and Ayelet Waldman. If you've loved one of these and think I should read it first, let me know!
We continue to plough through Buffy the Vampire slayer (just made it through Season 3!) but otherwise, I've been spending my downtime channeling my 9-year-old self and playing Pokémon Sword. There's something to be said for nostalgia in times of crisis!
---
Last week I promised you thoughts on the Affordable Care Act's 10th Anniversary for this week's health policy section. And you'll get them, sort of - but I felt it would be more useful to talk about this through the lens of the current crisis we're going through.
3.3 million people filed for unemployment during the week ending March 21st. That is, of course, a direct result of the shutdowns related to COVID19. I'm not an economist, so I won't try to speak to the likelihood that some of those layoffs are temporary and people will get hired back. But given that about half of Americans get their health insurance through an employer, it's likely that many of those people will find themselves losing their health insurance.
The ACA provides for this in two main ways:
Medicaid expansion

Subsidized individual health insurance through the healthcare Marketplace(s)
Let's start with Medicaid expansion. Long story short, before the ACA, state Medicaid programs mostly covered low-income people who also met specific criteria - like children, parents of minor children, and people who were pregnant or disabled.
The ACA mandated that states should expand the program to cover anybody who made under 138% of the federal poverty level - about $1,400 per month today. The Supreme Court eventually ruled that states couldn't be forced to expand Medicaid, but over the years, most of them have. In the few that remain, you can only enroll in Medicaid if you're in one of those original eligibility groups and also meet varying income thresholds. (For low-income parents in particular, that's incredibly tough, with income limits often well below $1,000/month.)
Moving on to point 2. The ACA also created federal subsidies that people between certain income thresholds can use to buy private, individual health coverage through the Federal health insurance Marketplace (i.e. Healthcare.gov) or through state Marketplaces, like New York State of Health or Massachusetts Health Connector.
You get these subsidies if your annual income is between 100% and 400% of the Federal Poverty Level ($12,490- $49,960 for a single person) and you don't qualify for other coverage, for example, through Medicaid, or your employer. Most people do qualify, and many can find a health insurance plan that costs less than $50/month.
So what happens if you lose your job and with it, your employer coverage? Usually, you'll be offered the opportunity to continue your employer coverage through COBRA. The catch is that back when you were employed, your employer probably paid somewhere between 70% and all of your healthcare premium. If you elect COBRA continuation coverage, you have to pay the full price, which averages around $600/month.
That's obviously not feasible for most people. Luckily, you have 60 days from when your employer coverage ends to shop for a plan on the health insurance Marketplace. If you qualify for a subsidy, this could be a lot cheaper than COBRA, so it's always worth checking.
You might also qualify for Medicaid, if you're in a state that expanded the program or are in one of those special eligibility groups. This is true even if your annual income is way above the limit, because Medicaid eligibility is determined based on monthly income. So if you lose all of your income, that's a good option to check out.
Here's the catch: if you're in a state that didn't expand Medicaid, you're not in one of those special eligibility groups, and you make less than 100% of the federal poverty level, you're out of luck. You don't qualify for Medicaid, and you can't get a subsidy. Your options are basically to buy a full-price Marketplace plan (not an option for most) or to try and get free or sliding scale care from a community health center.
This is called the "Medicaid Gap" and the Kaiser Family Foundation estimates that more than 2 million people fall into it. Encountering folks in this position is one of the single toughest parts of working in this space.
That's a good place to pause and say: The ACA definitely isn't perfect. There are holes that need to be patched. If you make more than 400% of the poverty level, the options available to you are likely really expensive. The list goes on.
But. The fact that most Americans who are laid off during this crisis will have access to quality health coverage that will cover their essential health needs is no small thing. The fact that folks with pre-existing conditions - myself included! - can't be denied care or charged more for it is no small thing. And that safety net is going to be critical in the coming months.
I feel deeply lucky that my day job involves helping people navigate this complicated landscape and get access to the care they need. It's pretty much the only thing keeping me going. So if you have questions about health insurance or need help figuring out your situation, please don't hesitate to reach out.
---
That's all for now, folks! If you have feedback, recipe suggestions, book recommendations, etc, comment here, or DM me on Twitter or Instagram. Otherwise, see you next week!