Clinging on to healthy momentum
Plus, Open Enrollment is here, and I'm obsessed with eggplant and persimmons.
When I first sat down to start writing this installment, there were two weeks until Open Enrollment. Somehow, I never got around to finishing it, and suddenly, it's November 1st!
Over the next six weeks, millions of people will enroll in coverage through federal and state exchanges created by the ACA; most of them will qualify for subsidies and all will end up with coverage that includes key consumer protections, like limits on annual spending, pre-existing condition protections, and coverage for essential services like maternity care and prescription drug coverage.
So, if you're in the market for coverage, here are some things to remember:
If you're curious about the business side of the ACA (and particularly why it's so important to shop only at trusted sources) I recently had the privilege of being interviewed by Nikhil Krishnan for his excellent newsletter. Give the interview a read and let me know what you think! I'd also highly recommend subscribing to Out of Pocket - it's one of my favorite sources of smart healthcare writing.
---
It's been a month since we got home to San Francisco, and despite the hectic time of year, I'm actually doing OK. I'm mostly sticking to my morning routine of waking up at 6am, doing a little yoga, reading a little — currently from Thanks for the Feedback, which is very good — and then clocking in to work by 7:30. I'm eating relatively healthily, managing to get in some kind of deliberate physical activity most days, getting roughly enough sleep. Nice, right?
The truth is, the strict routine is the only thing keeping me together. If I skip yoga, my neck starts to ache and my old lower back pain creeps back. If don't get enough sleep, my mood tanks. If I don't eat my vegetables, my stomach complains. When I don't work out, I have more trouble staying asleep at night. It's all a frustratingly interconnected set of dominos, and when one tips the whole thing comes crashing down.
Earlier this year I did the trendy thing and read Atomic Habits by James Clear, and found it surprisingly pragmatic. I subscribe to his newsletter now and a recent edition urged me to think: Where do I have healthy momentum right now? Where do I have unhealthy momentum? And that's been bopping around my head this week; just try to keep up the healthy momentum and tamp down the unhealthy momentum. Every day is salvageable in the tiniest of ways.
Often, that tiny spark of healthy momentum is taking the time to feed myself something that's delicious and relatively healthy. My toolkit for doing so has now expanded massively, thanks to a months-overdue trip to 99 Ranch in which I bought an absurd number of condiments, and an accompanying trip to Costco which yielded such exciting finds as lamb loin chops and an enormous vacuum pack of very fresh oxtails.
I used the latter to make Chinese braised oxtail and unlike the first time I tried this recipe, I kept these at a healthier simmer for the full three hours and the results were awesome: fatty meat absolutely falling off the bone, rich and savory. I'm hoping I can find some again soon, as I've now got a backlog of oxtail recipes, including Jamaican oxtails with butter beans, and an oxtail soup from Simple Thai Food.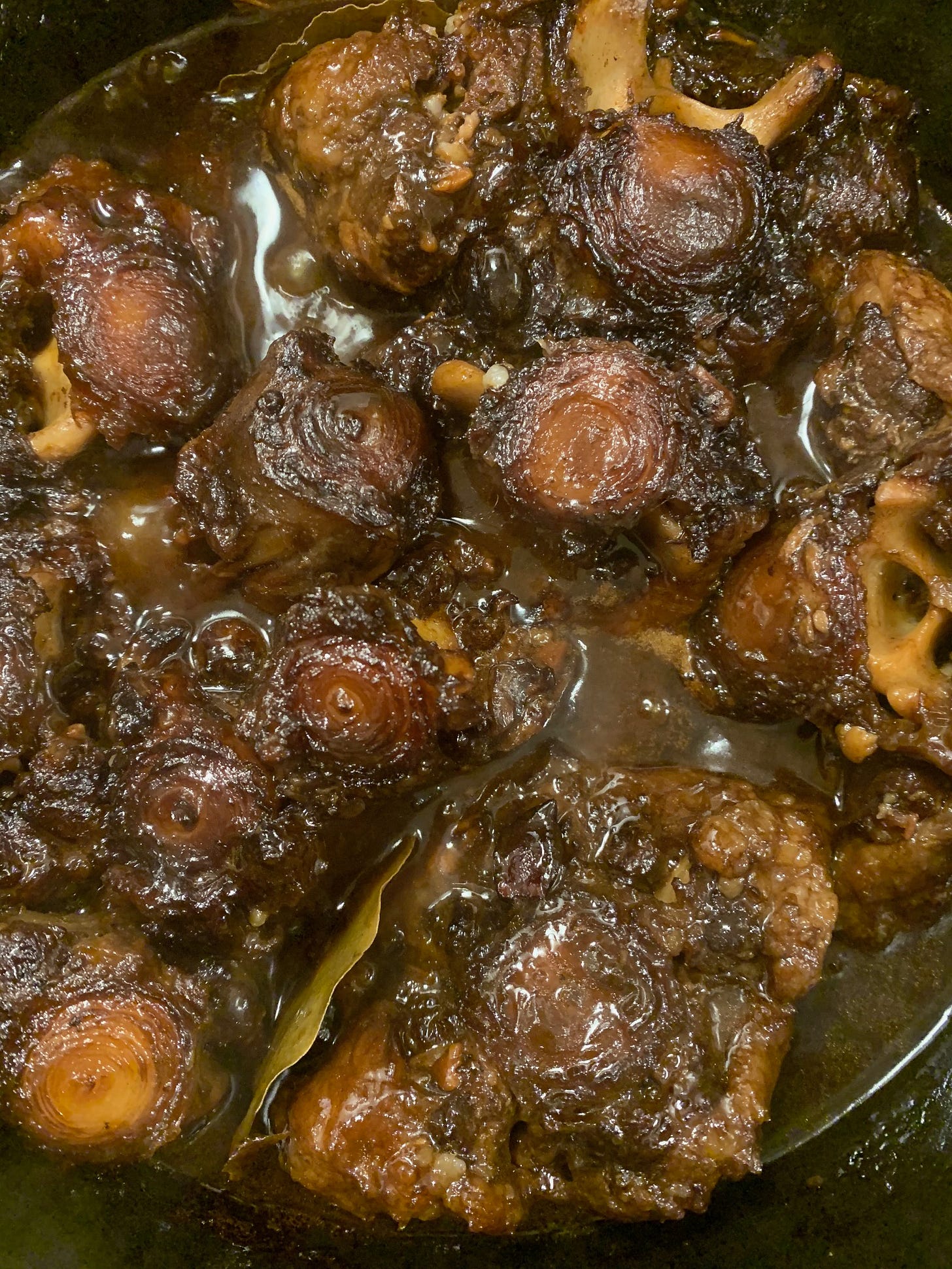 I feel extremely lucky to live here in California, where the produce is unbelievable, and particularly lucky that it's now persimmon season. The first time I had one was back in 2013, when I was doing a Portuguese immersion course in Rio for the summer. One day my wonderful host mom, Mei, brought out a bowl of what looked like tomatoes for dessert, and thus began a new obsession.
I love sweet fuyus just eaten as is, and Sam's dad makes an excellent persimmon pudding out of hachiyas left to get completely soft on the countertop, but my favorite persimmon preparation to date is hoshigaki, a Japanese method of slowly drying persimmons and massaging them such that you get left with sweet, dense dried fruit. I have tried this only once, on a family vacation to Japan two years ago, but it was one of my most memorable food experiences of the trip, which is really saying something. (If you're interested in persimmon varieties, check out this great recent piece from Serious Eats.)
I've currently got three enormous, beautiful hachiyas rapidly ripening on my kitchen table right now, and my fridge is full of fresh herbs and cauliflower and a huge quantity of zucchini, but most importantly, several varieties of eggplant.
The first are Chinese eggplants, which have become my preferred variety for most of the cooking I do (I prefer their texture to the bigger rounder ones.) The second are pea eggplants, which are teeny tiny and would win a contest for cutest vegetable hands down. They're apparently often pickled or used in curries and thanks to my copy of Simple Thai Food, I was able to make from-scratch green curry paste and then homemade curry with them earlier this week, and it was awesome. This week I also picked up slightly larger, round Thai eggplants which I'm excited to try.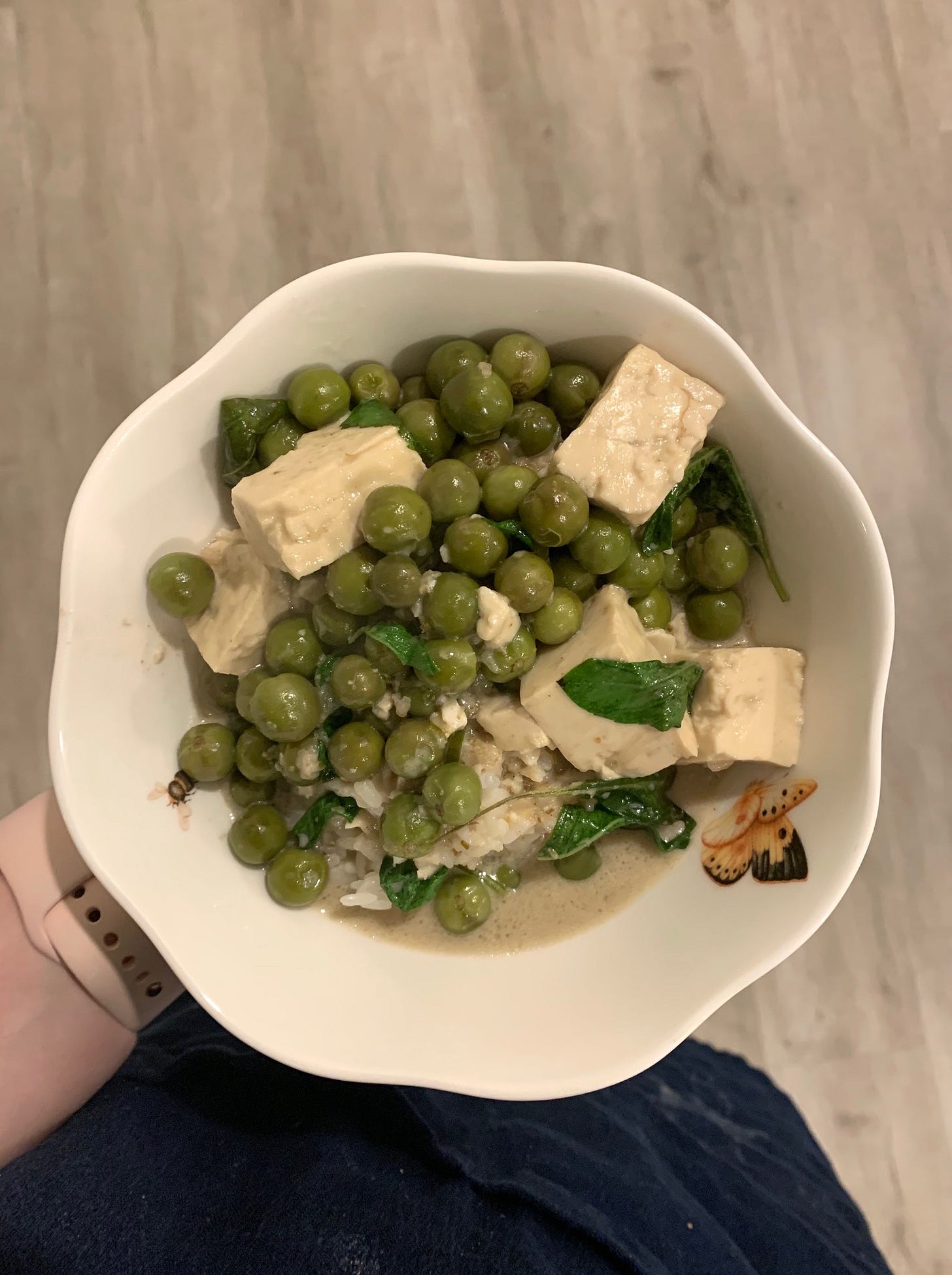 I've been cooking so much eggplant lately that a friend of mine asked me whether I was getting excessive quantities of eggplant in a CSA or just really really loved them, and friends, it's the latter. It's ironic, because eggplant was something I truly did not enjoy as a kid, with perhaps the sole exception of börek stuffed with eggplant and ground beef, where it wasn't particularly noticeable. How times have changed! Now I feel incomplete without at least two in my crisper drawer, and constantly bemoan my naive younger self who squandered the years she spent living in Turkey by not eating as much eggplant as humanly possible.
Since the last edition of this newsletter, I've made two separate types of Turkish eggplant and ground meat dish — patlican oturtma, which is more of a casserole, and karniyarik, where a similar meat filling is stuffed on top of the halved eggplants, which are then baked/steamed in the oven until tender. Both are delicious and, in my opinion, even better the next day.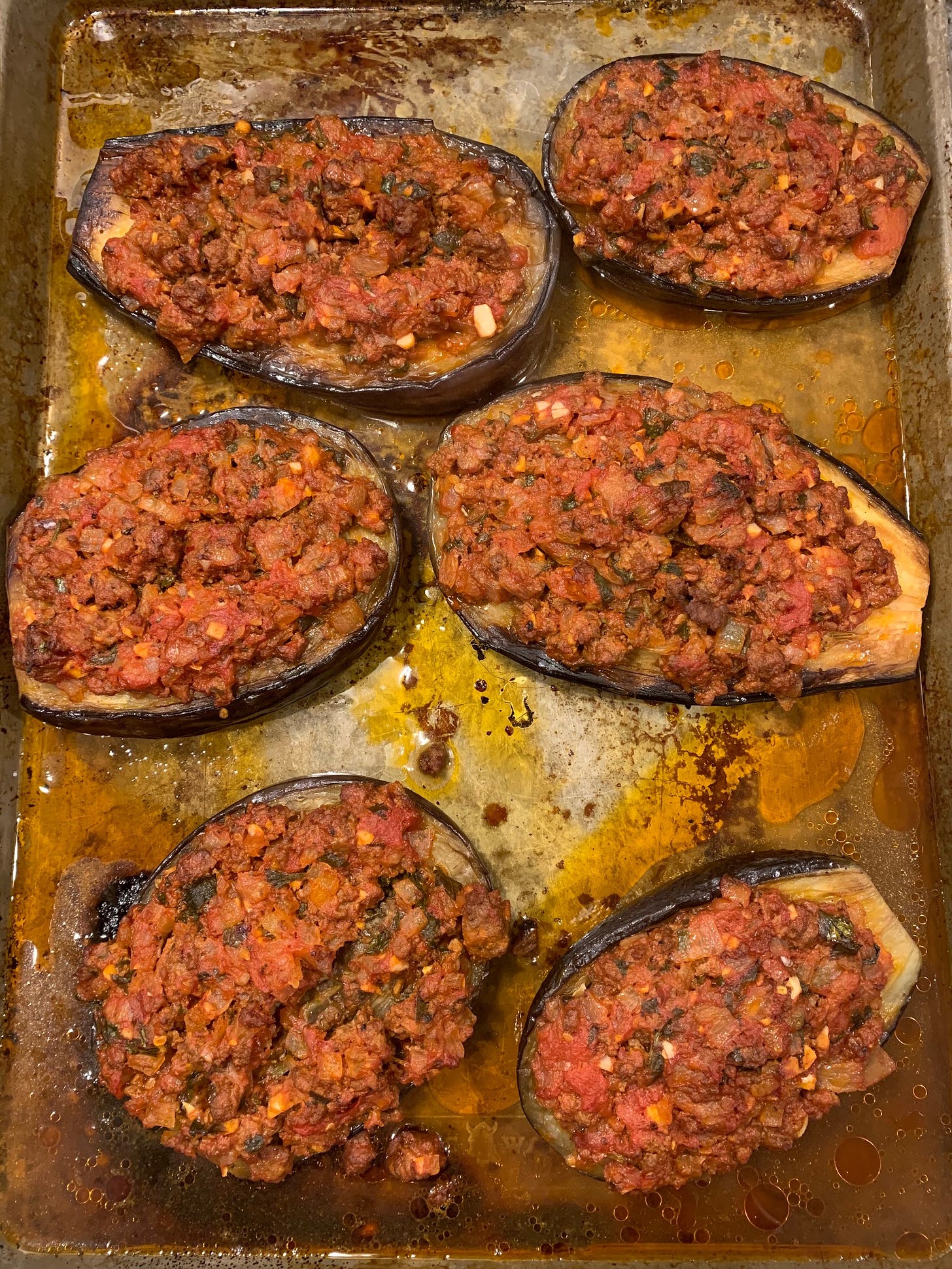 I've finally done proper take on fish fragrant eggplant, too — deep frying, spicy chili bean paste and all. The results were awesome and also very attractive. As Linda Tay Esposito taught us a in a class we took pre-COVID at 18 Reasons, if you fry the eggplant at the correct temperature, it stays beautifully purple. (More reasons to buy an instant read thermometer!)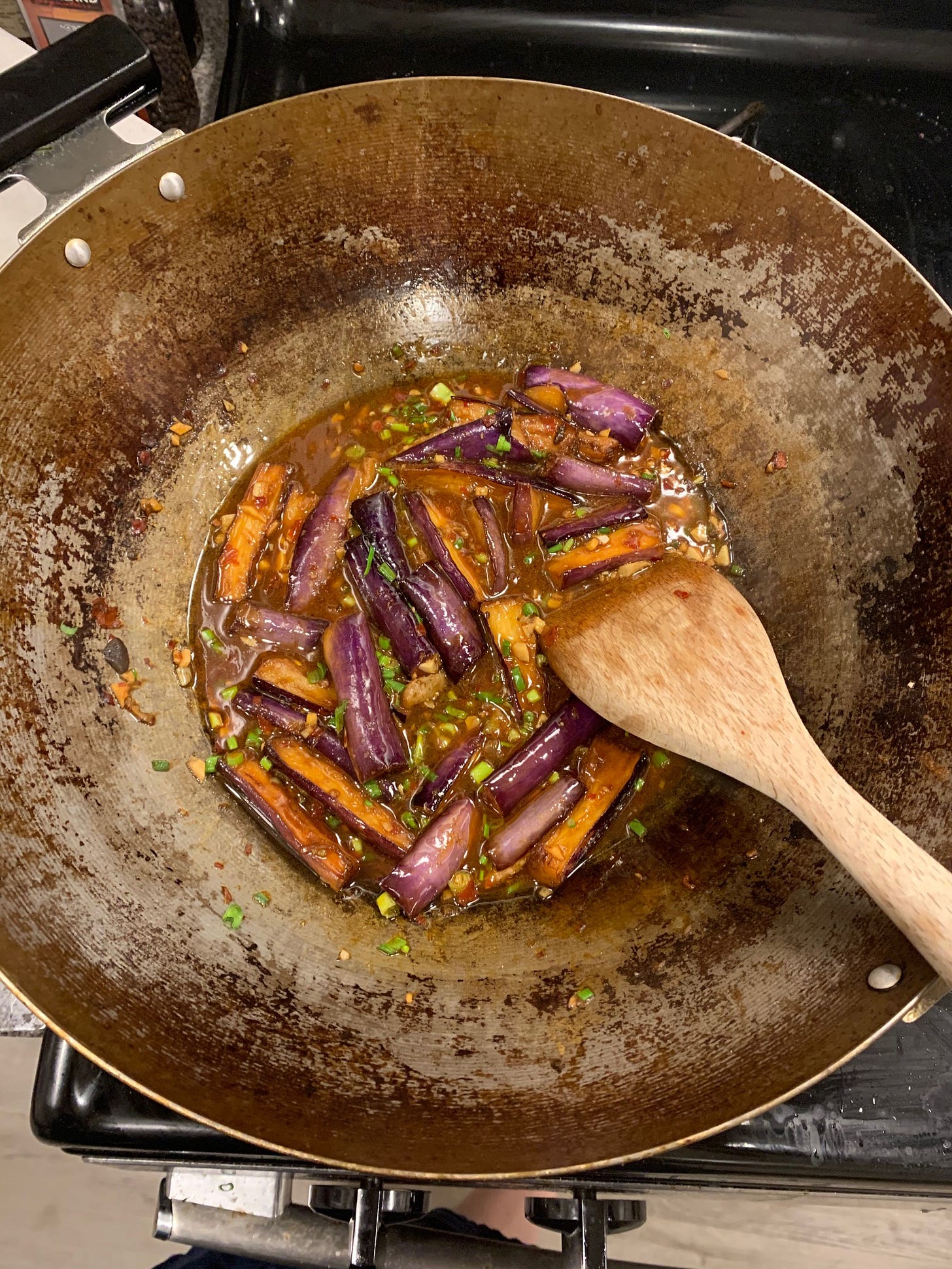 And ok, I'd just like to state for the record that I know my wok looks extremely janky in this picture. I did a horrible job of seasoning it the first time around (probably because we lived at an apartment with a super sensitive fire alarm) and last weekend, I finally bit the bullet and stripped the seasoning with a bunch of barkeeper's friend and steel wool. The re-seasoning process is smoky as heck but I'm getting there, and luckily, deep frying helps (as if I needed an excuse.)
Last weekend a few of my colleagues also came out to the farmer's market and we had a socially distant hangout, and it was one of the absolute highlights of my fall. In honor of the occasion, I hauled up my stand mixer for the first time in about four months, and made my go-to celebration bake: Stella Parks' chocolate chip cookies, made extra special via a quarter-bag of caramelized white chocolate feves that were hanging out in my pantry. I also managed to squirrel away some of the dough in my freezer for when I really need it mid-Open Enrollment, which I am very excited about.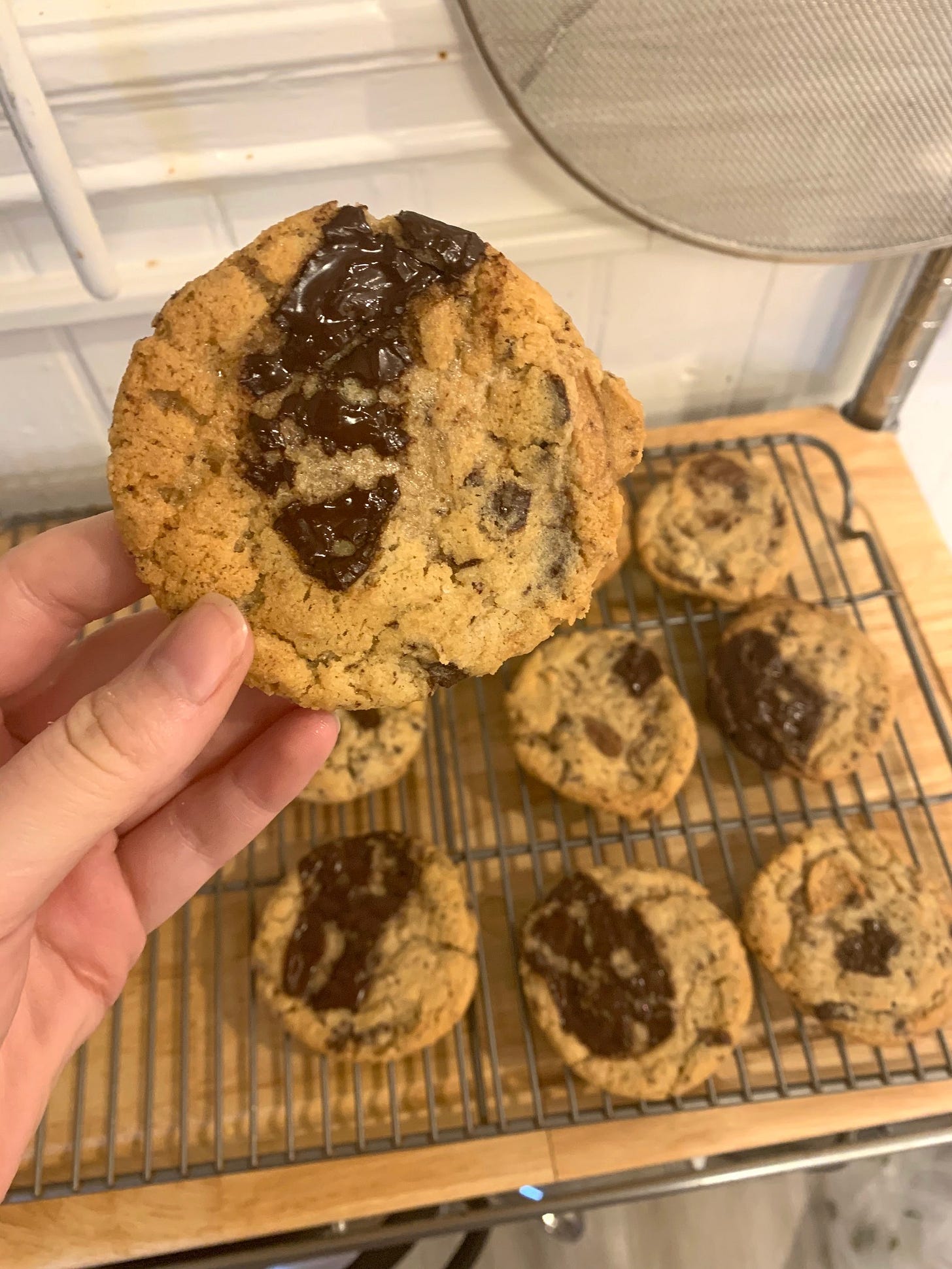 I took most of the day off on Friday and managed to cross a bunch of long-overdue errands off my list (including getting my flu shot - it's super important and not too late, folks.) The most exciting one was a trip to Omnivore Books in Noe Valley, SF's most wonderful cookbook store, to pick up Nik Sharma's latest, The Flavor Equation.
Folks, this book is awesome - deeply scientific, but in a way that's oriented around flavor rather than the minutiae of chemical reactions. Plus, there is a recipe for burrata with Sichuan peppercorn oil and aleppo pepper and Thai Basil, which I am anxious to eat as soon as humanly possible. To cap it all off, I caught a glimpse of Samin Nosrat signing books while I was picking it up (!!) though was shamefully too chicken to say hi.
So, what's on the menu for the coming week? I've got my eye on a simple soup with ground chicken dumplings from Simple Thai Food, plus more green curry with my leftover curry paste; more adventures in fried eggplant, probably in service of attempting to replicate the Taiwanese basil eggplant that is currently my favorite thing on the menu at Mission Chinese; and probably either the cauliflower with turmeric kefir or the Goan fish curry from The Flavor Equation, possibly both. Stay tuned.
---
Since the last time we checked in on my reading, I've officially hit my 2020 Goodreads reading challenge goal of 52 books - one per week for the year. I think that's more a symptom of the fact that I use reading as a coping mechanism than anything, but in any case, I've been on a witchy bent lately, with Naomi Novik's A Deadly Education and Alix E. Harrow's The Once and Future Witches, both very inventive and engaging.
Between Open Enrollment and the election, the week ahead is going to be a stressful one, so I'm loading up on romance novels - if you need comfort reading, too, PSA that Bringing Down the Duke (one of my favorites this year) is currently on Kindle and Nook sale for $1.99. I also enjoyed Sonali Dev's Pride, Prejudice and Other Flavors last year and was excited to see that there's a sequel, Recipe for Persuasion, so that's now downloaded. And honestly, I'll probably end up re-reading Red White and Royal Blue for a happier take on politics.
---
That's all for now, folks! See you next time - and until then, I'd love to hear your thoughts via Twitter, Instagram, or the comments box below.