Discover more from Aleka Gürel
Semi-regular recipe & reading inspiration, plus the occasional health policy thought.
Finding community in isolation
Plus Turkish lentil balls, a morning reading routine, and the Costco Sandwich
It's 4 o'clock on a Sunday and I'm sitting in our sunroom with a view of the lush green tree line here in Weston, Vermont. I've got my feet up, headphones playing the Cowboy Bebop soundtrack (my preferred get-down-to-business playlist.) There's a pork leg braising in the oven and a tupperware of Turkish lentil balls beside me for snacking. It's easy to forget about the pandemic and our general state of national crisis and months-long isolation.
Coming up here, isolation — at least, a degree of it — is kind of the point. In San Francisco, every improperly masked person veering within six feet made my heart rate spike. Here, I can go up for a walk up the road we live on and encounter absolutely no-one. I learned this week that the entire state has fewer residents than the city of San Francisco does, surely a contributor to the fact that our county has had a grand total of 76 cases of COVID.
Despite the physical separation, we're not lacking for community. I feel lucky to have gotten to say socially distanced hellos to a few dear friends, and we have been gifted huge quantities of fresh, home-grown produce. (More than one person has relayed the adage that August is the only time Vermonters lock their doors, so nobody will give them any more zucchini.) We're also no longer alone in the house: my grandmother is now with us, up from Georgia, and so our quarantine begins again.
I've managed for the past week to get back into some sort of rhythm, waking up early and kicking off the day with a yoga video out on the deck before pouring myself a cup of coffee and a bowl of cereal and sitting down with a book before work. (More on that in a moment.) And every night, I've taken a walk up the hill, gotten into bed at a reasonable hour, turned off my phone, and read for a little while before sleeping for the nine-ish hours I apparently need in order to function.
I do most of my reading at night before bed, but find that a terrible time to read anything that requires focus or involves necessary discomfort. So I'm carving out a few minutes each morning to read just one manageable chapter a day of the long line of books that have lingered on my to-read list. My current selection is So You Want To Talk About Race by Ijeoma Oluo, which is as good and filled with pragmatic advice as all its fans say. (In contrast, at night I'm making my way through Robin McKinley's Damar books, which I wish I'd known about as a Tamora Pierce-obsessed middle schooler.)
And of course, I'm cooking. Before we left New Jersey, I managed to put the finishing touches on a recipe for Ballerina Farm short ribs I've been working on — long-simmered in the oven with tomato sauce, and finished with a bright gremolata dressing that cuts through the fat. We had them with polenta and they were great, and great again reheated for lunch the next day.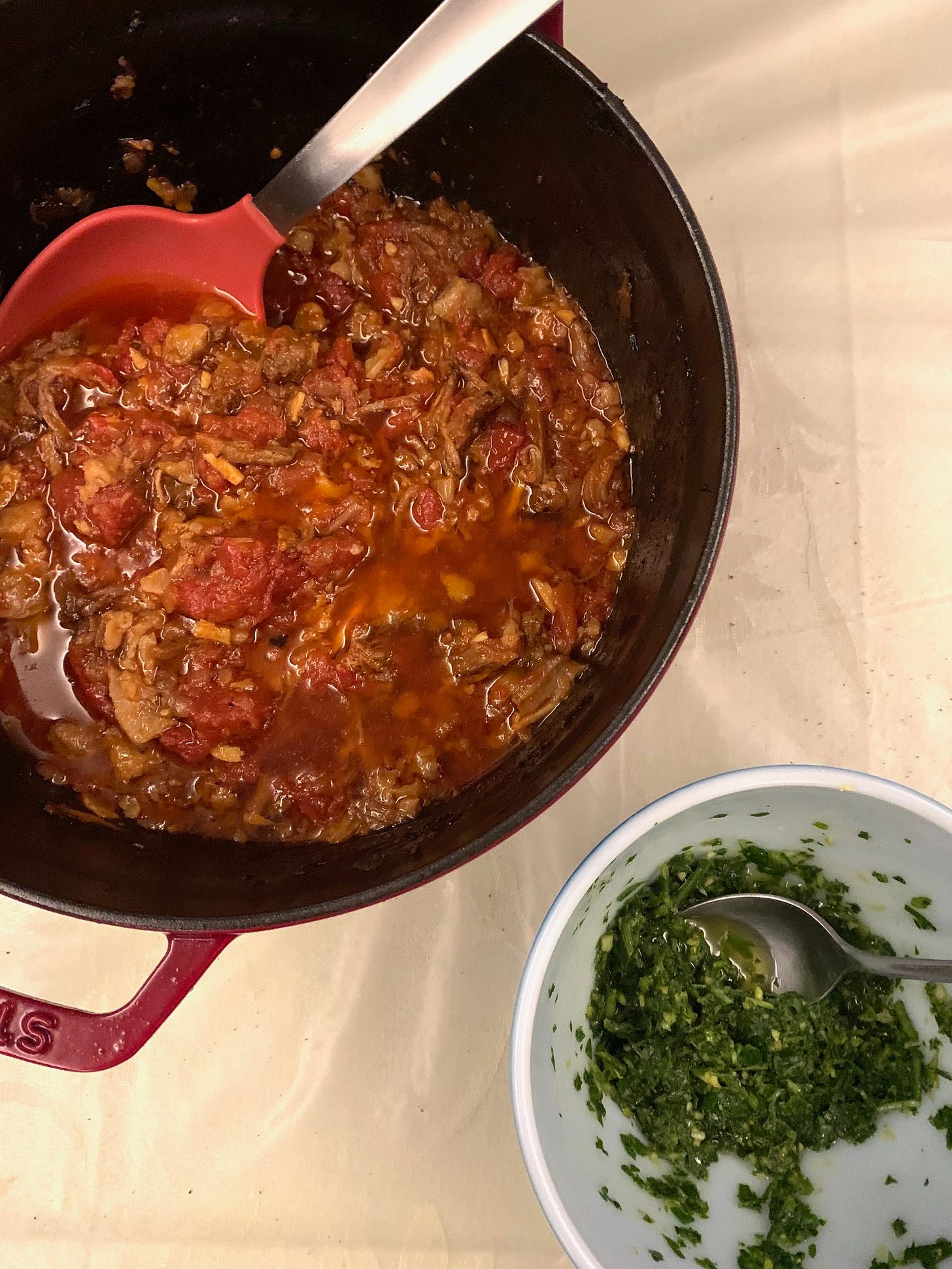 We also put some more Jersey peaches to use with Amanda Hesser's peach tart, which involves an olive oil press-in crust that takes very little time. I'm still not used to baking with convection and it all started to brown a little fast, though I mostly rescued it by dialing down the heat and covering the top with a piece of foil. It did the job, but I want to try it again in a more familiar oven before assigning a final judgement.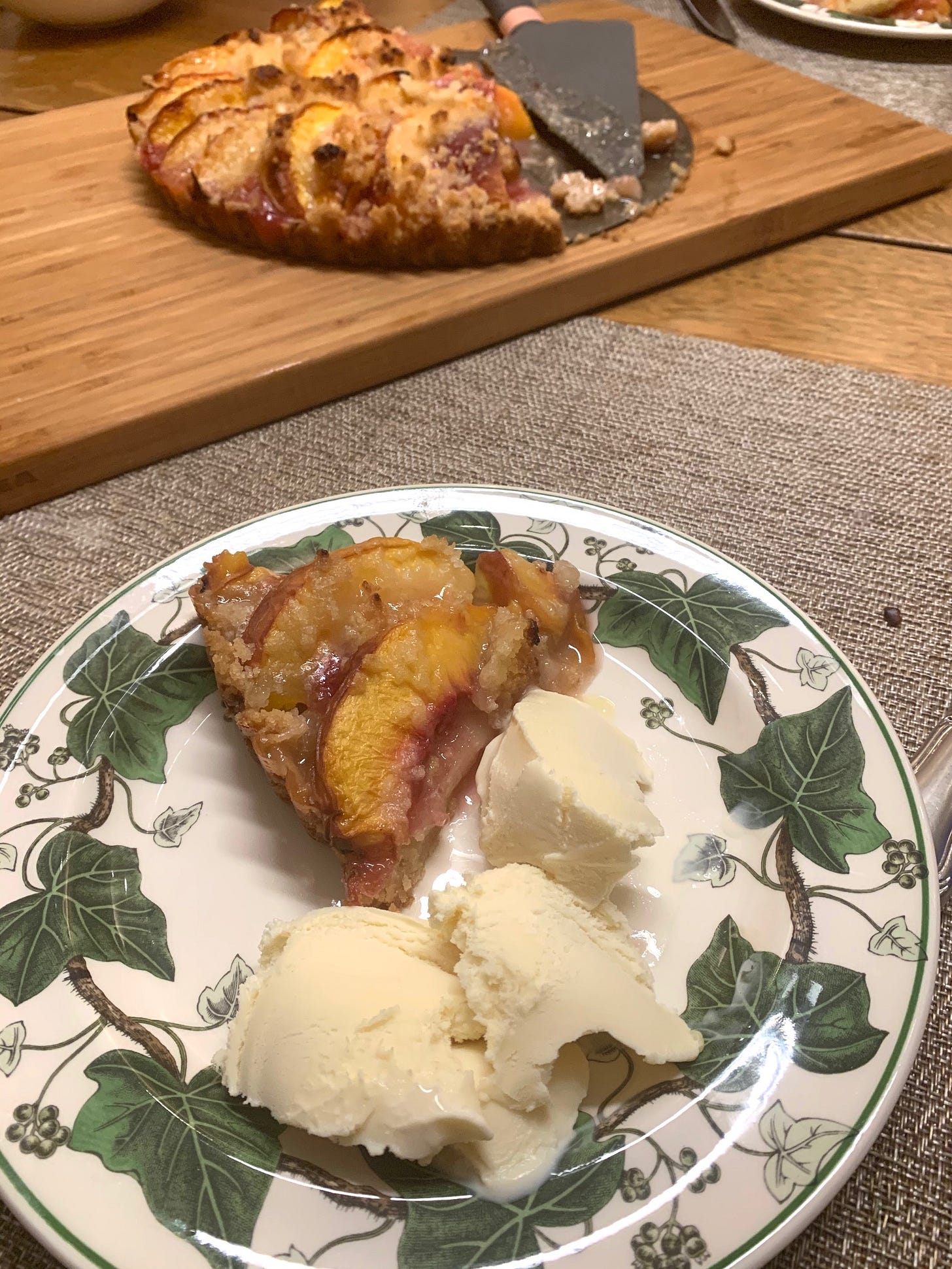 As silly as it sounds, one of the most important culinary discoveries of our trip was the fact that Costco sells giant bags of decent ciabatta rolls that freeze very well and make excellent, not-too-large sandwiches for lunch. Sam's dad stocks several bags in their freezer at any given time, and so we picked up a few on our way up to Vermont.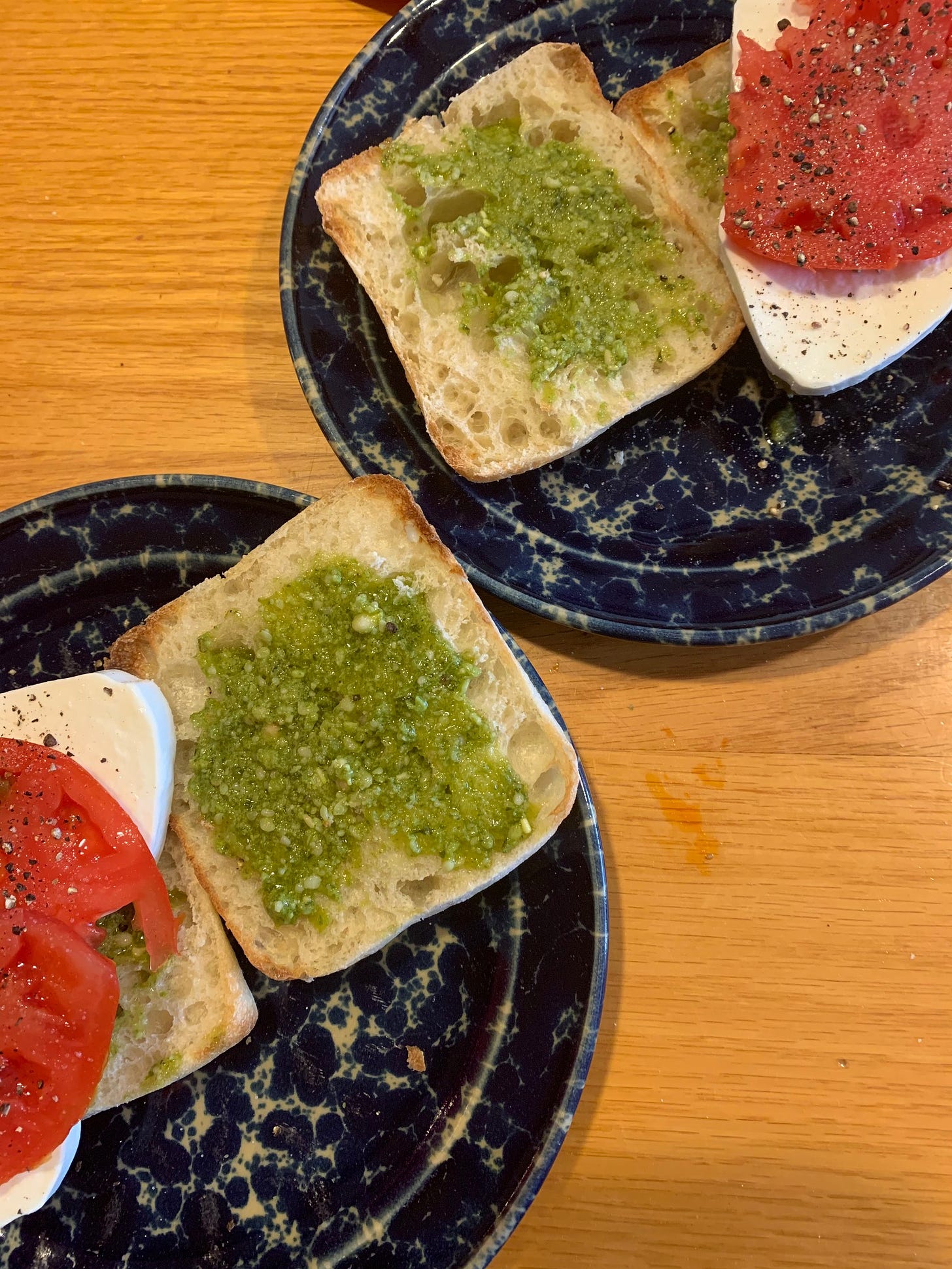 We've been having them for lunch all week with mozzarella and Kirkland pesto and ripe summer tomatoes, and honestly, they hit the spot. (My only regret is not buying more bags of them!) If you, too, would like to jump on the Costco sandwich train, my advice is to defrost your rolls in the microwave before splitting and toasting them, for maximum crispy freshness.
Our weeknight meals have been simple and enjoyable — a quick chickpea curry, a pasta e ceci riff on Sasha Marx's 'nduja and white bean stew. The one that really hit the spot was the Chinese Eggplant and Garlic Sauce from Omnivore's Cookbook, which involves pan frying eggplant until crispy and then briefly simmering it with garlic, ginger, soy sauce and a little cornstarch until glossy and delicious.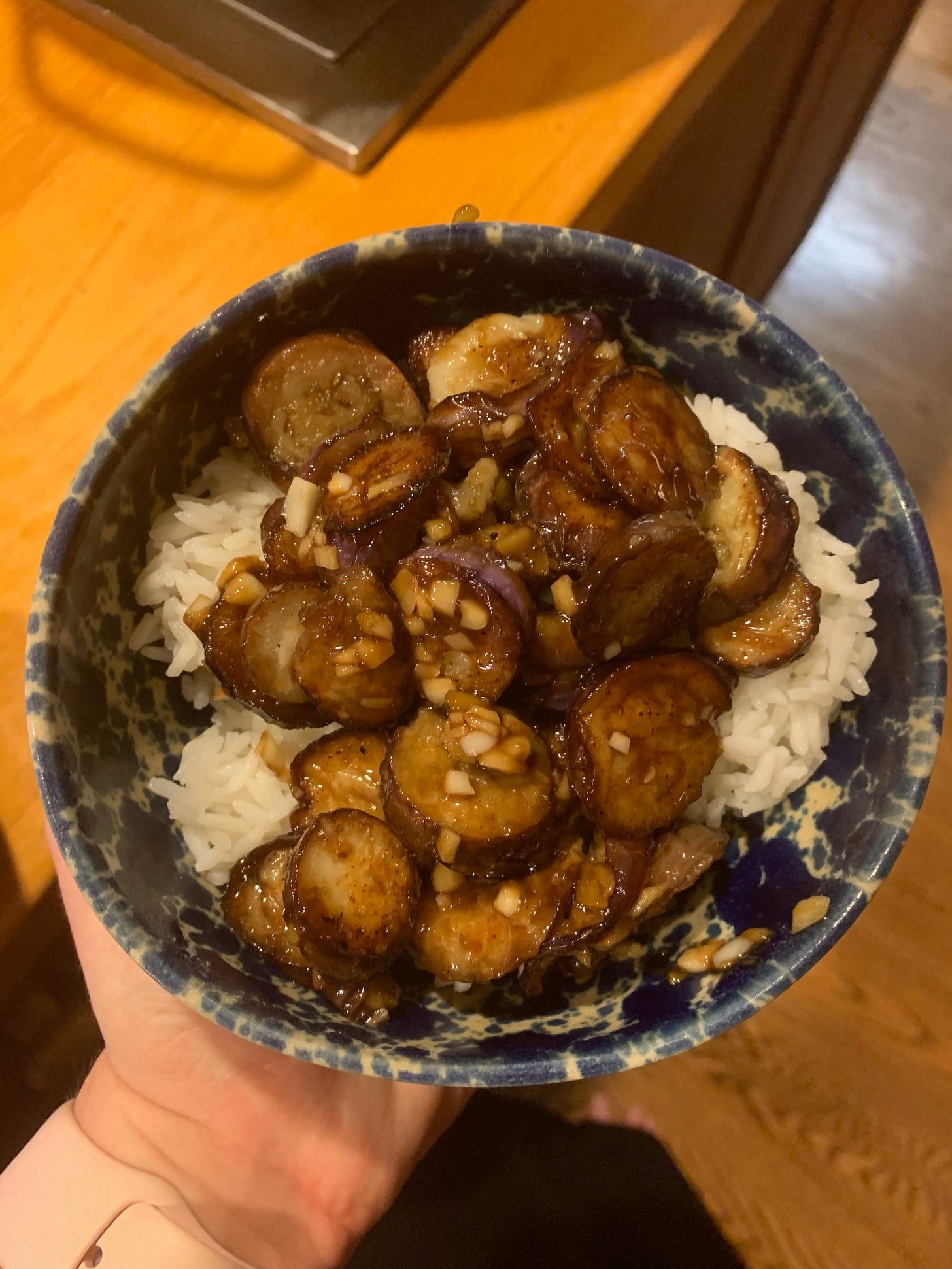 I grabbed my wok for this without reading the recipe, which actually calls for a flat bottomed skillet, and I'll follow that instruction next time. On an electric stove, at least, I could only really get the eggplant crispy on the flat bottom of the wok, and it took forever to get through the whole batch of eggplant.
My big food project of the week was one of my favorite Turkish recipes, for lentil and bulgur wheat "meatballs" flavored with onions, tomato paste and a huge mountain of herbs. This is, hands down, the recipe our family friends out here ask for most often, so I filmed the whole process and saved it as my very first Instagram highlight. (Does this make me a real food influencer?)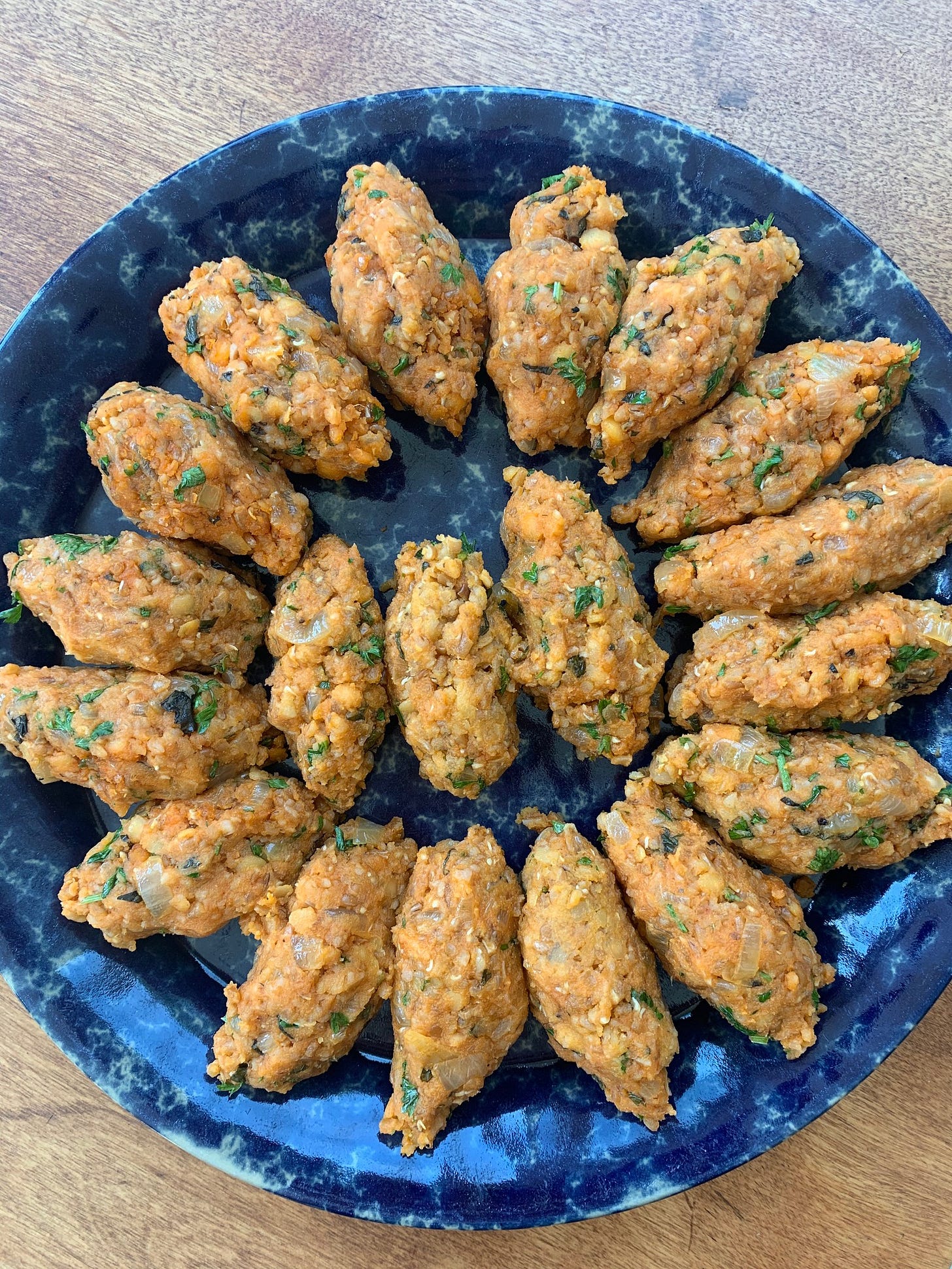 We got a slower start this morning, but made up for it with a griddled feast: The Perfect Loaf's sourdough pancakes (plain, chocolate chip and blackberry) plus crispy bacon and over-easy eggs, and of course, Vermont maple syrup. Cooking on the electric griddle we have up here always makes me feel like some sort of professional line cook even though objectively, there is very little skill required in dumping batter on a flat nonstick surface and waiting until bubbles form.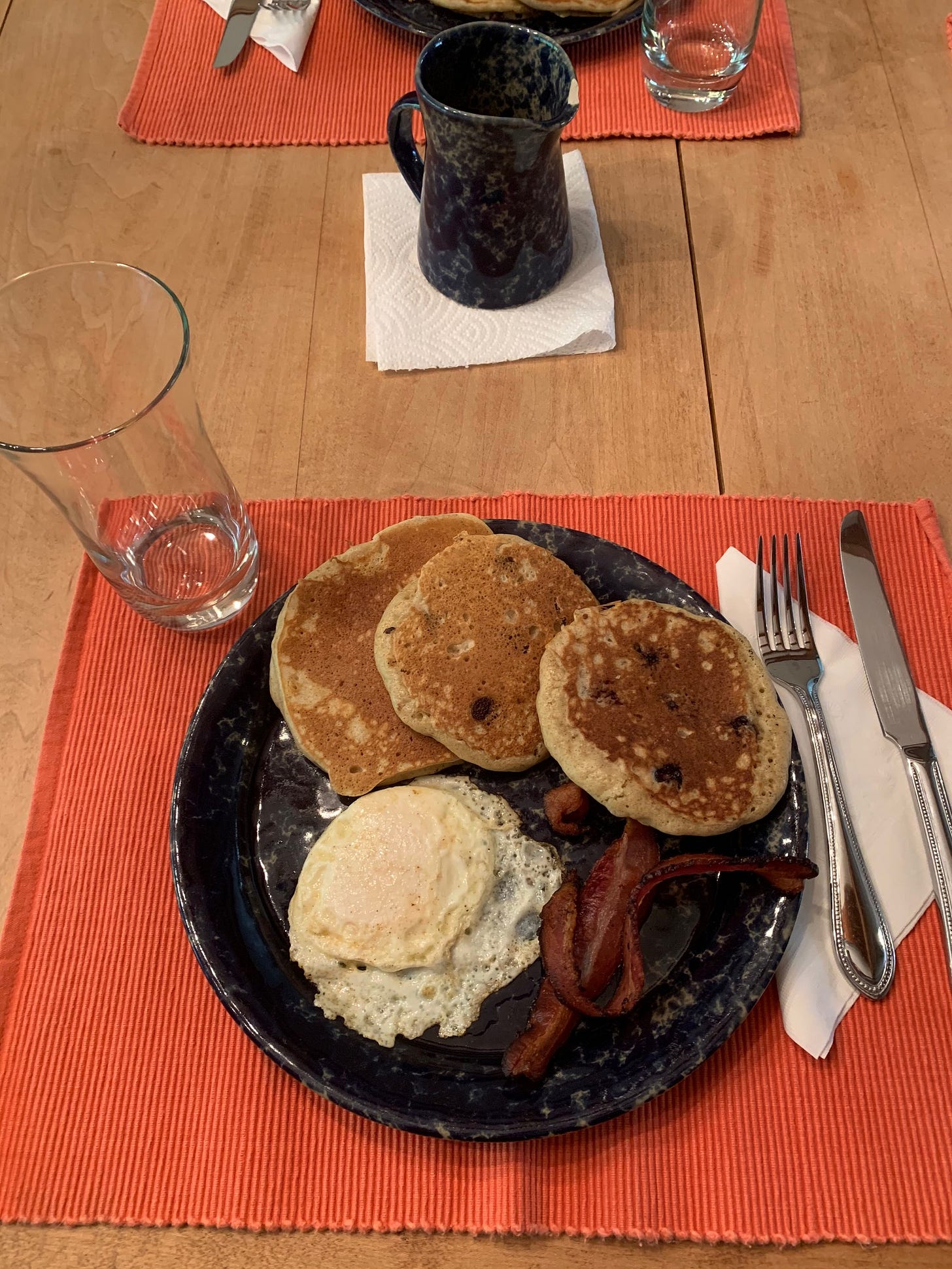 What's on my cooking agenda for this week, you might ask? Well, one of our friends kindly gifted us some holy basil, which was probably the most exciting thing that has happened to me in a while. Given that we have great Ballerina Farm ground beef in the freezer, Thai basil beef is definitely on the menu. I've got some eggplant to finish up, possibly with more patlican oturtma, or I might save the extra ground beef for köfte to have alongside Turkish zucchini fritters.
If I'm feeling ambitious I'll finally go for Samantha Fore's roasted curry tomato pie, or Bryan Ford's Choco Pan de Coco. Or maybe even Kenji López-Alt's Colombian empanadas with masa made from popcorn, because how cool is that?!
---
I'd love to know what you're all cooking and reading. Drop me a line in the comments, or find me on Twitter or Instagram.