Getting back on schedule
Featuring homemade fettucine, crispy potatoes, and sourdough crumpets
I don't know about you all, but this week was a blur for me. My days have started to acquire a kind of frenzied routine: wake up, make coffee, pop open my laptop, work, log off, force myself through twenty minutes on our spin bike, shower, start prepping dinner too late, plonk down in front of the couch with food at 9pm and watch The West Wing until my eyelids start to feel heavy.  
I have to remind myself that this is a marathon, not a sprint. Or at least, do some up-front planning to lighten the weekday load. I might then have the mental energy to do something other than scroll aimlessly through social media on weekends. 
One thing that worked really well for me in life pre-Shelter in Place was writing out an actual schedule. Back in January, like most of us do, I made a plan to eat better and exercise more to try and shake off the inactivity and stress-snacking that inevitably hits during Open Enrollment. Except this time (perhaps inspired by the approximately 5% of Atomic Habits that I actually absorbed) I decided to sketch out a calendar of dinners & workouts for every day of the week. 
I didn't always stick to it, but removing the mental load of "what am I going to do/eat today?" did wonders for my vegetable consumption and led to what I think was the longest streak of regular exercise in my post-college life. So this week, it's coming back! (Excuse my horrifically bad handwriting and the cheesy inspirational quotes.)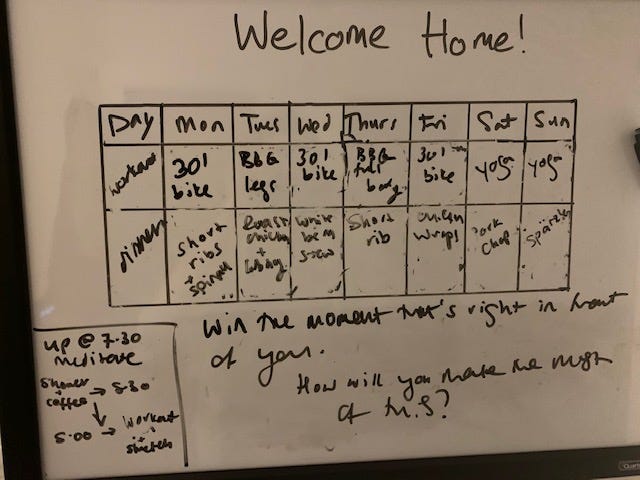 ---
Even without meticulously planning out this week's meals, I did have some small wins. Last Sunday night, we had a relatively luxurious dinner, where I cooked pork chops for the first time. No picture of the finished product (we were too hungry!) but here's that beautiful meat hanging out and getting delicious in the fridge. We dry brined these in a mix of kosher salt and sugar as instructed by Kenji Lopez-Alt, but skipped the reverse sear since they were on the thin side. Regardless, they cooked up moist and incredibly flavorful.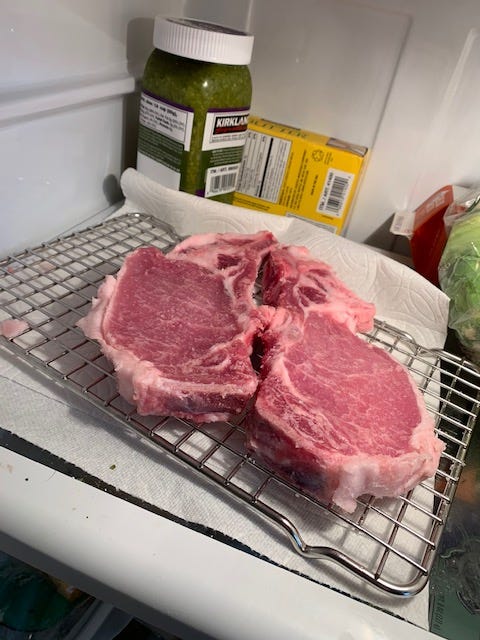 I also don't have a picture of the crisp smashed potatoes we served them with, but here's a batch I made earlier this year. The premise is simple - you boil, smash and then fry small potatoes until super crispy, and then top them with fried onions and red pepper flakes, which you've bloomed in the onion-frying oil. The result is absurdly addictive - crispy, fatty, and just subtly spicy This is, no exaggeration, one of the best recipes I make.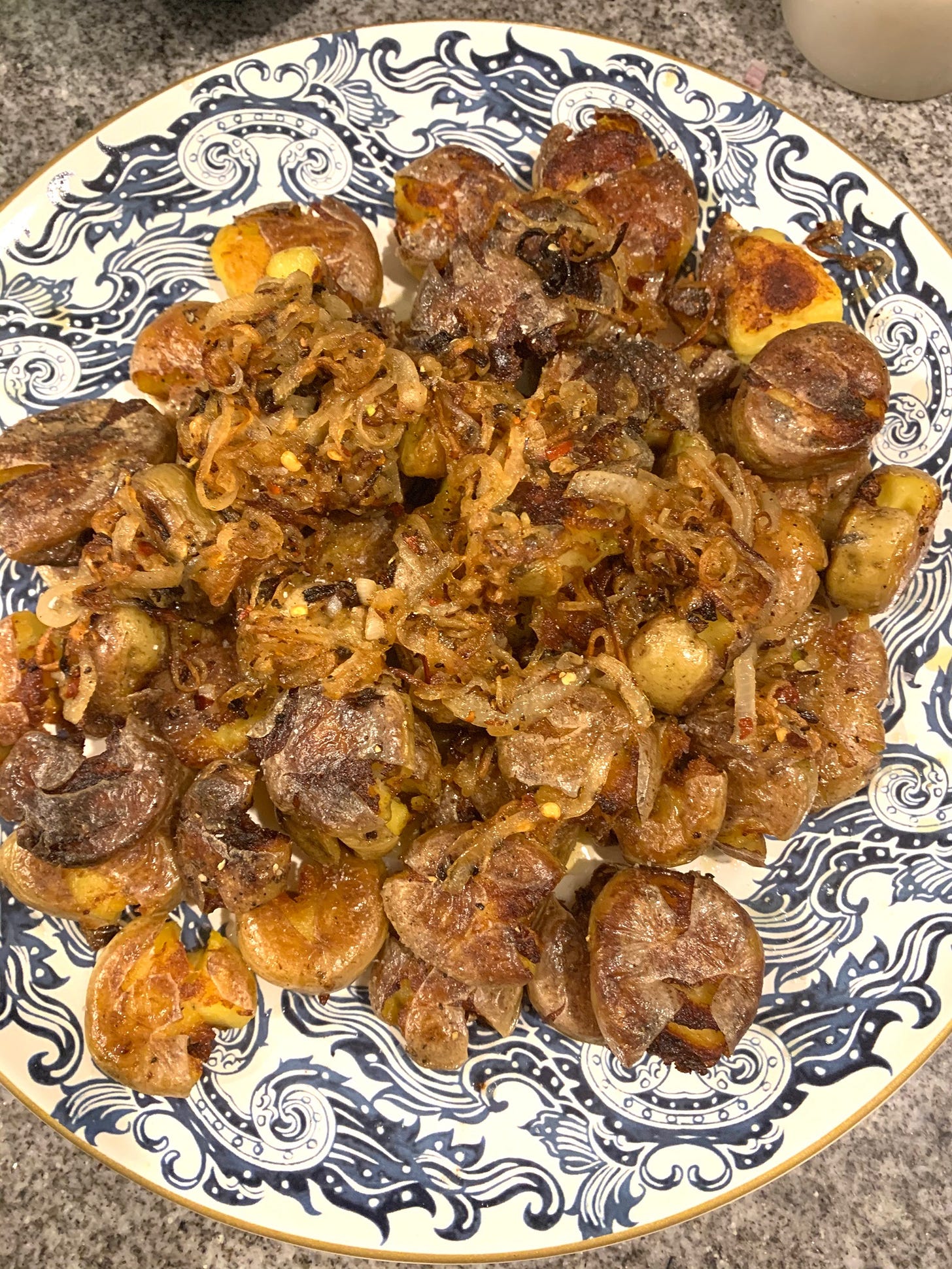 I also made good on my plan to make Bon Appétit's Best Bolognese, using up the mountain-raised ground beef and bacon we got in our Ballerina Farm meat box.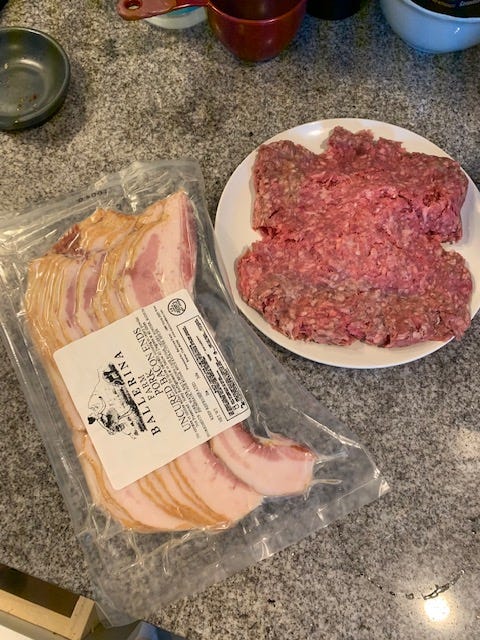 This recipe takes forever (or 3 hours, to be exact) so I made it one evening and we ate it for dinner the next. The plus side of splitting the workload was that on day two, I had enough time to make a batch of homemade fettucine!
In an ideal world, I'd make the dough, roll out and cut ita all by hand (as evangelized in the wonderful cookbook American Sfoglino, which I bought myself as a birthday treat earlier this year.) But this is not an ideal world, and so I defaulted to the method outlined by Julia Turshen in Small Victories, which involves a food processor and takes about 30 minutes of total active time. We used half the batch in our dinner that night and dried out half of it for later using, ahem, an unorthodox setup.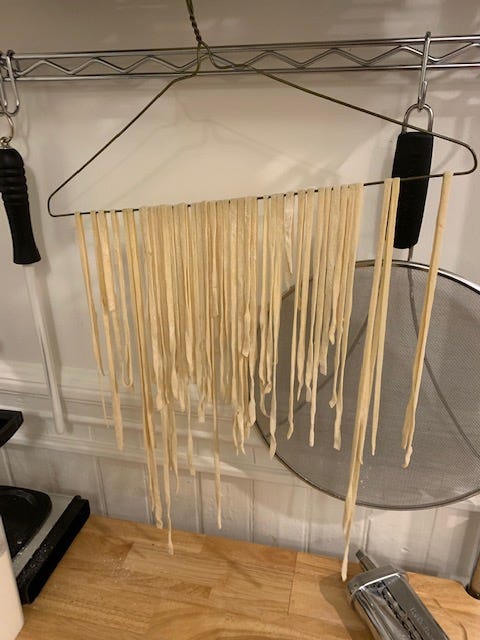 Was all the effort worth it? Definitively, yes. This is actually the first time I've made a meat sauce, and it hit the spot. My only regret is not making a double batch to freeze for later!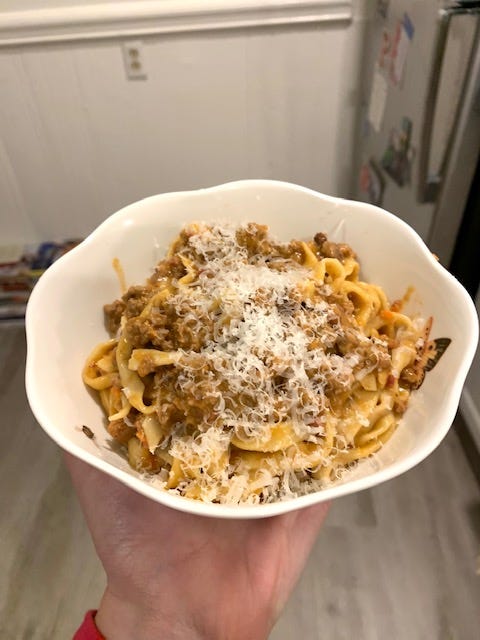 When I put cauliflower on our shopping list a few weeks back, I was thinking of trying to replicate an absurdly good (vegan!) tempura buffalo cauliflower taco situation I ate at Jajaja Plantas Mexicana in New York over the holidays. But alas, I neglected to put hot sauce on the list, so instead turned to an old favorite: Alison Roman's creamy cauliflower pasta.
For all that it's used as a carb substitute (cauliflower rice, Trader Joe's instagram-famous cauliflower gnocchi, etc) cauliflower is absurdly good when absolutely drenched in fat and cream. This recipe involves getting it browned and soft, simmering it in a cream sauce, and showering it with cheesy breadcrumbs. Like the crisp smashed potatoes, you add a little dose of red pepper flakes at the end, which cut through the fat and keep you coming for another bite.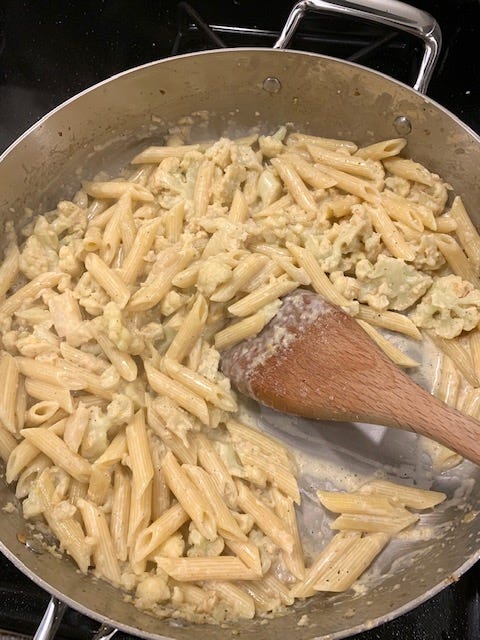 Continuing the theme, our Saturday night dinner was Alison's cauliflower and onion gratin from Nothing Fancy. I first ate this dish while standing in (a 2+ hour) line to meet Alison at a book signing last year and it made enough of an impression that I felt compelled to give it a shot at home.
For those of you who also grew up in the UK, this dish is essentially cauliflower cheese but without the fuss of making a roux. You layer slabs of cauliflower, thinly sliced onions, and shredded cheese in a cake pan or pie dish and douse the whole thing in a garlicky cream sauce and baking it until the cheese is melty and crisp on top.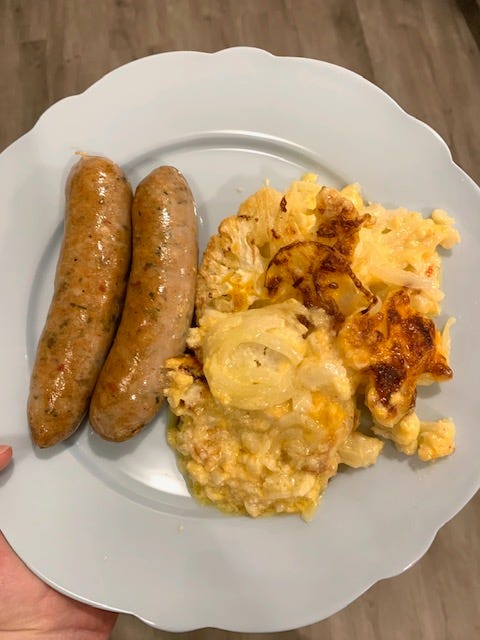 It might surprise many of you, but I actually haven't baked a single sweet dish throughout this entire period of self-isolation. (Ok, there was one disastrous incident with a pan of improperly defrosted Bravetart cinnamon rolls I'd prepped in January, but let's not count that.) Like apparently every other millennial, I did, however, take this time to make a sourdough starter and get back into baking bread.
My first loaves are currently cooling, but in the meantime, I've been finding exciting ways to use sourdough discard. (For the uninitiated, feeding your starter involves discarding most of it and adding new flour and water, and this generates a LOT of wasted starter.)
Earlier this week I went deep down an internet rabbit hole trying to find sourdough discard recipes that don't require additional yeast. My favorite discovery? Sourdough crumpets.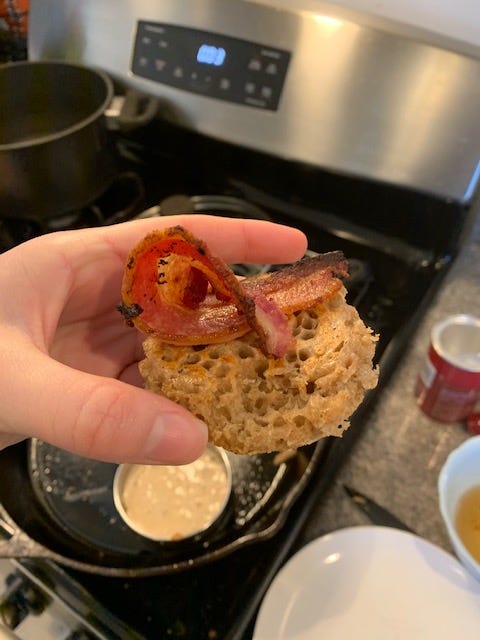 These take approximately fifteen minutes to whip up and the recipe could not be simpler. I feed my sourdough starter exclusively with whole wheat flour, so these were not quite as delicious as the crumpets I grew up eating in the UK, but frying them in bacon fat certainly helped.
This morning, I revisited an old favorite - these ultra-fluffy sourdough pancakes (I subbed the milk for buttermilk and left out the yogurt) alongside the last of our packet of bacon. These will definitely go back in our regular rotation!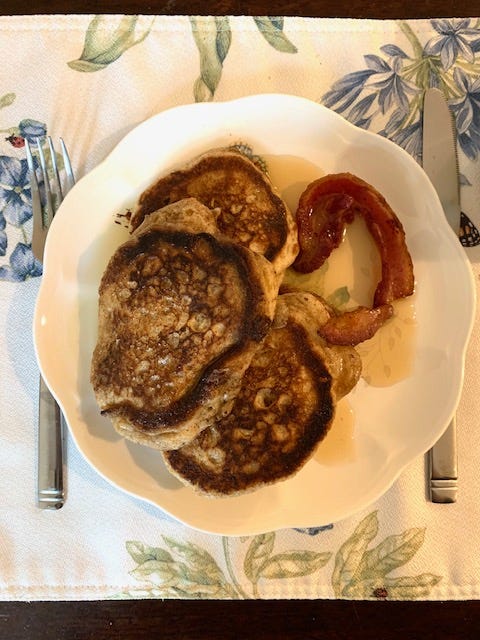 That brings us to my plans for the week ahead. We have no canned white beans left, so I've made a big pot of brothy beans – a pound of Rancho Gordo alubia blancas, plus half an onion and some sad sprigs of marjoram from the fridge. They'll probably go into a white bean stew or two, along with the kale wilting in the crisper.
We've got a cabbage hanging out in there too, which is likely destined for Andy Baraghani's Caramelized Cabbage. And there are two packs of Ballerina Farm beef short ribs and a whole chicken in various stages of defrosting; I've got my eye on some options for both from Nothing Fancy.
And of course, we're going to be eating lots of goat cheese tartines on homemade sourdough.
---
Until next week!  In the meantime, say hi on Twitter or Instagram.