On control, and letting go of it.
Plus comfort food and book recommendations for every occasion
One thing I'm thinking about a lot this week is control – specifically, the things we do to maintain a sense of control when the world is chaos in ways we individually have very little power to change.  
There's a lot that's out of my control these days: whether my family, all of them thousands of miles away, are staying safe. Whether grocery stores are back in stock with products I need at times I'm able to make a trip. Whether people are going to veer within six feet of me if I go out for a walk. You get the picture.  
A colleague of mine shared this wonderful graphic with us this week, and I'm trying to take it to heart and focus just on the things I can control. Drinking enough water. Getting in at least twenty minutes of exercise. (Preferably also a little yoga to fix my WFH neck and start the day off with some mental space.) FaceTiming my family and loved ones.  
Of course, one big thing I can control is what's for dinner.  
*** 
Cooking has always been my way of exerting control over my life. If I have a bad day and feel like I'm not performing at the level I want to be, well, hey, at least I can nail the perfect pan of brownies, right? But it's more than that – it also gives me a mental break. 
I remember one time Sam and I were cooking a steak dinner together for a date night, and if you've reverse seared a steak, you know that you're working against a tight clock to get that perfect medium-rare. He asked me: how can you find cooking relaxing, working under that kind of time pressure?  
But that's exactly why I find it relaxing – when I'm cooking or baking, I have to focus most of my attention on the process, or something's going to burn. I literally can't think about whatever's stressing me out.  
---
The theme of this week has definitely been comfort food, and I kicked things off with a bulgur pilaf, from Ozlem's Turkish Table. It's a really simple recipe, and healthy as far as a bowl full of starch goes. Growing up, we usually ate this with güveç, chicken and vegetable stew slow cooked in a clay pot. No stew here - I actually almost never cook chicken – but this was the perfect lunch once I ran out of brothy beans.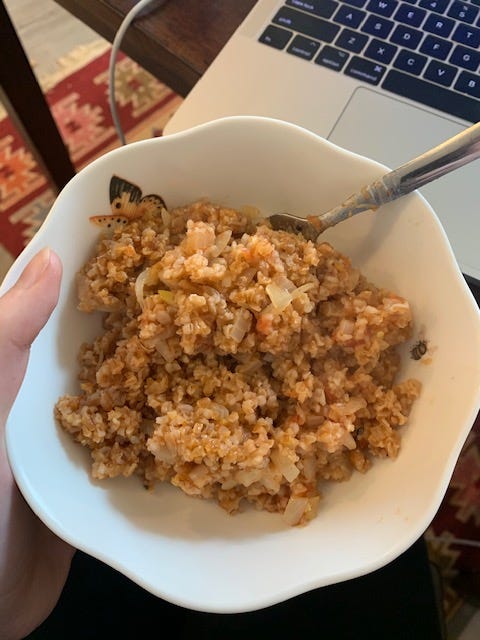 By Thursday I was really regretting not factoring salty snacks into my pandemic purchasing, so decided to try Sohla El-Waylly's riff on piyaju, or red lentil fritters, from Bon Appétit. I didn't have zucchini so just doubled the onions, and these turned out to be the perfect crispy, salty, delicious dinner. Would definitely make again.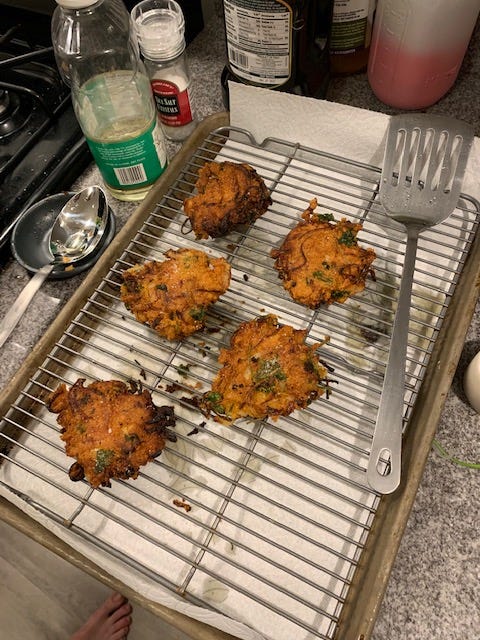 Weekends call for more involved projects. I just received a shipment of beef and pork from Ballerina Farm (a small family farm in Kamas, Utah that I've loved following on Instagram) so had a bunch of breakfast sausage, and felt a random desire to make buttermilk biscuits with sausage gravy.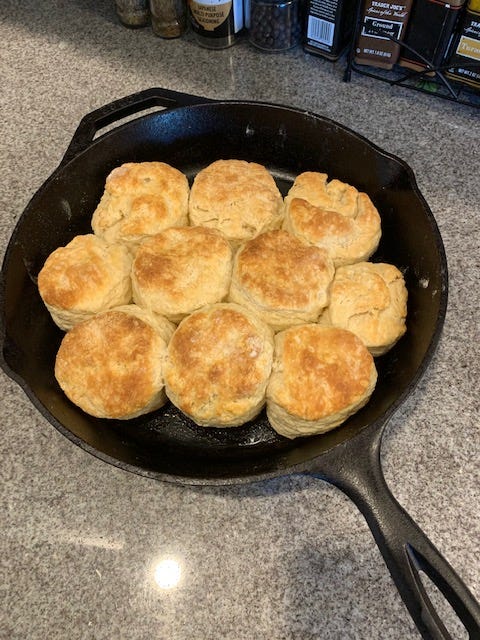 This meal was a favorite of my late grandfather's (so much so that we once celebrated his birthday at a Cracker Barrel, sticking candles into a plate of biscuits) but beyond a few biscuit experiments, I'd never made it myself. I turned to a buttermilk biscuit recipe from Stella Parks aka Bravetart, who has never steered me wrong, and a sausage gravy recipe from Serious Eats.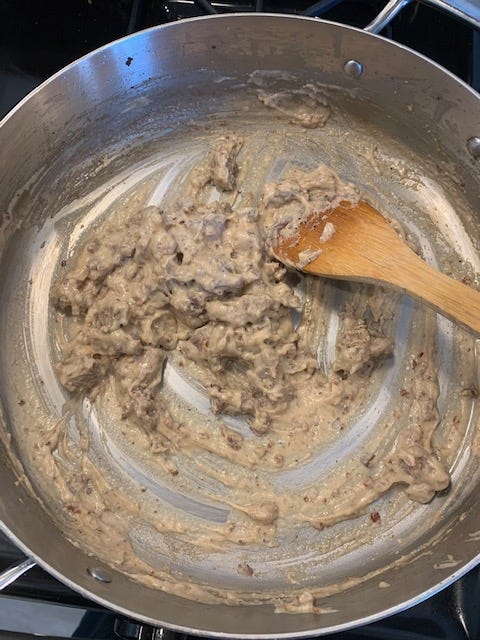 Sausage gravy is not the prettiest dish by a long shot, but please believe me when I tell you that this was delicious. And then I lay on the couch unable to do much else for about an hour. 
Did anybody else grow up eagerly anticipating a McDonalds sausage biscuit and hash brown on long drives with the family? Managing to fry up a circular egg in order to replicate this bad boy was a proud moment. I just popped it into a biscuit cutter set directly on the pan! Next time I'd spray some Pam on the cutter to make the release a little easier.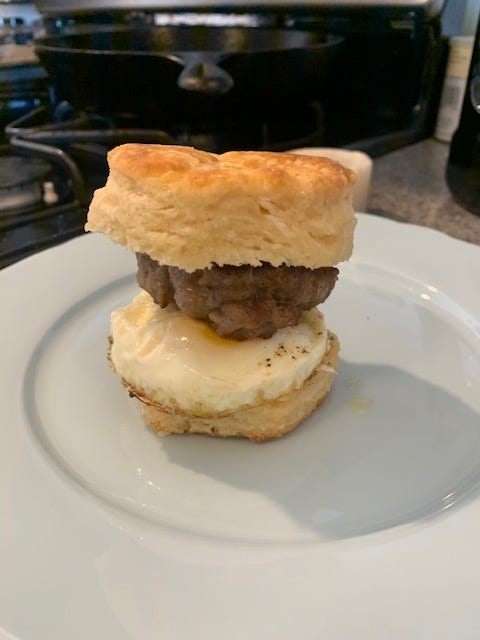 Last night, I cooked up the queen of pantry meals: Alison Roman's caramelized shallot pasta, which reminded me that cooking without contact lenses is hell on the eyeballs, made me intensely grateful for my mandoline, and is just one of those recipes that renders you unable to do anything but inhale pasta until it is all gone. (Bonus: it makes two batches worth of shallot "jam" so really it's meal prep and dinner in the same recipe!)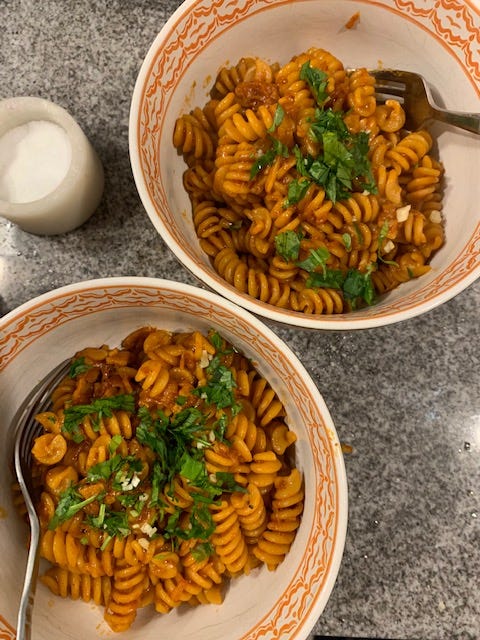 Which comfort foods have you turned to this week? Comment here or hit me up on Instagram (where I've at least temporarily made my account public.)  
---
One COVID19 related thing I'd like to point you towards: Kenji López-Alt, recipe-developer-extraordinaire and chef at Wursthall, one of my favorite Bay Area restaurants, has written up an excellent guide to food safety as it relates to coronavirus. If you're the kind of person for whom knowledge is critical to feeling in control (ahem 🙋🏼) you'll appreciate it.  
TL;DR: nothing's risk free, but delivery is very low risk to you, especially if you follow certain precautions. (It's a different story for delivery workers, so at minimum you should ask for no-contact deliveries and tip very well.) 
Bay Area friends, if you're looking for restaurants that are open for take out / delivery, Soleil Ho at the Chronicle has an excellent guide. We ordered in from RT Rotisserie this week (pleased to report their rice bowls stand up well to 90 seconds in the microwave) and I'm very excited to try out Hing Lung Company, Z&Y, and Mamahuhu in the coming weeks. If you're in the Bernal Heights area, our neighborhood standby Pizza Hacker does curbside delivery – try the Short Bridge! 
Definitely buy gift cards to support your local haunts, but if your fashion sense leans towards food t-shirts (as mine does) check out Helen Rosner's Instagram highlights for an excellent roundup of restaurants and bars you can support by buying their awesome merchandise. (My first purchase just arrived and was extremely appropriate for yesterday's biscuit-baking.)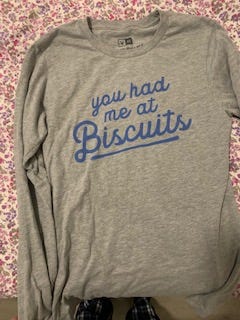 ---
I'm still furiously stress-re-reading Kelley Armstrong's Women of the Otherworld Series (now up to Haunted in case anyone's interested) so don't have any new reads to report on, but might I recommend some tried-and-true favorites that you might order from your local indie bookstore? 
If you're currently watching Contagion and are a sucker for punishment, read:
Station Eleven by Emily St. John Mandel; The Power by Naomi Alderman 
If you're living your foodie renaissance right now and need to continue that theme:
Hotbox by Matt & Ted Lee; Notes from a Young Black Chef by Kwame Onwauchi, Sourdough by Robin Sloane 
If you are currently outraged and have mental space to get even more outraged:
Just Mercy by Bryan Stevenson; No Visible Bruises by Rachel Louise Snyder; Evicted by Matthew Desmond; Priced Out by Uwe Reinhardt; Bad Blood by John Carreyrou; Catch and Kill by Ronan Farrow.
If you need a good memoir:
Maybe You Should Talk to Someone by Lori Gottlieb; Make Trouble by Cecile Richards, Welcome to the Goddamn Ice Cube by Blair Braverman; And Now We Have Everything by Meaghan O'Connell; Educated by Tara Westover. (And again: Notes from a Young Black Chef by Kwame Onwauchi; Just Mercy by Bryan Stevenson.) 
If you just want a darn good novel:
The Golden State by Lydia Kiesling; American Spy by Lauren Wilkinson; The Song of Achilles by Madeline Miller; Fleishman is in Trouble by Taffy Brodesser-Akner; The Great Believers by Rebecca Makkai; The Nickel Boys by Colson Whitehead 
If you need a cute romance during this period of self-isolation:
Evvie Drake Starts Over by Linda Holmes; Red, White and Royal Blue by Casey McQuiston; The Kiss Quotient by Helen Hoang; Pride, Prejudice and Other Flavors by Sonali Dev 
---
And your weekly health policy update: California, Connecticut, Colorado, DC, Maryland, Massachusetts, Minnesota, Nevada, New York, Rhode Island and Vermont have now opened up limited-duration Special Enrollment Periods to allow folks who are uninsured to enroll in ACA Marketplace coverage.  
If you don't live in one of those states, you can still enroll if you've have a qualifying life event – like having lost your health coverage. It's always worth checking if one of these applies to you.
As usual, you can check if you qualify by applying at Healthcare.gov or your state Marketplace, or giving me and my colleagues a shout if you need a hand.
And fun fact: tomorrow is the 10th anniversary of the ACA! More on that next week.
---
Feedback? Recipe suggestions? Book recommendations? Know me in real life and want to FaceTime? Comment here, or DM me on Twitter/Instagram.