Discover more from Aleka Gürel
Semi-regular recipe & reading inspiration, plus the occasional health policy thought.
On getting back to "normal"
Plus huge quantities of tofu, roasted tomatoes, and cooking by intuition
Happy Sunday, folks. I'm writing to you from San Francisco again - Sam and I flew back on Tuesday after three months, a much longer period of time than we originally expected to stay out East. It was an enormous privilege to get to spend so much time with family; probably, in fact, the longest stretch of time we've spent together since I was in high school.
I already miss Vermont, even though I know the weather is turning. Soon it'll be too cold for the long, crisp walks in fall foliage and yoga on the porch that I wish I could return to. That doesn't stop me missing them, nor how wonderful it was to get to cook for my family in earnest after quite several years of passing photos back and forth. Those times will come again, but for now it's back to meal prep for two and a more regimented schedule uninterrupted by chance conversations at the coffee machine or late nights by the fire.
Even though Pacific Time is my "normal," it was incredibly convenient having those early East Coast hours for work calls, so I'm trying to hang on to some semblance of the schedule. My goal for now is to try and be up by 6 (!!) so I can do my yoga, read my chapter and hop on calls by 7:30. Given that I am, sadly, a 9-hours-per-night kinda gal, this means I have to be in bed by 8:30 to get my 30 minutes of reading in before lights out. I managed this week, somewhat, and am hoping I can keep it going. On the plus side, waking up before dawn means I never need to use an eye mask! (Hurray, I think.)
There are other perks to being home: having our own space, of course, but also all the food options we'd missed so much. We've already gotten delivery from our two favorites, Pizza Hacker and Mission Chinese Food, the latter of which involved a Taiwanese eggplant dish with basil that was so good that it immediately led to frantic googling to see whether I could make it myself. (I think this recipe might work, but will keep you posted.)
I also finally got to pick up the books I ordered from Omnivore Books months ago, which they kindly stashed away for me during my absence. I'm extremely excited to start cooking from Bryant Terry's Vegetable Kingdom and Toni Tipton-Martin's Jubilee, and I'm due to get the Xi'an Famous Foods cookbook and Nik Sharma's latest, The Flavor Equation, in the next couple of weeks. This probably means I should buy more kitchen shelving so that my cookbooks aren't just piled on the floor (or, ahem, propping my laptop up to a more ergonomic height.)
Thanks to recent orders from Ballerina Farm and a comically overstuffed box of amazing fruit and vegetables from Vang's Green Produce, my fridge and freezer are now full of everything from pork roast to jujubes. Really, the best part of being home is having access to my own kitchen equipment, easier access to certain ingredients - and let's be real, my gas burners - so I can experiment to my heart's content.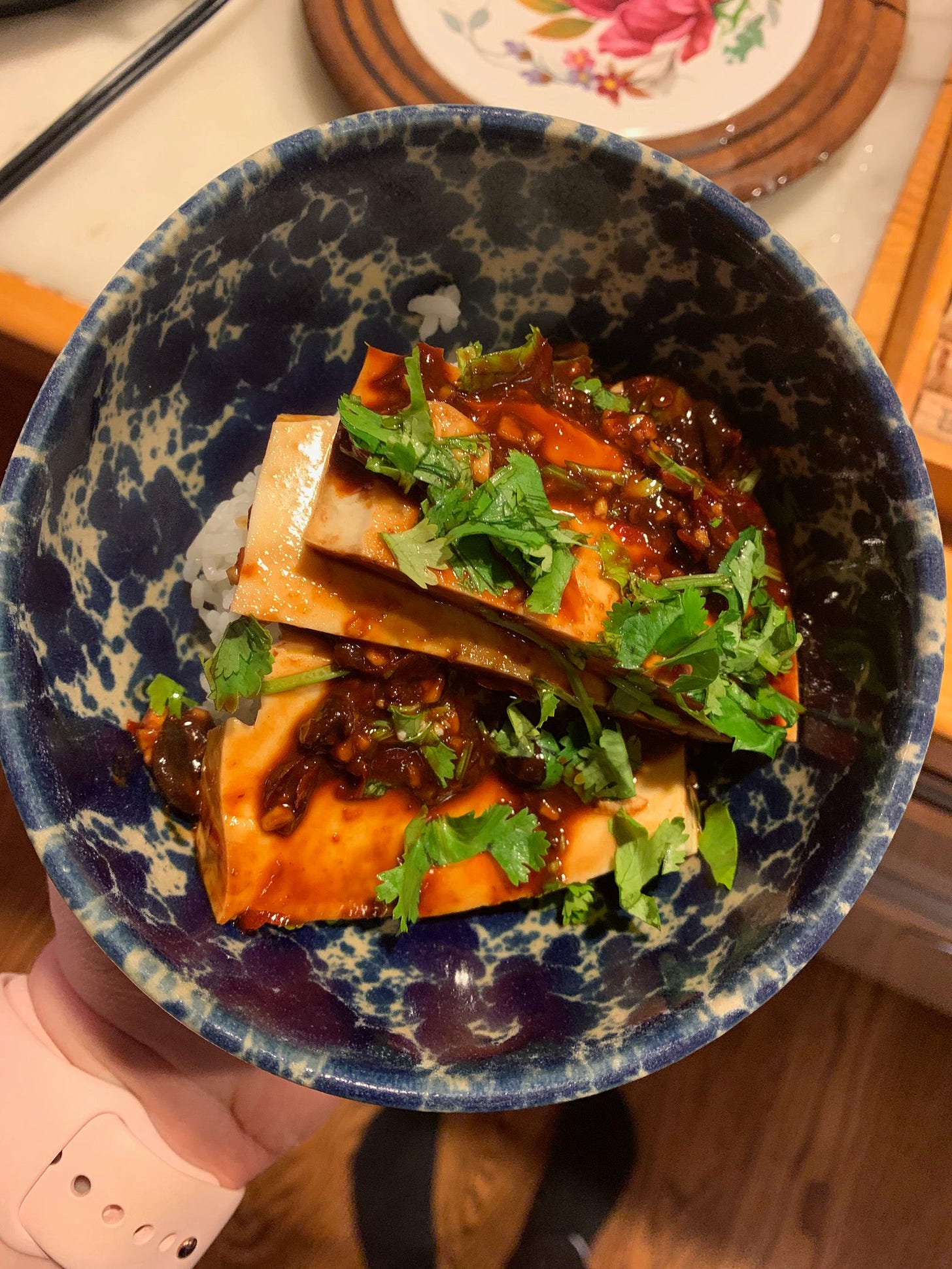 Before we left Vermont, we had the opposite problem of having to use up everything in the fridge before we left. Happily, said fridge contained massive quantities of both firm and soft tofu, leading to a tofu extravaganza involving both Smitten Kitchen's black pepper tofu and eggplant and a new-to-me recipe for spicy cold tofu from The Woks of Life. Both were awesome, and I'm particularly excited to keep the ingredients for the cold tofu on hand, because it is, as the recipe states, literally a five minute dish, and with Open Enrollment coming up I need as many of those as I can get.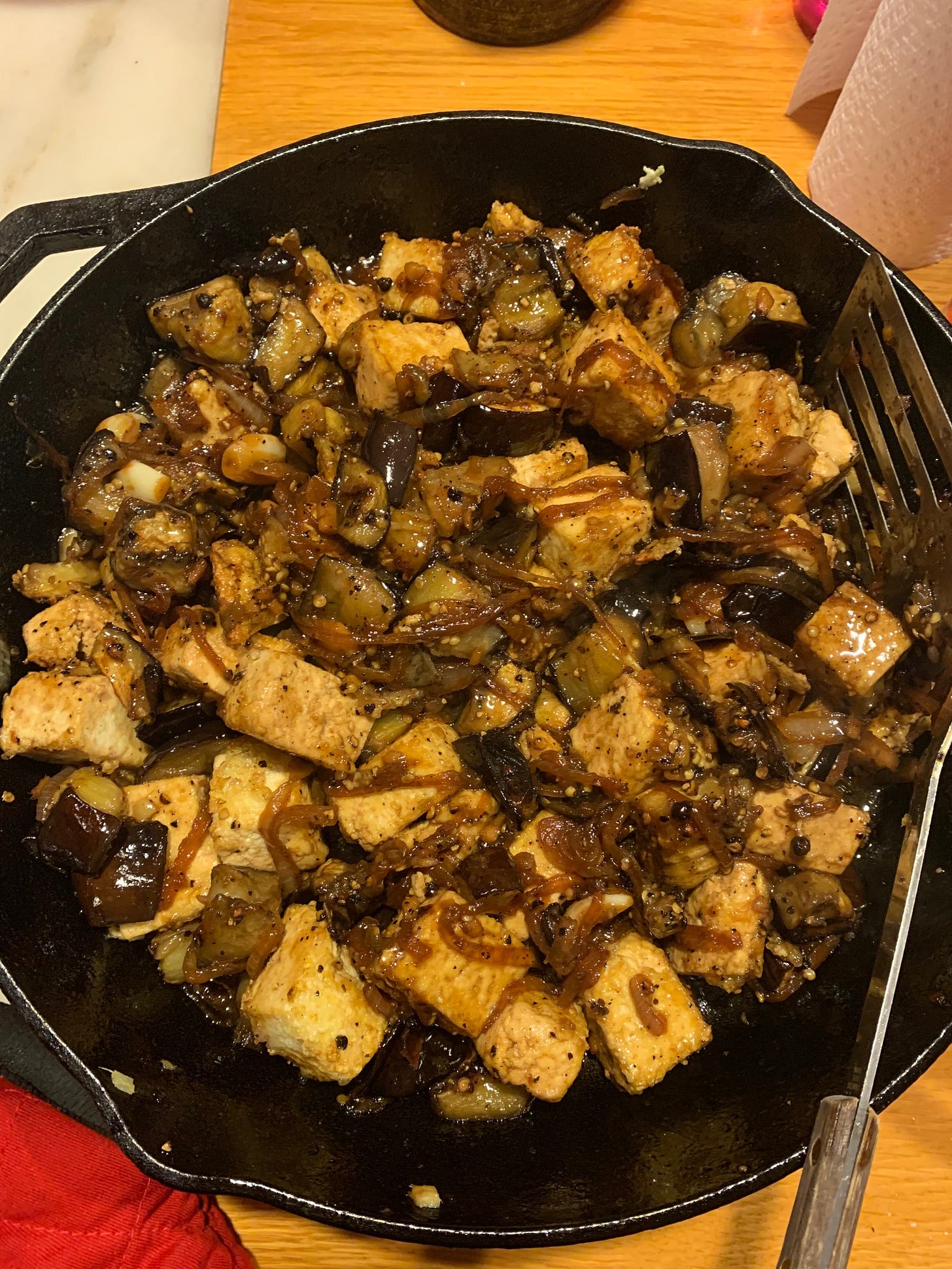 I was also thrilled to finally get to make the fried cauliflower with spicy fish-sauce sauce from Six Seasons, which I knew my mom would love but hadn't quite gotten around to making in the previous weeks. Having only one head of cauliflower in the house but huge quantities of eggplant led to the happy discovery that if you fry eggplant until golden and dress it the same way (the spicy fish-sauce sauce, garlic, olive oil) it is similarly delicious.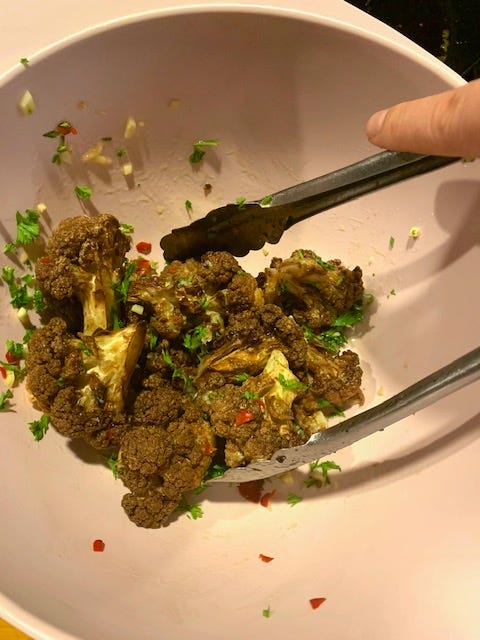 Part of the "routine reset" I've been shooting for since I've gotten home has been avoiding pasta for lunch (so often my default) and doing a protein plus vegetable format for dinner. Our first night back, I'd managed to score some firm tofu via Instacart, so tried out the spicy griddled tofu "steaks" from The Woks of Life and the charred broccoli with coriander dressing from Milk Street that Sam's dad made for us in New Jersey.
Between bashing up cumin seeds and coriander, my mortar and pestle (another kitchen item I'm so thrilled to have again!) got a workout, but it was worth it for the big flavors in both dishes. I'll caveat that the spice powder for the tofu burned somewhat easily, which means I currently have this idea of turning it into a marinade bopping around my head.
The big winner that week was, however, the leftover broccoli plus a beautiful Ballerina Farm pork chop from the freezer, dry brined with salt and sugar overnight and then broiled until charred and delicious and just 140F in the middle. We rounded the whole thing out with some pan-fried TJs cauliflower gnocchi and were very happy.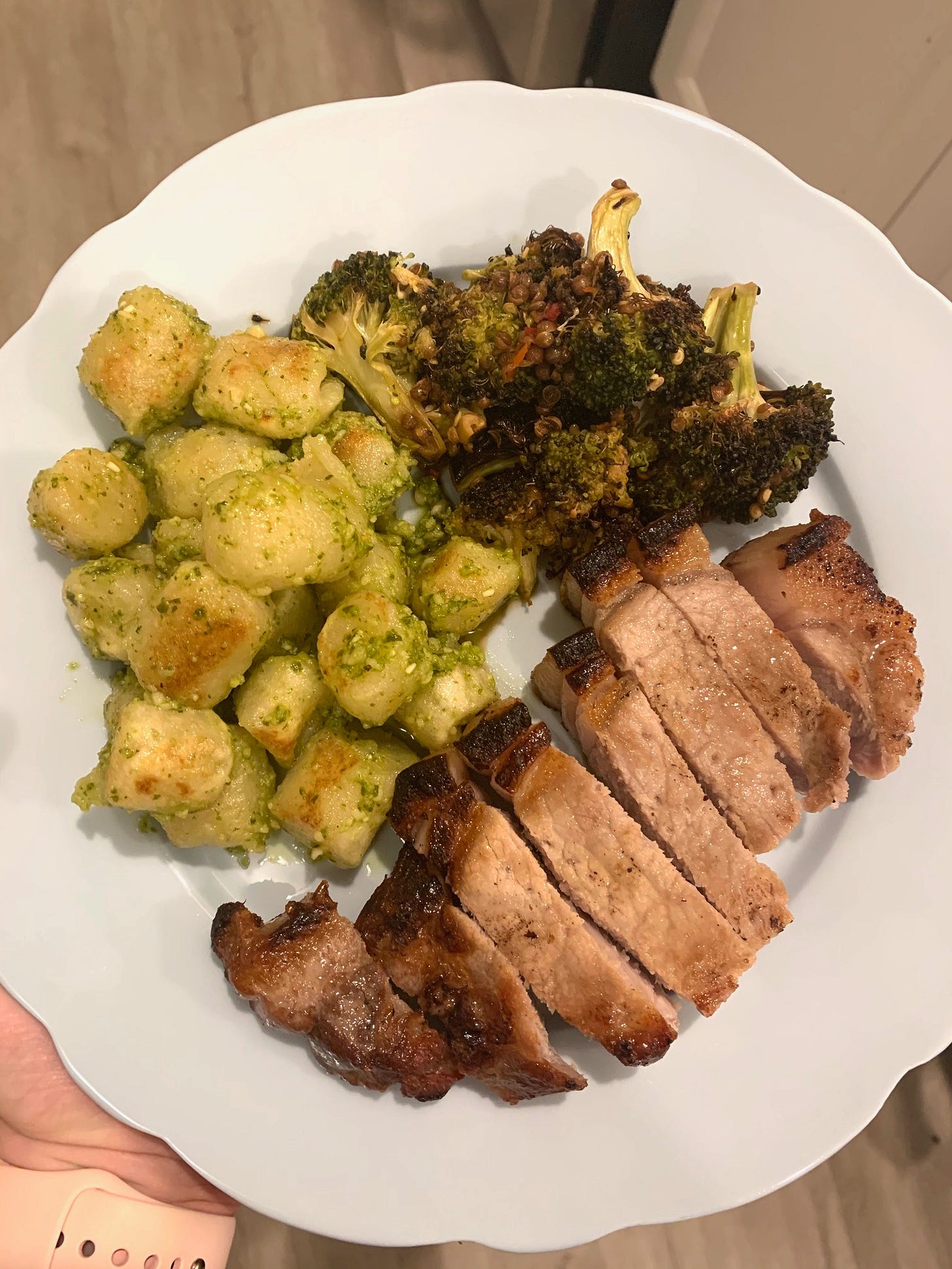 Beyond it being extremely tasty, the pork chop is a small point of pride for me because it's representative of the way I'm starting to cook by intuition, cobbling together bits and pieces from different recipes (in this case, the dry brine from Kenji López-Alt's reverse-seared pork chop, plus Dan Gritzer's broiler method from his recipe for sheet pan fajitas.) A very baby step, to be sure, but still forward motion.
Last night, in an effort to clear the vegetable crisper of our Instacart-ed items before I got my produce box today, we finally tried Kenji's spin on okonomiyaki to use up an enormous head of cabbage. I've made okonomiyaki before, but mostly in small-pancake form rather than one big one, and the addition of bacon was extremely welcome. Even missing every optional flavoring ingredient it turned out awesome, if ugly from my haphazard attempts at flipping. Lacking okonomiyaki sauce we served it with sriracha and furikake which worked well.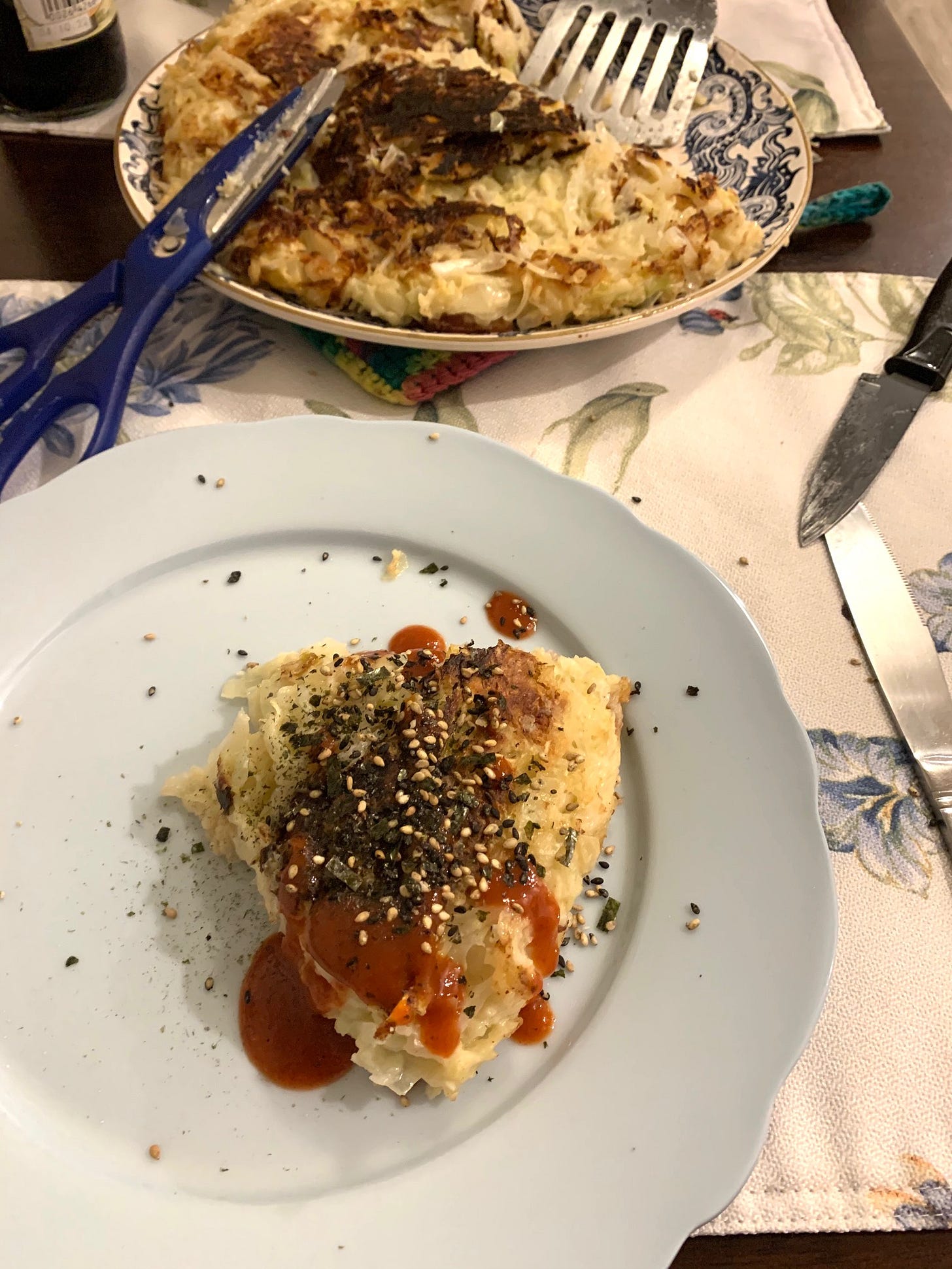 Today was a whirlwind of produce prep and cooking. I really overdid it on my produce order (there were at least 20 pounds of veg in that box!) but am trying to make up for it with careful prepping. I've got smashed and sliced cucumbers in the fridge to make The Woks of Life's smashed Asian cucumber salad; blitzed cauliflower for Bryant Terry's creamy cauliflower, to serve with some defrosted sausages from Wursthall; and a huge quantity of blanched gai lan, to drizzle with garlic oil and soy sauce and use in lunch bowls.
I already shrunk down the four pounds of early girl tomatoes by slow roasting them in the oven with garlic and dried chillies, as outlined recently in Alison Roman's newsletter; they smell unbelievably good, to the point where I kept leaning over to sniff them while they cooled.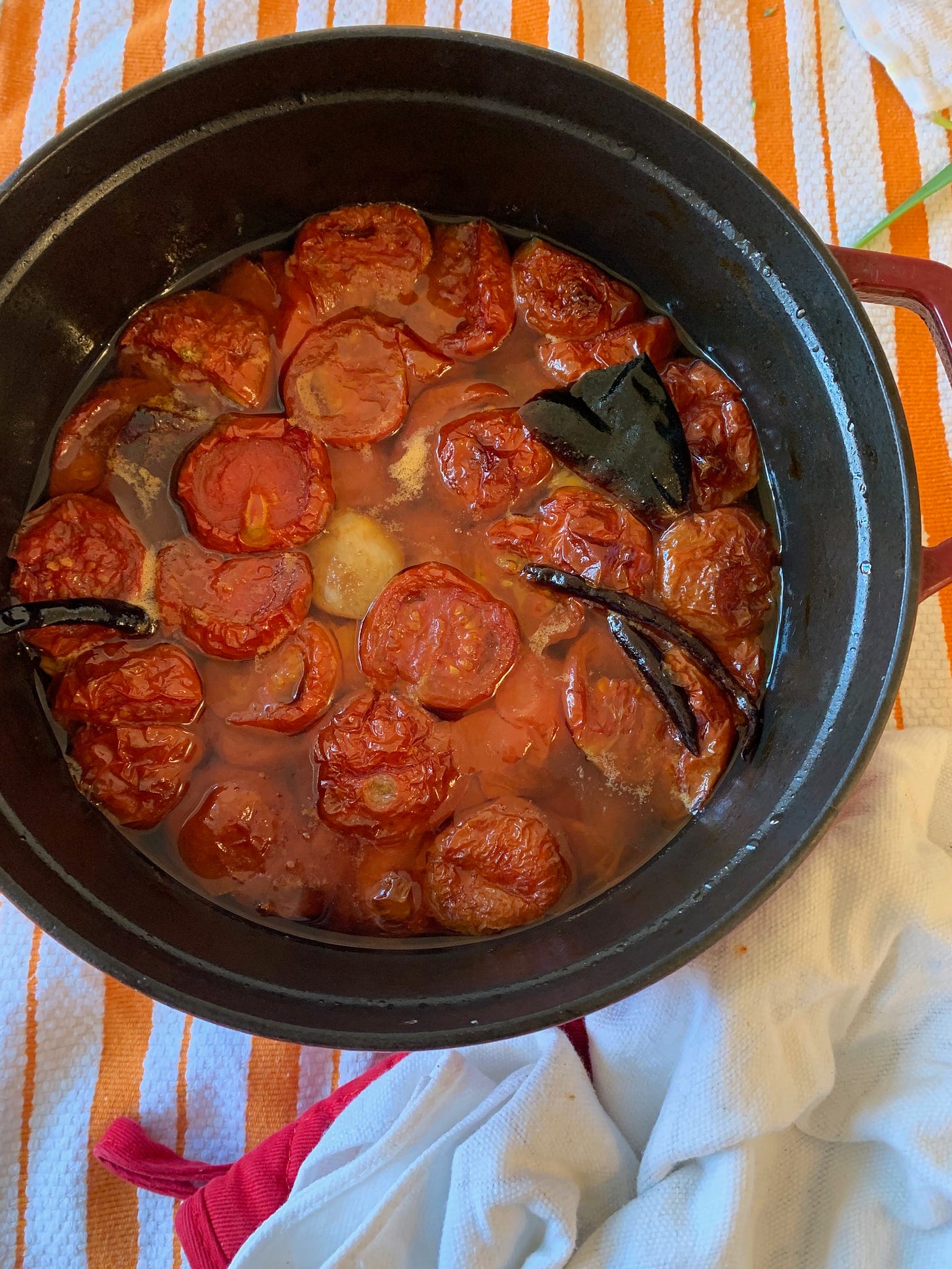 This evening, half of a gigantic bag of holy basil went into a really good batch of pad ka prao (side note, I just ordered Leela Punayaratabandhu's first book, Simple Thai Food, and am wildly excited.) And I've been munching on fresh jujubes all afternoon — they taste kind of like a sweet apple and are totally delicious.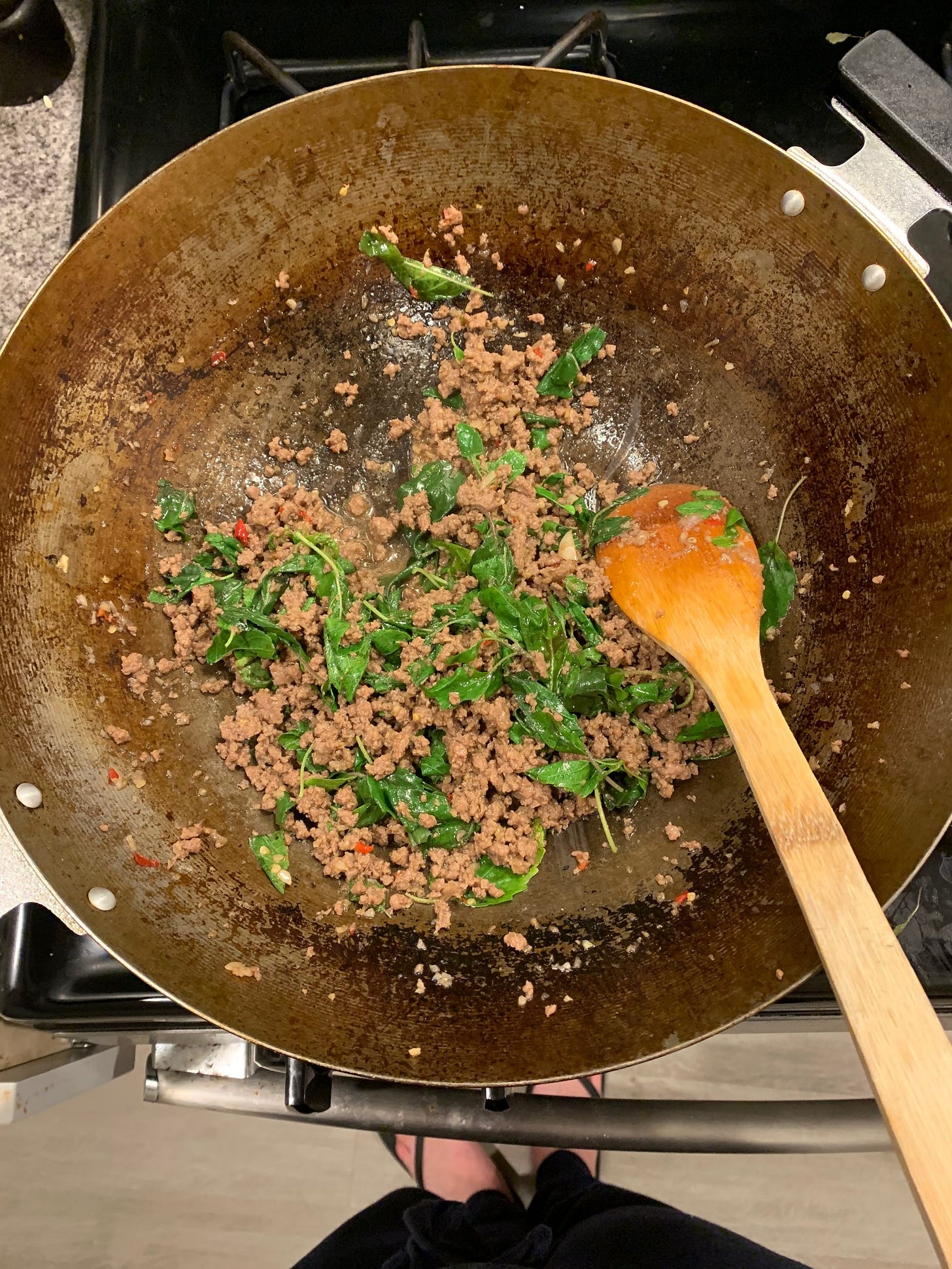 What else is on the horizon for this week? I've got enough eggplant that a few might go into a batch of patlican oturtma (Turkish ground beef and eggplant casserole); two heads of broccoli and firm tofu for this simple stir fry; and also two big bunches of garlic chives, which means I'm either going to make this garlic chive stir fry or chive rolls, and probably both.
---
A brief note on reading; I'd be remiss if I didn't take a moment to plug my latest nonfiction favorite, Cyd Harrell's A Civic Technologist's Practice Guide. It's aimed at techie folks who want to make an impact in government, and while I'm not a technologist, I still found it a really pragmatic and helpful read as someone who frequently bumps up against government entities in my work life.
Apparently I'm making my way through Hugo award nominees for my speculative fiction picks these days; I've recently enjoyed Middlegame by Seanan McGuire and His Majesty's Dragon by Naomi Novik (thanks for the recommendation, Dustin!) and what I can say of the latter is that it's great and fun and very different from Spinning Silver.
I've also read a few very good romance novels recently — Bringing down the Duke and A Rogue of One's Own by Evie Dunmore (loved the first one, loved the sequel even more) and am currently working my way through Talia Hibbert's Get a Life, Chloe Brown which is fantastic so far. The escapism is in full force, folks, and I'm always down for more recommendations.
---
That's all for now! See you next week, and in the meantime, I'd love to hear what you're cooking and reading. Find me on Instagram or Twitter, or leave a comment below.