Discover more from Aleka Gürel
Semi-regular recipe & reading inspiration, plus the occasional health policy thought.
The summer that never started
On food memories, peaches, and seeking out happy endings in fiction
Hey, it's August. How is it August? This year has gone by so slowly and so fast at the same time. My friend Brooke said on Twitter yesterday that it feels like summer never began, and I think that hits the nail on the end. Summer is a time of freedom and celebration, and (if you're a responsible pandemic citizen, at least) you've likely not had much opportunity for either of those.
I grew up spending June through August largely back home in Izmir, Turkey, where summer life has a particular cadence to it. Sitting down to dinner at dusk at seaside fish restaurants, for grilled sea bass and calamari; late-night runs for ice cream; spending days lounging at the beach or swimming in clear water dotted with patches of seaweed, emerging periodically to apply more sunscreen.
And then there's the grilled meat - I miss köfte and lamb chops the most - and kumru, oblong sesame rolls griddled and filled with meat and cheese and tomatoes. As a treat we'd pick up lokma, little doughnuts dropped one by one into a big vat of hot oil, fried until golden and then drenched in syrup and doled out into little plastic containers.
The fruit, at least, is the same there and here. Yesterday morning we had peach milkshakes with ice and yogurt and a huge mountain of stone fruit, not too far from the ones my mom would make us growing up. They were cold and thick and we all fell silent as we picked up our glasses and just enjoyed.
I'm trying to relish these moments and shed my bitterness about this summer that's been stolen from us. Even if I can't have the summer food memories I'm used to, we're making new ones. Sam's dad is an incredible cook and meals here are always memorable, but even more so now that they're the central activity of the day.
He's mastered the art of gravlax - his own spin on an Alison Roman recipe with scotch and aleppo pepper and lots of grapefruit zest. We've been eating it on homemade sourdough rye bread and in makeshift donburi and sushi, where it's a surprisingly good, longer-lived substitute to fresh fish.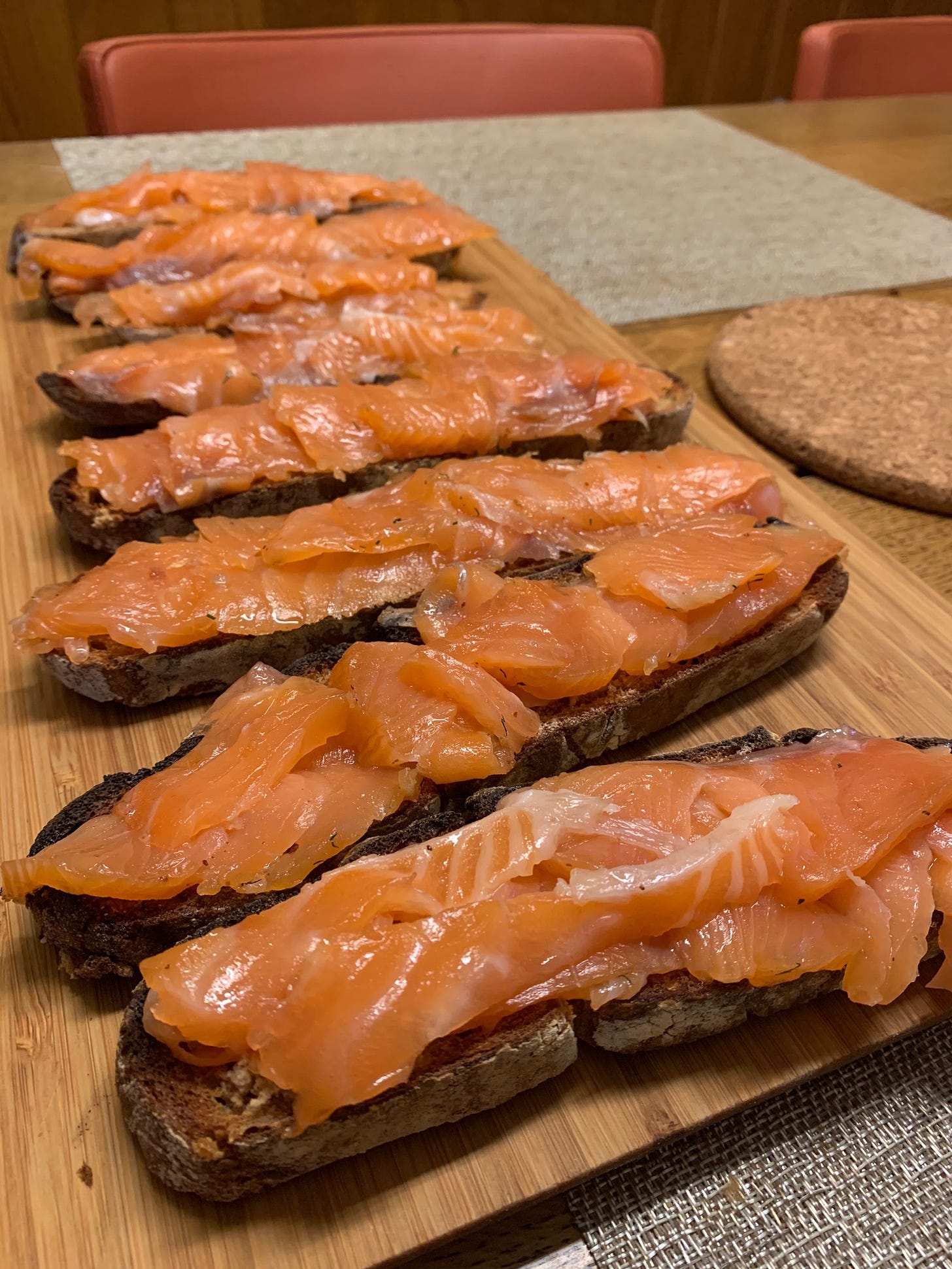 And then there are the pizzas. We've been making endless batches of homemade pizza and eating them out on the veranda at 8pm, when the New Jersey heat finally mellows into something bearable. They're all light and fresh and at Alice Waters' instruction, not loaded down with tomato sauce - so far, the winner is caramelized onion and gorgonzola. My own pizza adventures have started and ended with Kenji López-Alt's's cast iron pan pizza, but I think it's time to re-season my baking steel and get cracking.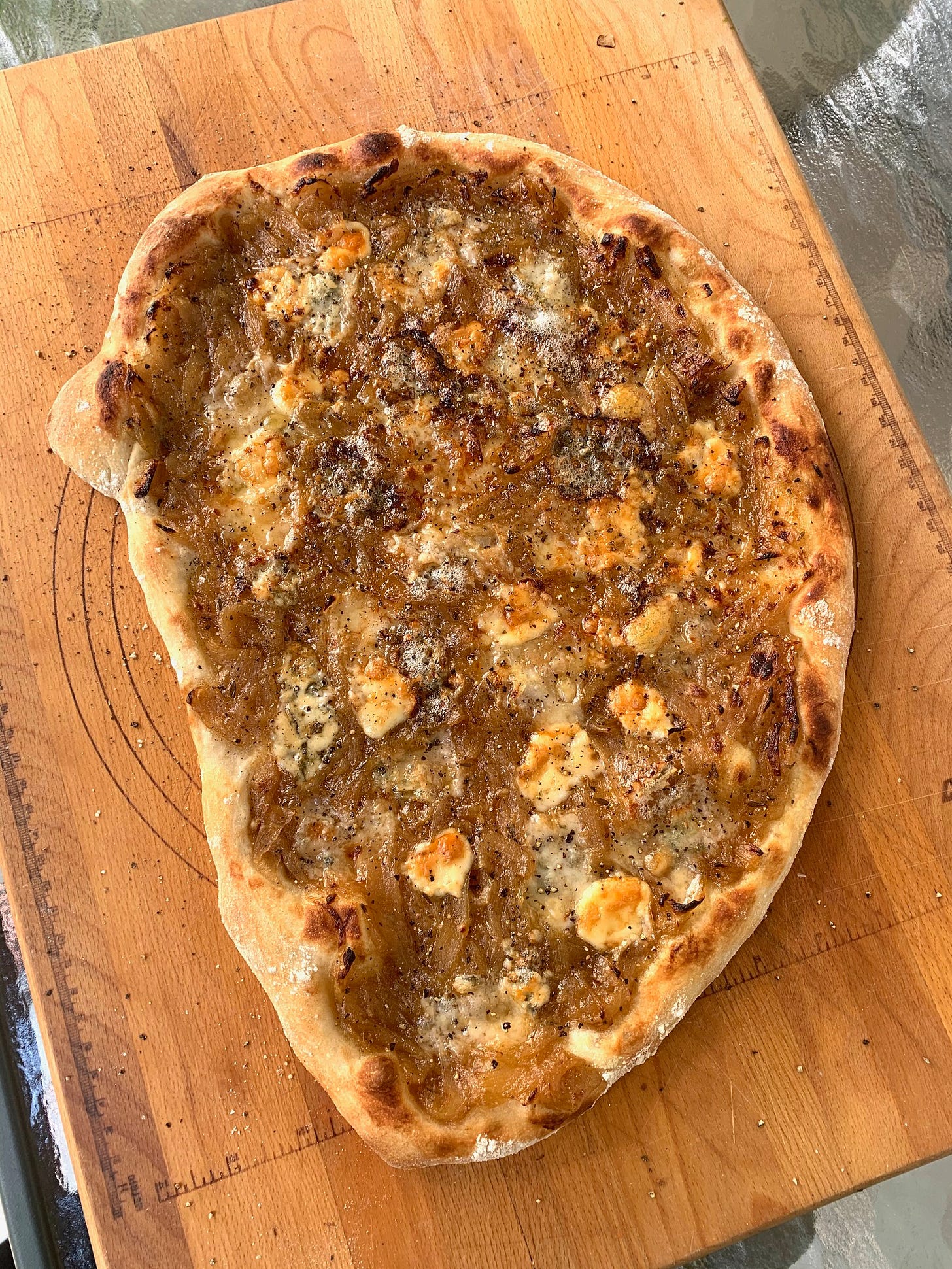 This morning we made tempura using Kenji's recipe on Serious Eats. I've been wanting to try this for a long time, as evidenced by the giant bottle of Kirkland vodka I bought for this purpose, which is still sitting, unopened, in our pantry back in San Francisco. Sure enough, our onions, peppers, broccoli and Japanese sweet potato rings turned out crispy and delicious, though a word of warning: eat them immediately, as they turn soggy surprisingly fast.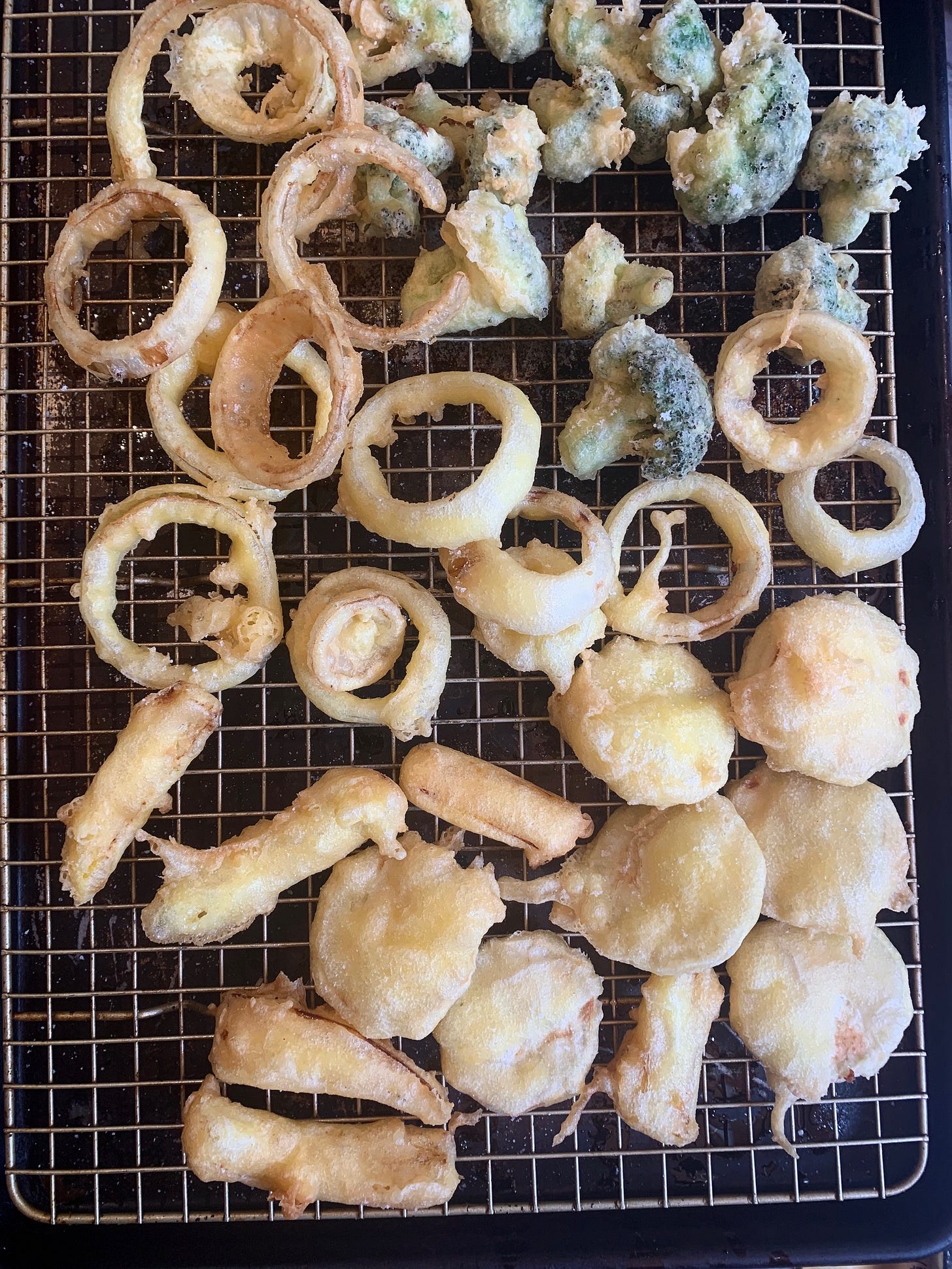 My own contributions have been somewhat less ambitious. With sourdough discard around, it was only a matter of time until I made The Perfect Loaf's sourdough pancakes. And later that day, tasked with finding something to do with a few boxes of defrosted puff pastry, I turned to Smitten Kitchen's tarte soleil, which looks way harder than it actually is and takes about 20 minutes to assemble. The original recipe calls for a filling of olive and sundried tomato tapenade, but we didn't have all the ingredients, and besides, I was craving something different.
I am, in general, a fan of carb-on-carb combinations, and none is better than potatoes and cheese stuffed into phyllo pastry or bread or thin flatbreads called gözleme. Back home the cheese is usually beyaz peynir, which literally translates to "white cheese" and is ubiquitous. Instead I used grated cheddar, sprinkling it over potatoes mashed with butter and salt and spread over one round of phyllo dough. The result was both beautiful and tasty, and scratched my itch for pastries from home.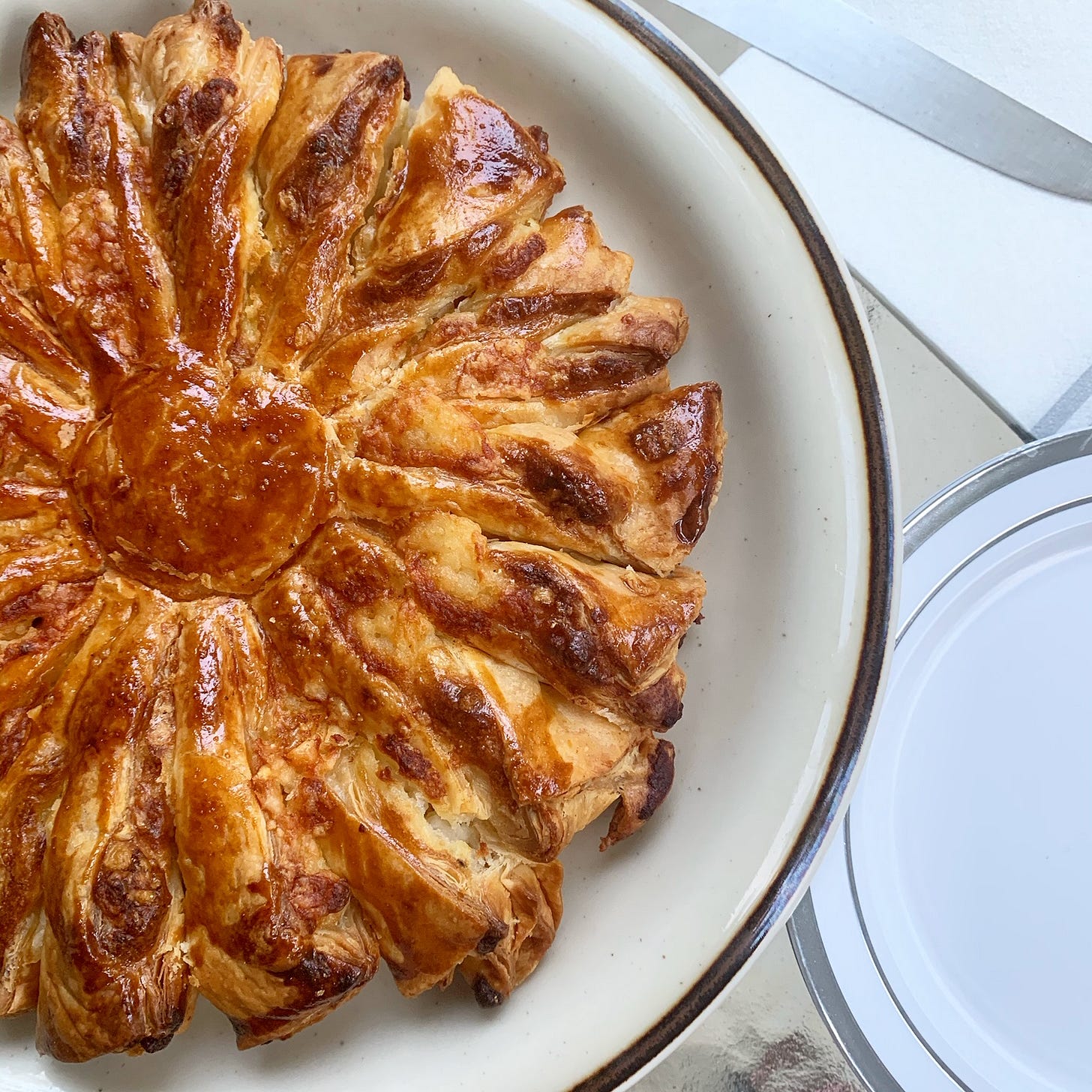 Other than that, it's been all peaches all the time. I kicked off the week with Jerrelle Guy's peach poundcake, which could not be easier: you blitz three peaches in a food processor and from there, it's a dump-and-mix situation. I've had many a dry pound cake in my life, and this isn't one of them: it bakes up incredibly moist, and you glaze it with a mix of peach purée and powdered sugar that honestly, I would drink by the glass.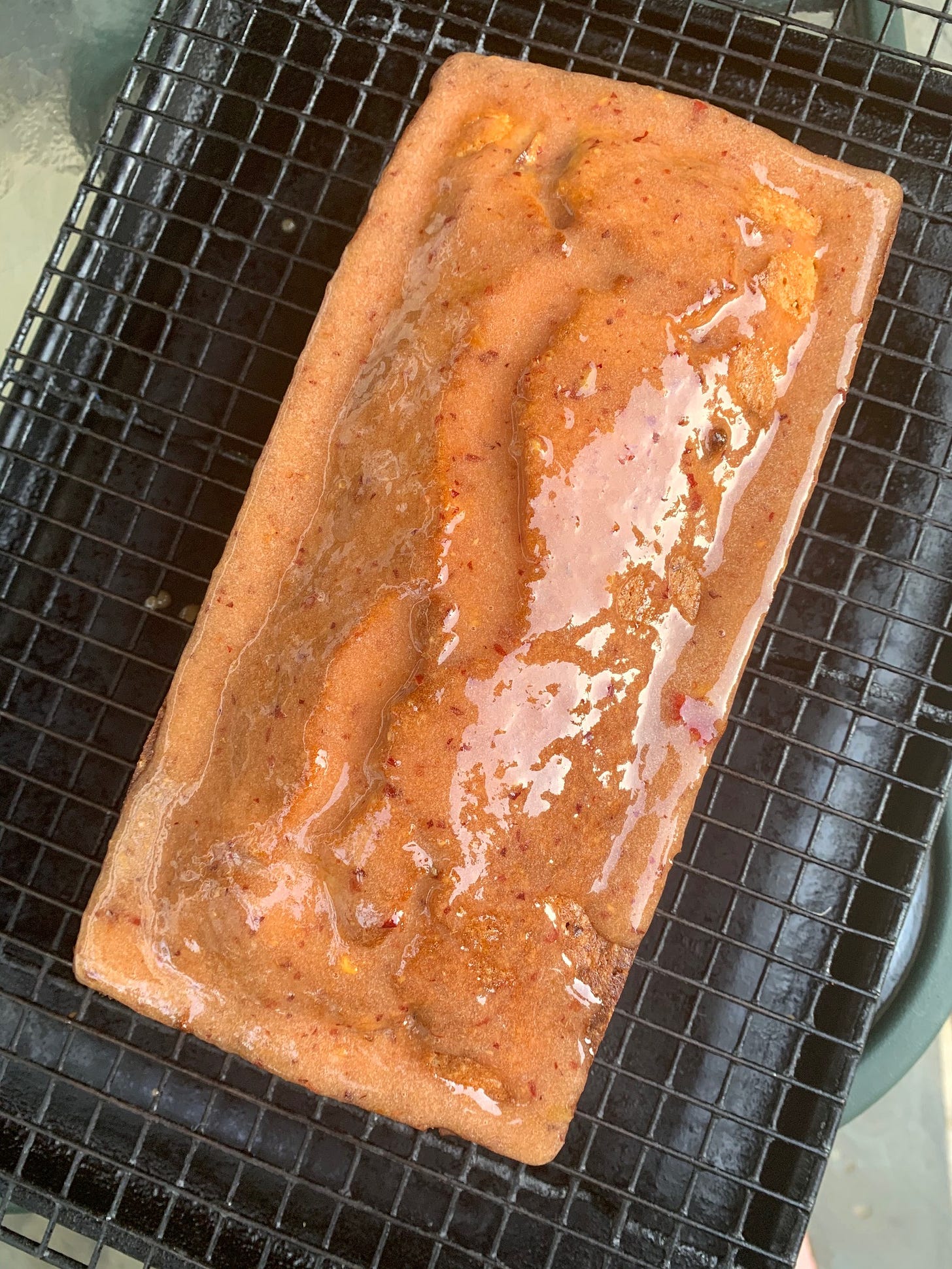 A few nights later, we used up another few peaches in Smitten Kitchen's magic cobbler, which never fails to delight. You are all probably sick of me talking about this recipe, but I'll never stop, because it has legitimately the best effort to outcome ratio of any dessert. I did a terrible job sprinkling the cinnamon on this particular occasion which is why it looks burned in the middle; please be assured that it was still delicious.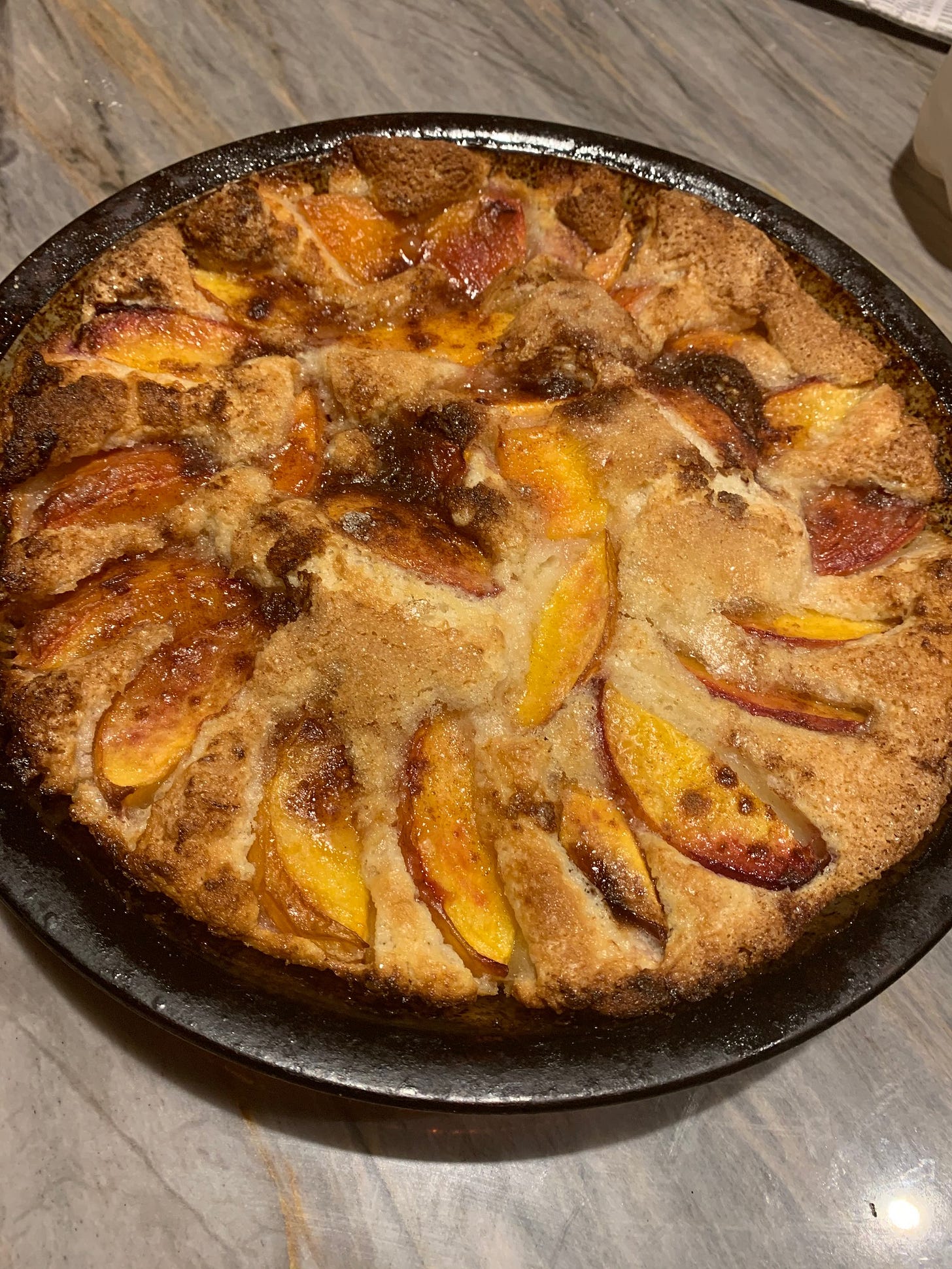 The best thing I made all week was, however, not a pastry. It was a Ballerina Farm pork loin roast, a repeat of the one I made up in Vermont, this time served with crispy smashed potatoes and fried onions. It got rave reviews then and also a few days later, served cold alongside soba noodles and an unbelievably good coriander-dressed roasted broccoli salad. Honestly, the lesson here is: if you buy really good meat, treat it very simply, and don't overcook it, it's hard to go wrong.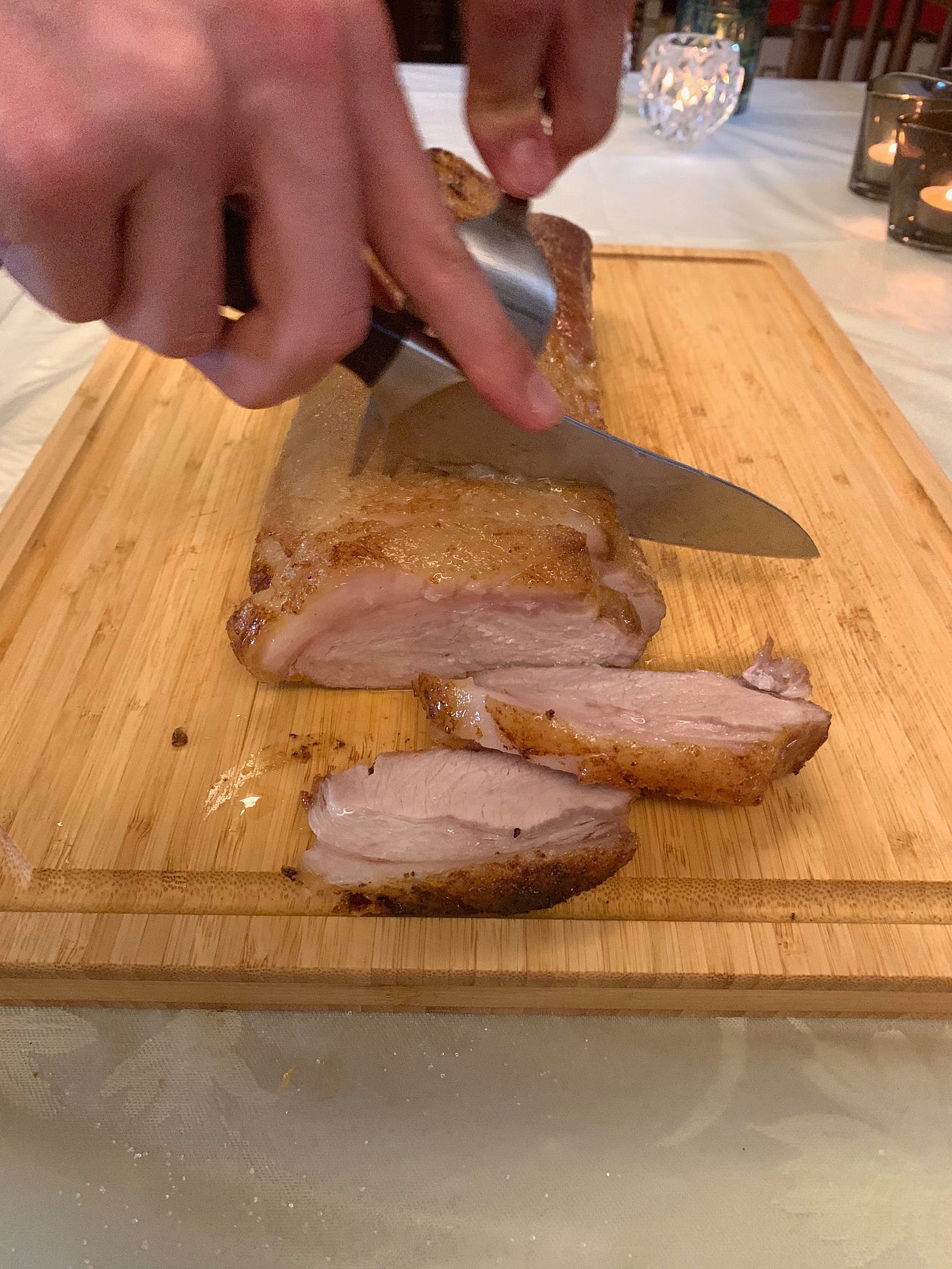 I've currently got a batch of Ballerina Farm short ribs in the oven, braising away with tomatoes and onions and waiting to be served over polenta. We're going to cap off dinner with vanilla ice cream and homemade fudge sauce, which sounds absolutely perfect on this 90-degree day. And there are dozens of peaches ripening in the kitchen, waiting to be used all week in every possible dessert. I can't wait.
---
What are you all reading right now? I've gone on another massive comfort-reading kick, as I tend to do once or twice a year when things get stressful. I just finished re-reading Garth Nix's Old Kingdom books, which hold up well — I've always loved that they marry inventive world-building with language that's not at all stuffy. For fellow fans, here's a lovely, nostalgic piece about Sabriel in The Guardian, written by Samantha Shannon, whose Bone Season books I've got on hold at the library. (Though I'll admit that when I started reading these as a 12-year old who felt deeply uncool, Lirael was my favorite.)
I've also been on a bit of a romance binge, which bears mentioning because as I've mentioned in the past, I've undergone a massive shift in perspective on this genre in recent years.
Back in high school, a few my friends would visit charity shops in search of secondhand Mills & Boon novels, the British equivalent of Harlequin romances. By the time we graduated they'd acquired a huge collection which they'd cart around with them from dorm to dorm. I snobbishly refused to read any, based pretty much exclusively on the titles — the one that sticks out in my memory is The Greek Tycoon's Virgin Wife — and that persisted into a universal shunning of romance throughout high school and college.
I'm here to say that I was wrong! Perhaps even about The Greek Tycoon's Virgin Wife, which has 3.6 stars on Goodreads, but especially about the genre writ large. There is a tendency to equate romance with bad writing, poor character development and thin plots, which both 1) certainly isn't true of all romance novels and 2) is definitely true of many popular non-romance novels! How come mass market paperbacks aimed at men rarely get any of this flack, eh? (Ok, we all know it's sexism, with a healthy dose of prudishness.)
I forget who on the internet said it recently, but a key consideration mid-pandemic is that romance novels are plain fun and almost always have happy endings, and many of us really need that right now. It is, in fact, extremely ok to need that at any time, whether or not there's a global pandemic going on.
So if you need a boost, I encourage you to go add some romance to your reading list. Some of my favorites include Helen Hoang's The Kiss Quotient, Casey McQuiston's Red, White and Royal Blue, and if you're into speculative fiction, I've really enjoyed Jasmine Silvera's Grace Bloods and Tooth and Spell books. On the historical front, I stayed up wildly late reading Beverly Jenkins' meticulously researched Indigo, which is set in the 1850s and centers on the underground railroad. I've also happily sped through Sarah MacLean's Love by Numbers and Joanna Shupe's Wicked Deceptions books, all regency romances. (Thanks go to Sarah Yerima and Anna Perantoni for many of these recommendations!)
---
That's all for now, folks! See you next week, and in the meantime, I'd love your feedback in the comments below, or on Twitter or Instagram!