This is a love letter.
Mostly to the Stonestown farmer's market and my new seasonal produce routine
Is anybody else radically rethinking their personality these days? In my case, I'm mulling over whether I'm less of an extrovert than I thought I was. After 7 weeks in near-isolation, I'm honestly doing ok – sure, I'm stressed and sleep deprived, but I'm pretty sure that's mostly from my lack of a routine and exercise rather than the social isolation itself. 
Maybe I'm a secret introvert - or maybe it's just that my newfound obsession with seasonal produce is giving me something to look forward to every week?
For years, I visited the farmer's market only sporadically, shopping around various stalls to find whatever familiar vegetables I needed without regard to seasonality. Then a few weeks ago I started making a trip to the Stonestown farmer's market on Sundays, mostly because my friend is currently working at a wonderful stall there (Vang's Green Produce, which offers beautiful, California-grown produce plus pre-orders so you can be in and out in five minutes.)
This means that every Sunday I get to go outside, see a familiar face, and acquire some fresh, delicious vegetables. What's not to love?  
Huge bundles of cilantro, mint and parsley have taken up regular residence in my refrigerator; I'm rolling in fava beans and snap peas and there is currently a big, beautiful bag of purslane in my crisper. Next week, they'll have shiso, holy basil and kaffir lime leaves, and I could not be more excited. My entire non-work life currently revolves around planning what I'm going to do with the herbs and vegetables coming my way.
Acquiring all that produce also means I have to process it and put it away. I've been relying on a methodology inspired by Sasha Marx's instagram feed (check the saved highlight titled "Produce Prep") whereby you immediately remove all rubber bands choking your veggies, give them a nice bath in cold water, take the things that will fit for a ride in your salad spinner, and air dry everything on clean kitchen towels spread on every available surface before careful packing it up in towel-separated layers in your crisper drawers. (Though to be honest, I've been going the ziplock bag route for greens.)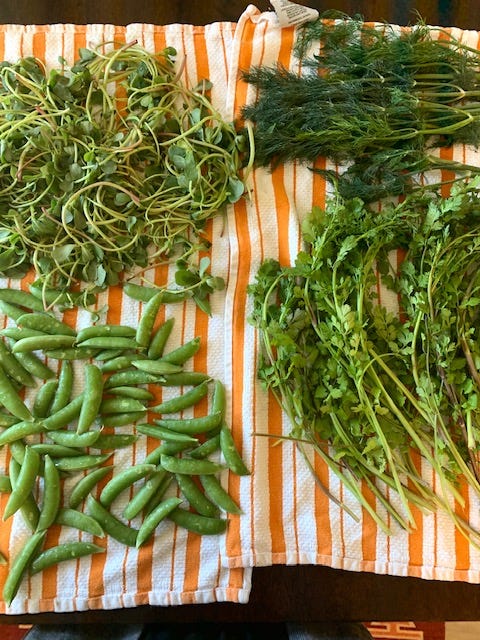 The downside: it takes a while and your countertops are out of commission until the veggies are put away. The upside: far less prep during the week, plus I find that it gives me some headspace to take stock of what I have and start thinking through what I'm going to make with it. 
The first thing I do whenever I acquire a new vegetable is check the index of Joshua McFadden's wonderful cookbook, Six Seasons, which was a birthday present from my sister and two months later is already well loved. This week, I latched on to his recipe for fava beans on toast, lightly blitzed in a food processor with pecorino, mint, olive oil, lots of lemon and scallions.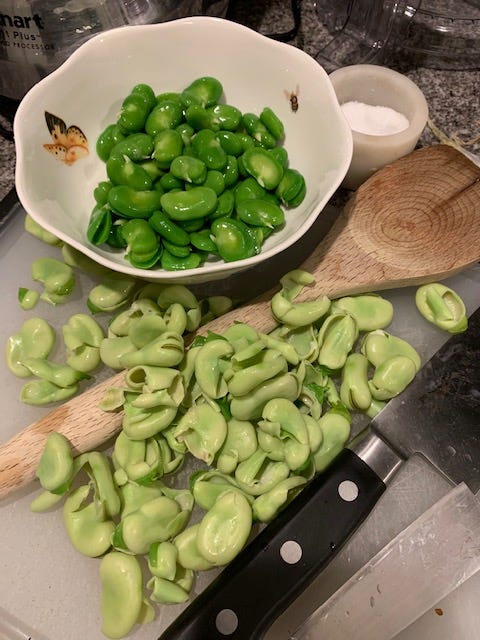 Favas are not a low-maintenance vegetable: you have to first get the beans out of their pods, and then blanch them, and then pop them out of their fibrous membrane. Sacramento Bee dining critic Kate Washington said it best on twitter last week: 
That said, the results are awesome: dark green beans that quite literally taste like spring. It was not a fancy dinner, nor a quick one, but definitely hit the spot.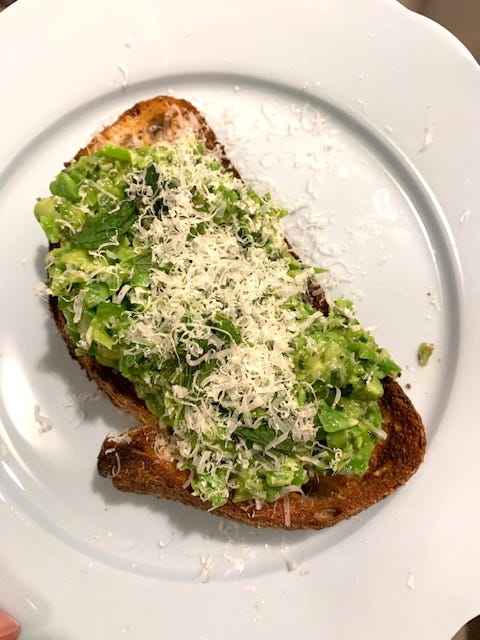 You might remember that when I sent out last week's newsletter, I had just pulled together a batch of Stella Parks' old-fashioned, all butter pie crust. The story there is that I bought two large bags of apples from the farmer's market the week before (are you sensing a theme?) and they were quickly approaching the point of no return.
After flipping through three separate cookbooks to find an apple pie recipe that relied on ingredients I actually had, I settled on Alison Roman's casual apple tart with caramelized buttermilk, from Nothing Fancy. The only problem there is that Alison's pie crust uses cup measurements, and I am scared of baking with anything but grams. Plus, who has time to wash measuring cups? So Stella's pie crust it was.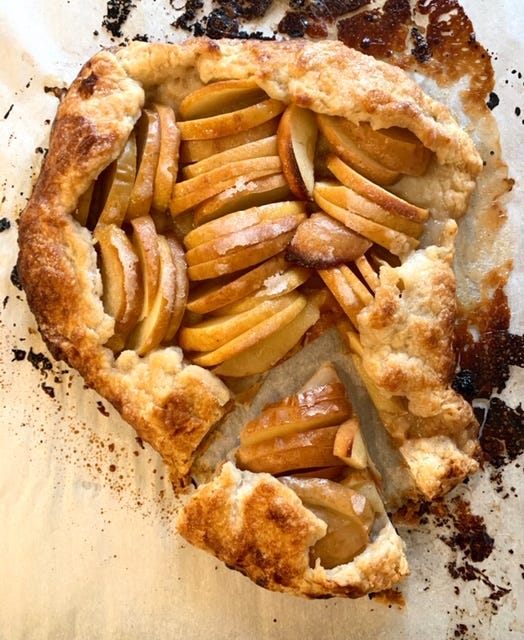 Despite the substitution, it turned out beautifully: crisp, flaky crust, with tender, lightly spiced apples. I ate it for breakfast on Tuesday and then for dessert that night with vanilla ice cream, and pretty soon there was none left. I have another half batch of piecrust in the freezer, and think I'm going to do a blueberry spin on this soon. Watch this space.
I revisited another old favorite this week: Daniel Gritzer's sheet pan fajitas. The base recipes call for either chicken thighs or skirt steak, but I decided to give it a shot with some 1" pork chops I had in the freezer from Ballerina Farm.
The recipe calls for broiling your meat until starting to char; you then let it rest while you switch the oven to 450 and cook the peppers and onions through. I am new to cooking pork chops and despite getting a little overzealous on the broiling, they were still surprisingly moist and delicious!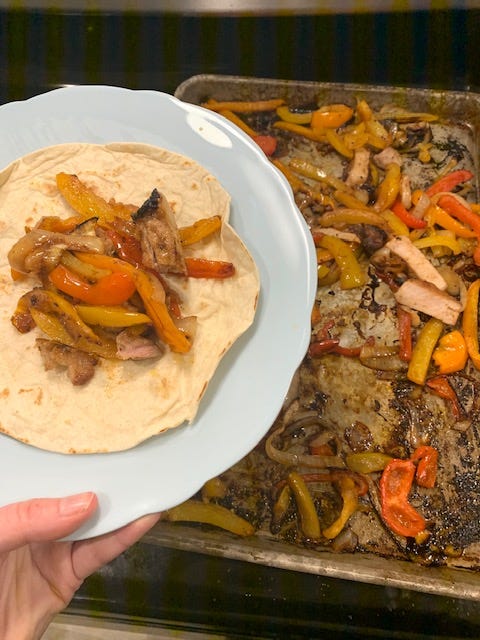 The next night, we veered right back into our usual meatless territory with Andy Baraghani's cauliflower bolognese. I'm not vegetarian and don't usually go for meatless dishes that are trying to replicate meat (I'd rather have less of the meat thing and more extremely good lentils) but I had a head of cauliflower in the crisper and it had good reviews, so why not?
This certainly didn't taste like real bolognese, but sight alone would have had me fooled, and it hit a similar hearty note. It's made not just with cauliflower but also mushrooms (a more likely meat substitute.) The downside is that the cook time is pretty long, but then again, regular bolognese takes at least 3 hours - maybe it's all part of the experience?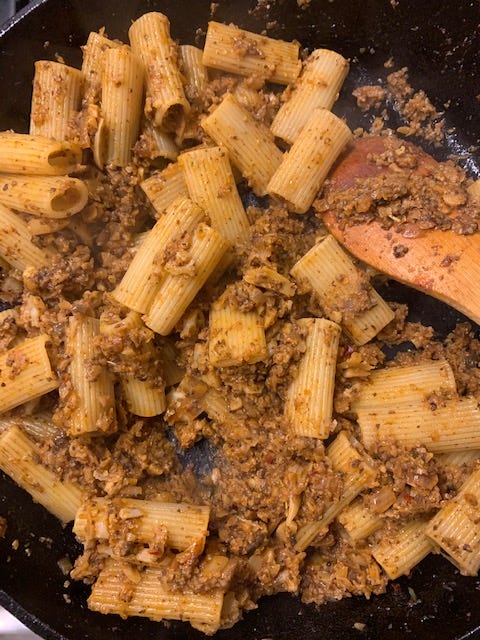 Last week was a very, very long one, and so by Friday I was extremely ready to pour myself a large glass of wine and dive right into the eggplant pilaf from Nik Sharma's beautiful first book, Season, which I don't cook from nearly enough. It's a pretty simple dish - spiced rice studded with peas and tender eggplant - and the recipe has a huge yield, almost enough to fill up my four quart pot.
Even with my fridge bursting at the seams, I wasn't mad about that - this is one of those things you really enjoy having in the fridge so you can heat up a bowl of it when the urge strikes (like at lunch today.) We served it with homemade paneer I'd made a few days prior - recipe also in Season! - which I marinated in cilantro and spices and then seared till crispy on the outside.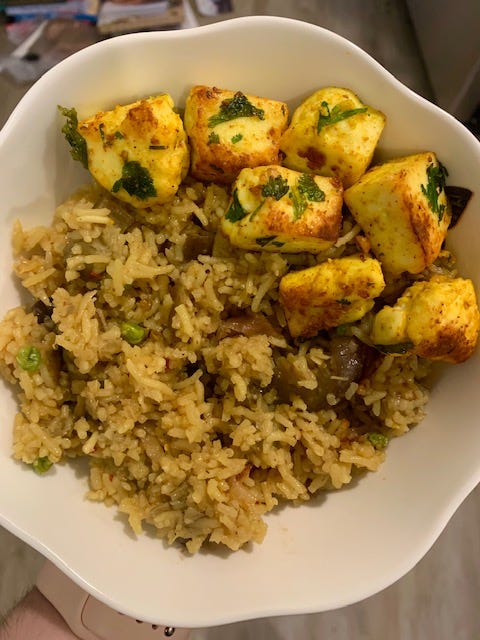 On Sunday morning I forewent cooking all together and picked up some pastries from Portside Bakery's stand at the farmer's market. Specifically, I bought two vanilla cream-filled "puffins" - basically a sugar-dusted croissant, presumably named during the cronut / cruffin hype of 2013. Whatever you want to call them, they were delicious. And a reminder that laminated dough is likely not going to be on my to-do list anytime soon, because who could bear to eat an imperfect version? Not me.
Dinner was similarly low key. One of the big upsides of processing all your produce is that it gives you an opportunity to clear your fridge of any stragglers - in this case, lots of sad scallions and herbs at the bottom of the crisper. I took a cue from Julia Turshen's wonderful book Small Victories and blitzed roughly chopped scallions, cilantro, parsley and a bit of mint in a blender before mixing in soy sauce, rice vinegar and canola oil to form a deeply green sauce that did a bang-up job of brightening a rice bowl alongside a crispy fried egg, quick pickles, and some very simply cooked Chinese broccoli.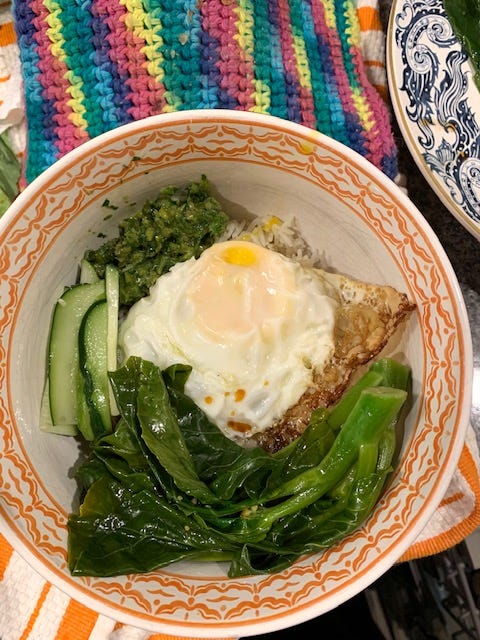 What will the coming week bring? I finally have a pound of real hot Italian sausage from Root Down Farm, destined for Helen Rosner's Robert, a Soup. I'm eyeing Joshua McFadden's cabbage soup with farro from Six Seasons. Probably Turkish zucchini fritters. And since Costco refuses to let you buy milk in normal portions, I'm predicting a lot of homemade ricotta in my future. (In this house, that means ricotta gnocchi.)
---
I don't have a health policy thought to share with you this week, except for this fact which never fails to delight me: Vermont's state children's health insurance program is called Dr. Dynasaur. You're welcome.
---
That's all for now, folks. See you next week - and in the meantime, I want to hear all about what you're cooking! Find me on Instagram or Twitter, or leave a comment here.