As you almost certainly know if you're reading this, today is Mother's Day in the United States (for another hour and a half, at least) and also in much of the world, including Turkey, where I'm from and largely grew up.
Shelter in place aside, it's been years since I was able to celebrate this holiday with any of the moms in my life in person, but I had the good luck to be able to video chat with my wonderful mom (who's American, but has lived in Turkey for almost thirty years) and her mom (who's German, but has lived in the US for more than fifty years.)
What you might not know if you're an American reading this is that the UK - where my paternal grandmother is from, and where much of my extended family lives - already had their celebration weeks ago, on March 22nd. Technically, the British version is called Mothering Sunday, and a Wikipedia binge today taught me that it was originally a religious holiday and started in the 16th century - a bit different from the secular American holiday that came about in the early 1900s. (Despite being British, my grandmother's lived in Turkey since the 1950s, so she gets two holidays - lucky!)
Random trivia aside, I'm grateful to have so many moms in my life - blood related and not - who have given me their time, care and love over the years. Happy Mother's day to you all!
---
Is it technically meal prep if you just cook a bunch of vegetables and rice on Sunday but don't assemble any of it? I'm going to say yes. Last week you might remember that I got my hands on three different kinds of Chinese greens - yu choy, ong choy, and gai lan. I blanched the yu choy and gai lan on Sunday, and stir fried the ong choy; then we assembled various combinations of greens, fried eggs and sauce into extremely delicious rice bowls for lunch all week.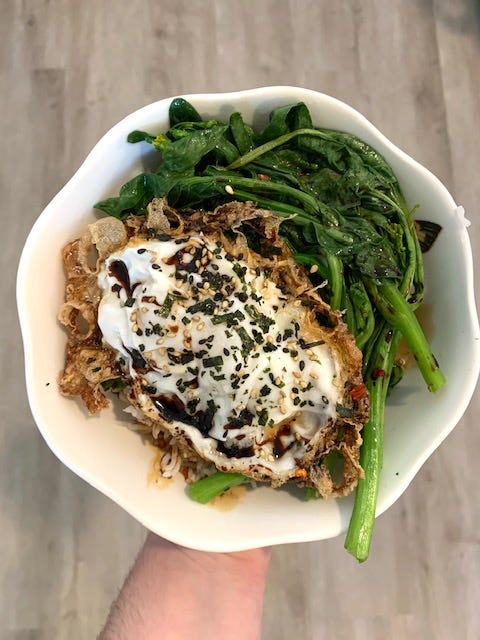 I also finally learned how to make a Thai-style fried egg in my wok and remember how I said that crispy fried eggs changed my life? Well, frying an egg in literally an inch of oil is even more life changing and you should definitely try it.
In terms of dinners, this was a fairly ambitious cooking week. We started off pretty simple, with Joshua McFadden's pasta alla gricia with slivered snap peas, from Six Seasons. It's essentially cacio e pepe with guanciale (cured pork jowl) or in my case, Ballerina Farm bacon. As such, he has you start off by making cacio e pepe butter – basically, a stick of butter folded together with toasted crushed black peppercorns and parmesan, which gets melted into the finished pasta.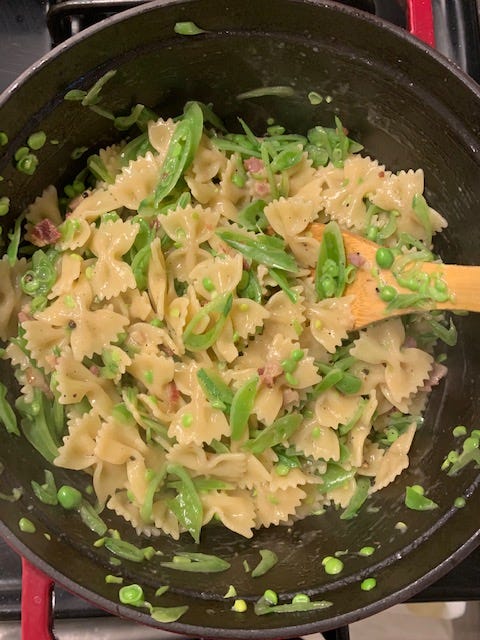 The whole thing is made a lot less heavy via the addition of a full pound of snap peas, which you de-string and thinly slice and throw in with the pasta just before it's done. The barely-cooked snap peas give the dish this awesome contrast between crunchy-light and creamy-heavy that probably would have been even better had I not made a solid dent in my pound of peas by snacking on them through the week. 
The next night we kicked things up a notch with Kenji López-Alt's Thai-style beef with basil. This is one of those things I've been eyeing for years but never seriously considered making because I've never seen Thai basil in stores near me.  
Traditionally, this dish is made with holy basil, but that's hard enough to find in the US that the recipe Kenji wrote deliberately calls for Thai purple basil. Lucky for me, my favorite farmer's market stall announced a few weeks ago that they were going to offer both Thai purple basil AND holy basil, and I immediately bumped this recipe up to the top of my list!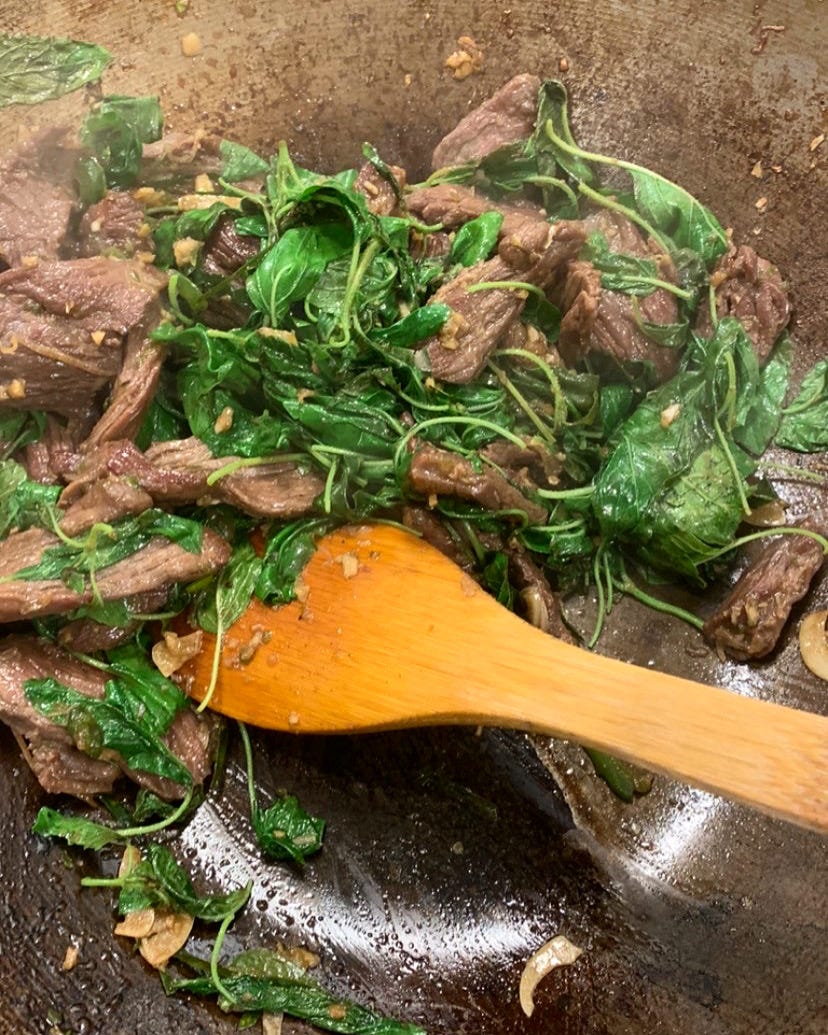 I used an entire bag of holy basil leaves and even made homemade fried shallots for the topping, and it turned out beautifully - though I may have overcooked the beef a little in my excitement. I'll definitely make this again the next time I get my hands on holy basil.  
After crushing a bunch of black peppercorns and having to use my food processor to make the sauce for the basil beef, I was extremely ready for my long-awaited mortar and pestle to arrive. After UPS failed to deliver it twice, I finally did the smart thing and checked my doorbell – sure enough, it was dead. One call to UPS and a sign on my door later, I am now the proud owner of a granite mortar and pestle (plus ramekins, a quarter sheet pan, and a cake tester!)  
Did you all know that you have to season a new granite mortar and pestle? I didn't, and I'm lucky that I have colleagues who are more experienced cooks than I am who ensured I did not end up eating grit and having a mid-COVID19 dental emergency. Basically, you pound rice or some other foodstuff (many of the guides I found online called for garlic) into powder until it's no longer turning greyish, which signals that there is no longer stray granite making its way into your food. 
Once that was done (and my arms were thoroughly exhausted) it was time to turn to Nik Sharma's recipe for masala chai in Season, which was what pushed me over the edge to buying a mortar and pestle in the first place. You grind up a mix of warm spices that when brewed with with black tea plus dairy and sweetener produces the beverage usually sold in the US as chai, or redundantly, "chai tea." ("Chai" is the word for "tea" in Hindi, Urdu and many other languages, including Turkish!)  
If you need an indicator of how good this is, I have since Thursday blazed through almost all of the spice mix I made and am in desperate need of another batch.  
After that, I got cocky and decided to attempt pesto with my new toy, even knowing that granite mortar and pestles are not the optimal kind for pesto and emulsified sauces. For that you want a marble mortar and a big, round wooden pestle, which is apparently better for emulsifying oils into the sauce.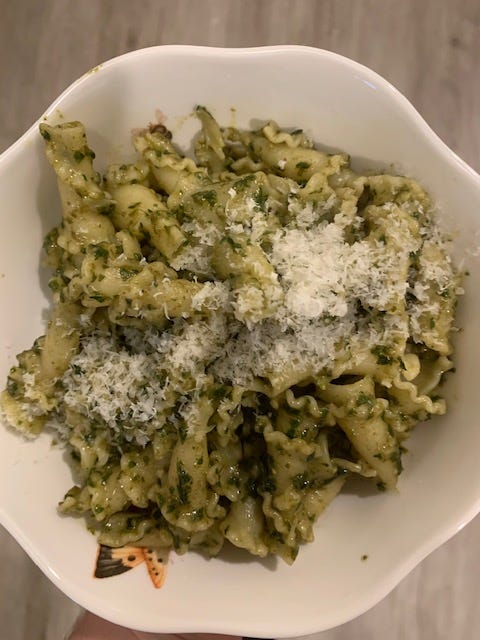 I got about halfway there and then admitted defeat and switched to the food processor. It was still much better than the Kirkland pesto I usually have, and I maintain that Kirkland is the best widely available commercial pesto. Way better than Trader Joe's and so many other brands that are overly lemony. 
We had better luck with the mortar and pestle on Saturday night, when we used it for an incomplete version of Kenji López-Alt's red curry paste (missing fresh Thai chilis, which meant it sort of hovered at a color in between green and red that was slightly less appealing but no less delicious.) We used it in a clean-the-fridge-out coconut milk and chickpea curry loosely inspired by Andy Baraghani's recent take on Bon Appetit.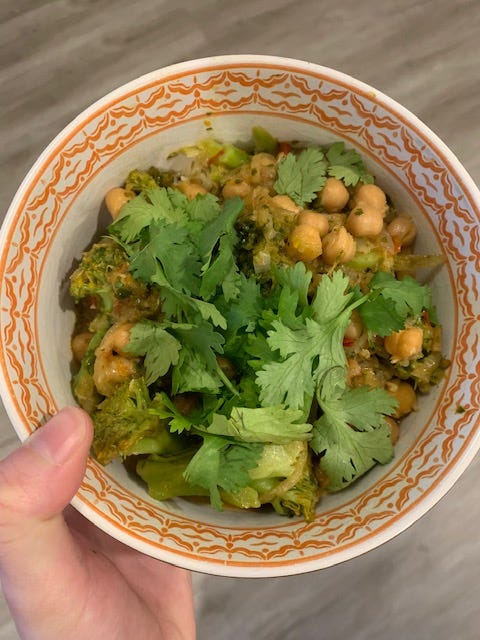 During the off night where I was seasoning my mortar and pestle, I turned my attention to my other recent kitchen acquisition – my Staub cocotte. Last week I acquired a very cute and tiny 2.8lb whole chicken from Root Down Farm and needed a recipe that did not involve roasting it (because I forgot to salt it overnight for crispy skin and I was not about to imperfectly cook a relatively expensive chicken.)  
So I turned to Alison Roman's one-pot chicken with dates and caramelized lemon from Nothing Fancy, which involves braising the chicken in the oven with the aforementioned ingredients plus thyme and lots of Urfa pepper. You are supposed to do this in a 6 quart pot and mine is only 4 quarts, but luckily with the chicken being tiny and all, space was not an issue.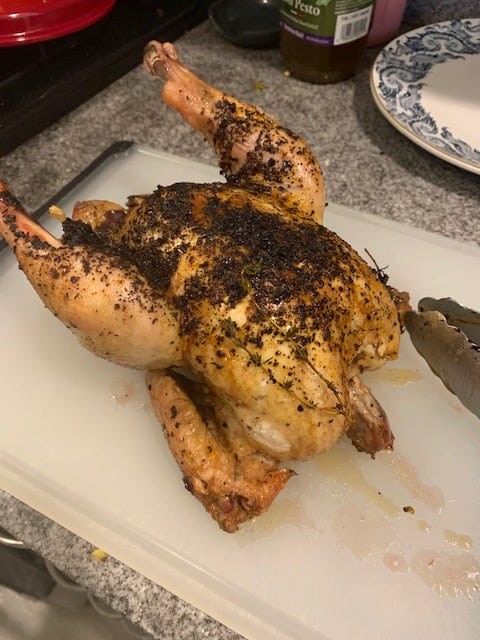 It cooked through much faster than the recipe but I still went through my usual "is my chicken done" crisis, summed up perfectly by this tweet I saw earlier in the week: 
Once I got over myself, however, the chicken was ridiculously juicy and delicious, made even better by the date-lemon-chicken fat situation left at the bottom of the pot, which we drizzled over the carved chicken and Joshua McFadden's smashed broccoli and potatoes with lemon and parmagiano. (Another winner from Six Seasons!)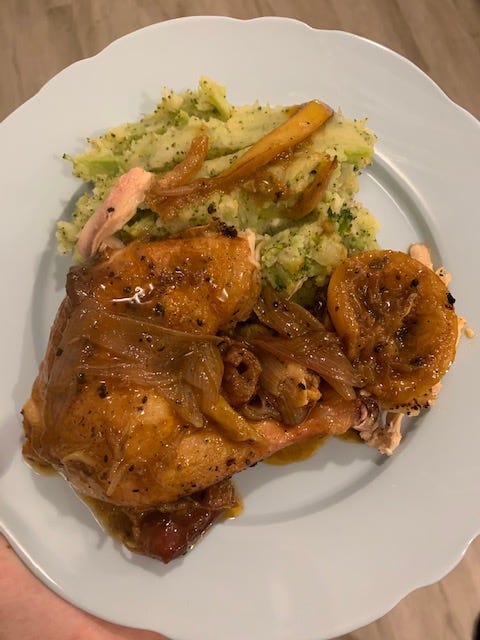 On Friday night I finished off the stray head of cauliflower lingering in the crisper using this recipe for dry pot cauliflower from The Woks of Life. I used bacon instead of the pork belly and was missing a few ingredients (Shaoxing wine, white pepper and oyster sauce, boo) but even so, it was phenomenal - fatty, flavorful and a little bit spicy. I'm really glad to now have a recipe for cauliflower that doesn't just involve drenching it in dairy to make it delicious!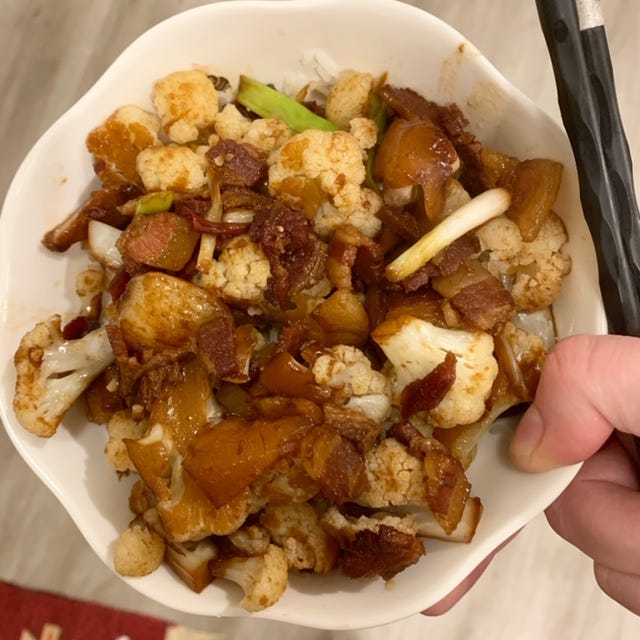 I'm getting into a familiar baking rhythm: buy fresh fruit at the farmer's market or grocery store on Sunday, turn it into a baked good later in the week. Last week I got my hands on some truly amazing, super sweet blackberries and was feeling a little too lazy to make pie crust, so we turned it into Smitten Kitchen's Magic Cobbler instead and when served warm with ice cream, it did the job. (If you haven't tried this cobbler, it takes less than 15 minutes of prep time and is seriously good.)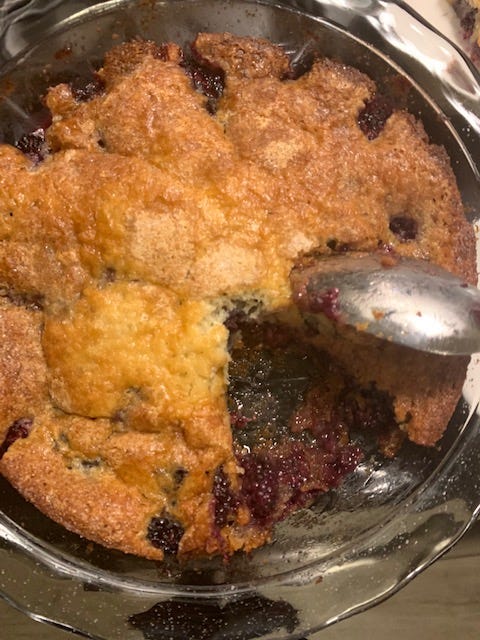 This week the fruit of choice is two pounds of cherries from Gotelli Farms; I definitely want to revert back to pie crust for these, but haven't decided if it's going to be a traditional pie or hand pies or a galette or what. I also impulse-bought a truly enormous two-and-a-half-pound bone in ribeye steak (this is what happens when you have zero spatial awareness and the butcher asks you to indicate how big a piece you want.)
That steak is currently salted and peppered and hanging out on a rack in the fridge, ready to be reverse seared and served with smashed potatoes. I've got eggplant in the crisper, lots of grated zucchini waiting to get turned into mücver (Turkish zucchini pancakes) and I finally got my hands on a bag of green lentils, hurray!
I originally wanted to use them to make Daniel Gritzer's new spiced lentil stew, but that involves a whole poached chicken and alas, Root Down Farm was all out. I'm hoping to console myself with a big pot of my grandmother's amazing sausage and lentil stew, which usually uses Kielbasa - I'm going to try it with linguiça (a Portuguese smoked sausage) that I found at Costco. Watch this space!
---
That's all for now folks. See you next week - and in the meantime, say hi on Twitter or Instagram!