Discover more from Aleka Gürel
Semi-regular recipe & reading inspiration, plus the occasional health policy thought.
On simple pleasures
Plus ricotta gnocchi, herbs galore, and thoughts on what makes a good cook
If you like to cook and you've been watching any YouTube videos this month, you may been shown Wolfgang Puck's Masterclass ad in which he proclaims that his philosophy of cooking is to "buy the best ingredients and try not to screw them up."
Historically, I've been a little bit cheap about this kind of thing. (After all, I live in San Francisco, the land of ever-skyrocketing rent and corner shops that sell basic goods at truly huge markups.) But last week, I impulse-bought some rather expensive pasture-raised hot Italian pork sausage from Root Down Farm and used it to make Helen Rosner's Roberto.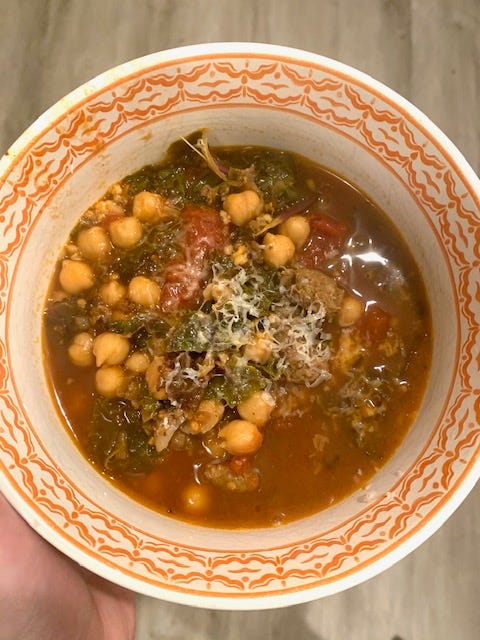 Roberto is a sausage-kale-tomato-bean soup that has a human name and cult status. I've made it before (and wrote about it here) with whatever random sausage I had in the fridge and better than bouillon, but this time I used the fancy pork sausage and homemade chicken stock and it pushed it over the edge from comforting to blissful.  
Is it worth splurging on great ingredients for decidedly un-fancy meals? Maybe not, but let's be real, folks - I'm stuck at home, and simple pleasures are pretty much all I have right now. So I might as well go all out.
Take the ricotta gnocchi I made this week: most certainly not the fanciest of dishes, but I still spent half an hour repeatedly taking the temperature of a pot of curdled milk to get to it. (Pro tip: it takes ages for the temperature of half a gallon of milk to fall. If it gets too hot, turn off the heat entirely rather than just turning down the burner.)  
Other than that, making your own ricotta (or paneer, or farmer's cheese) isn't particularly difficult: you heat milk, curdle it using acid, strain it through cheesecloth, and that's about it. Likewise, making ricotta gnocchi is the adult equivalent of messing around with playdough. You combine ricotta with eggs, flour, and parmesan and roll the resulting dough into longer and longer snakes, which then get chopped up and boiled (and in this case, finished in a really lovely buttery pea and mint sauce.)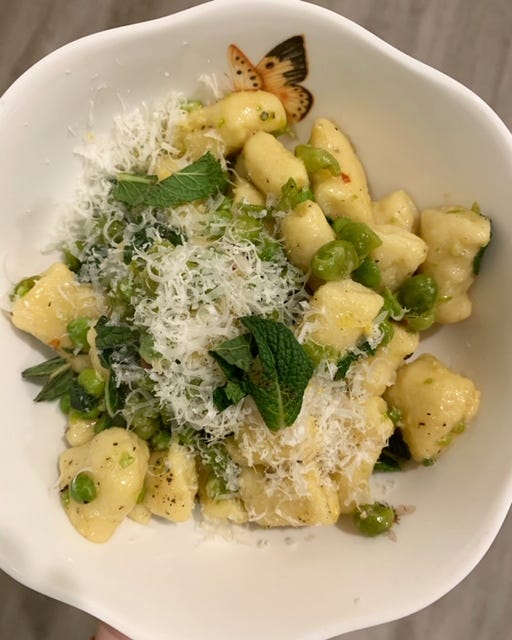 Yet, whenever I make cheese or pasta or other slightly more labor intensive dishes, at least one person reacts on social media with something along the lines of "wow, that's so impressive." I promise you, it's not.
I honestly believe that 90% of pulling together a solid version of whatever dish you choose is mostly as easy as finding a really well tested recipe and actually following it. That means not just clicking whatever's at the top of google search results and instead going to a reputable source – for me that usually means Serious Eats, but also often Bon Appétit, Smitten Kitchen, or one of my favorite cookbooks.  
With Serious Eats in particularly, their recipes are so well tested that I can be fairly confident any screw-ups are entirely my own fault. Yes, following their recipes to a T sometimes requires extra equipment – like an instant-read thermometer or a kitchen scale – but that's a small price to pay to ensure that my hours in the kitchen have a delicious result rather than a disappointing one.  
A few weeks ago, Becca Thimmesch made a compelling case in her newsletter Emeril Hive (which I really enjoy) that cooking from recipes just makes you good at cooking from recipes, and if you really want to develop an intuitive sense for cooking you should probably learn the fundamentals and experiment. I think there's a lot of truth to that, and it's been rattling around my mind these past weeks. Certainly, if I had spent more time riffing and less time studiously following recipes I'd be much more able to fly by the seat of my pants in the kitchen. I've been cooking more or less every day for the past four years and I'm still pretty dependent on other people's ideas about how to approach a dish - though that's slowly changing.
I suppose the "right" approach to this probably depends on what you're shooting for. There's no shame in wanting to be reliably able to pull together a favorite dish, to know that it's going to turn out exactly right every time – especially if you're someone for whom cooking is a task to be completed and not a pleasure in and of itself. And of course, baking is more like chemistry and harder to futz around with. (If you want to be even a mildly serious baker, buy a digital scale already, would you?)  
Anyway – back to our week. Six Seasons continues to be my inspiration for farmer's market produce, and this week prompted me to make the queen of ugly delicious dishes, a cabbage and farro soup. I can tell that other people also thought it was ugly because it provoked basically no response on Instagram or our office cooking slack channel.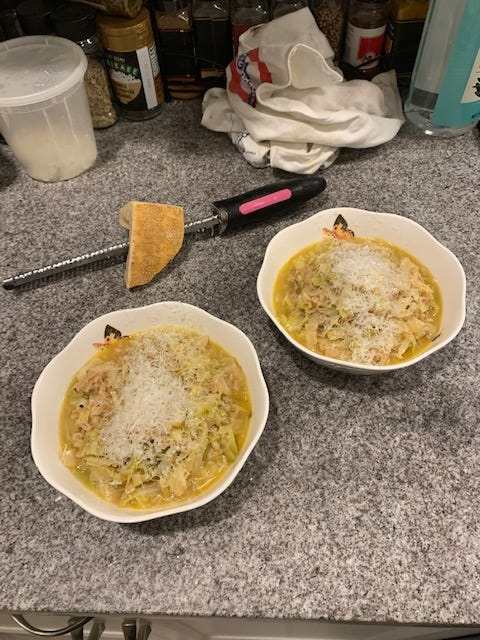 I'm here to tell you that contrary to appearances, cooking cabbage with onions and garlic until it is tender and sweet, adding some acidity in the form of vinegar and lemon juice and bite in the form of farro and topping the whole thing with huge quantities of parmesan yields the sort of dish that makes you immediately want to retreat to your couch and wrap yourself in your fluffiest blanket as you slurp it down. If you don't believe me, maybe you'll believe Deb Perelman from Smitten Kitchen.
On Friday night we got some pretty delicious sashimi and grilled eel bowls from Doma Sushi, conveniently three blocks away, watched three episodes of The West Wing, then capped the night off with a blueberry galette, made with the rest of the pie crust I froze last week.
In the last edition of this newsletter, I alluded to going through tons of recipes for pies before settling that Alison Roman tart; mostly, it's because I don't have tapioca starch, which is Stella Parks' preferred thickener (is that a word?) and I needed something that would work with cornstarch or without thickener (I'm rolling with it) at all. Going back to the thing about baking being a science, this is relevant because different starches thicken at different temperatures, so you cannot just randomly swap them.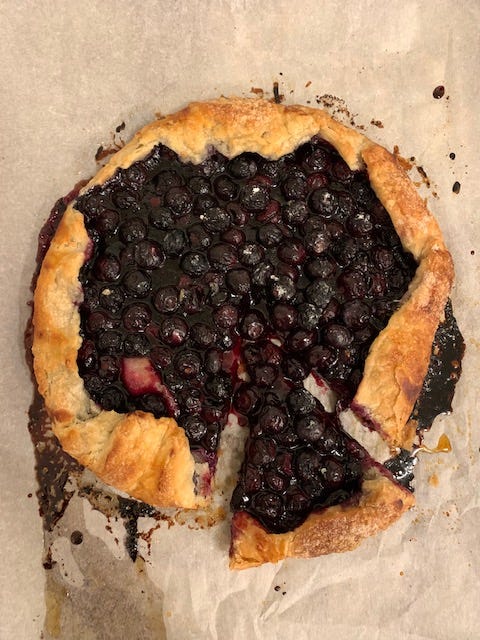 This week, I took the same approach before settling on Bon Appétit's blueberry galette, which worked like a charm. I did, however, keep Alison's trick of washing the dough with buttermilk, so hey, maybe I am learning to riff. Sam liked it even more than the apple version, so I picked up some blackberries during my weekly shopping trip today. They might go into more pie, maybe into my favorite cobbler - we'll see.
On Saturday morning, I used up the heavy cream sitting in the fridge by revisiting one of the first Stella Parks recipes I fell in love with: her bakery style cream scones with milk chocolate. These are so easy and fast that I once managed to pull together the dough and have them halfway baked in the time it took a friend of mine to walk a mile from the 4th St Caltrain station to our old apartment on Rincon Hill. The dough freezes really well, so I packed up four of them for a rainy day and just baked off two for our weekend coffee snacks.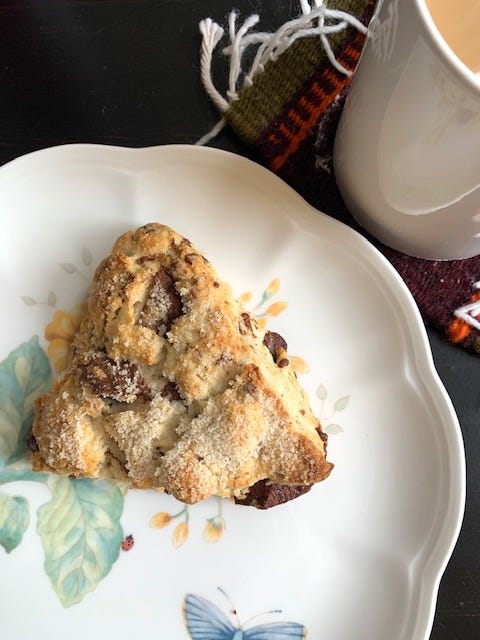 Those of you who follow me on Instagram will know that this farmer's market trip was a particularly exciting one, because it's herb day!! Today's haul included holy basil (which I'm going to use for Kenji Lopez-Alt's Thai basil beef), regular basil (for Dan Gritzer's mortar-and-pestle pesto), okra, fresh rosemary, thyme and sage, plus moringa leaves, which I have no idea what to do with but thought sounded interesting. If any of you have recipe suggestions, please send them my way.
I'm also rolling in Chinese broccoli and cauliflower, more cilantro, and copious quantities of ong choy (water spinach) which will lend themselves to lots of fun experiments. I've got a pound of fresh chorizo in the fridge that I might use for chickpea hash, and lots of snap peas left over from last week's trip which I'm hoping to turn into the pasta alla gricia with slivered snap peas from Six Seasons. 
I still don't know how to use up all the dill in my crisper; maybe I'll turn it into a herby aioli (also from Six Seasons) and use that as a dipping sauce for some battered and fried vegetables. There's a very small, beautiful chicken from Root Down Farm in my fridge that's begging to be salted overnight and blow dried (yes, seriously) and roasted with lots of little potatoes. This week is full of culinary possibility.
If any of that optimism makes it out beyond the kitchen, I'll be in good shape.
---
That's all for now, folks. See you next week, and in the meantime, feedback and thoughts are always welcome via Twitter, Instagram, or comments on this post.