Hi there, friends. It's been a while!  
To offer a brief explanation for why I've been absent: Memorial Day weekend in San Francisco was really hot and I was tired and couldn't find the energy to write. And then the following week, George Floyd was murdered, and talking about my day-to-day cooking felt wildly inappropriate and distracting from the conversations happening nationally about racism and police violence.  
The intervening months have been a time for introspection, and one thing that's become abundantly clear to me in recent weeks is that there's been a massive blind spot in any efforts I've made to listen to Black voices and support Black creators. Namely this: I've cooked over 90 new recipes so far this year and not a single one was created by a Black chef.
That's shameful, but once I took stock of where I get my recipes, not too surprising. I've talked a lot in this newsletter about my reliance on publications with test kitchens, like Serious Eats and Bon Appétit, which have no Black creators among their editors. Bon Appétit in particular has been exposed as a prime example of the forces that create such a situation: namely systemic racism at Condé Nast, not to mention outwardly racist behavior on the part of now-former BA editor Adam Rapoport and other figures of leadership.
So, what am I doing about it? I've ordered copies of vegan chef, food justice activist (and chef-in residence at SF MOAD!) Bryant Terry's Vegetable Kingdom; Bryan Ford's New World Sourdough, which takes sourdough beyond the Tartine-style loaves littering instagram to all kinds of naturally leavened bread; Toni Tipton-Martin's Jubilee, with recipes adapted from her collection of over 400 African American cookbooks dating back to 1827; and Michael W. Twitty's acclaimed The Cooking Gene, a culinary genealogy-slash-historical study of African American foodways. They're waiting for me back in San Francisco, and I couldn't be more excited to dive in.
Meanwhile, I've been Pocket'ing recipes to try out while I'm still out East. If you're a sourdough dabbler and you're not following Bryan Ford on Instagram, fix that ASAP - I can't wait to get my starter going again so I can try his sourdough discard fried chicken and glazed doughnuts. Black Girl Baking author Jerrelle Guy's peach poundcake is top of my list for when I next get my hands on my favorite summer fruit. How about recipe developer and food stylist Yewande Komolafe's green plantains with lemongrass, ginger and caramelized onions? Or Great British Bakeoff contestant Benjamina Ebuehi's vegan chocolate cake with water ganache?
If you haven't done so yet, I'd challenge you to take a look at your own cooking and think about which creators are benefiting from your attention and patronage, and which influences you're missing out on entirely. And just as importantly: which white creators are you propping up and lauding for their "innovative" and un-credited use of ingredients and techniques long used in other culinary traditions? Here's a good piece that personally prompted a lot of thinking for me.
---
As I alluded to earlier, I'm currently on the East Coast: specifically, in a car hurtling down route 87 between Vermont and New Jersey. A number of family circumstances made us feel it was worth some (mitigated via self-isolating on either end) risk to travel out here two weeks ago. We flew JetBlue between SFO and Boston – they were one of two airlines at the time still blocking middle seats – and thankfully mask compliance was, as far as I could tell, 100%. We were able to get drive-through COVID tests (more thoughts on that later) and our results came back negative, and now we're driving down to stay with Sam's parents for a few weeks.
Spending two weeks in my family's house in south-central Vermont made for a comfortable quarantine but came with some culinary challenges: specifically, due to some wiring issues, we had access to one electric burner. Totally workable, but suboptimal for one specific reason: since the last time I wrote an installment of this newsletter, I have become a deep-frying fiend.
It's not like I haven't deep fried in the past; I've told you all about the period of time when I was obsessed with Kenji's 5-ingredient chicken sandwich, and I've made doughnuts on a few occasions. But I am now somebody who is comfortable spontaneously deep frying things during my lunch break, and who after two weeks with an electric burner, briefly considered purchasing a cheap deep fryer for the remainder of our stay.
What caused the change? As usual, it's all Joshua McFadden's influence. My already well-loved copy of Six Seasons includes a number of recipes that call for deep frying vegetables, and the first that caught my eye was his deep fried cauliflower with spicy fish-sauce sauce.
It could not be easier: you make a dressing of fish sauce, vinegar, a little sugar and garlic, and enough chillies that you will risk a coughing fit when you go to wash your cutting board. Then you break a cauliflower into chunky florets and deep-fry them until they are worryingly dark brown. You toss the fried cauliflower with the dressing and lots of chopped garlic and a little olive oil, and it is wildly good. If you are frying hot enough, it won't feel greasy—in fact, the first few times I made this Sam assumed the cauliflower was roasted and I had to burst his bubble.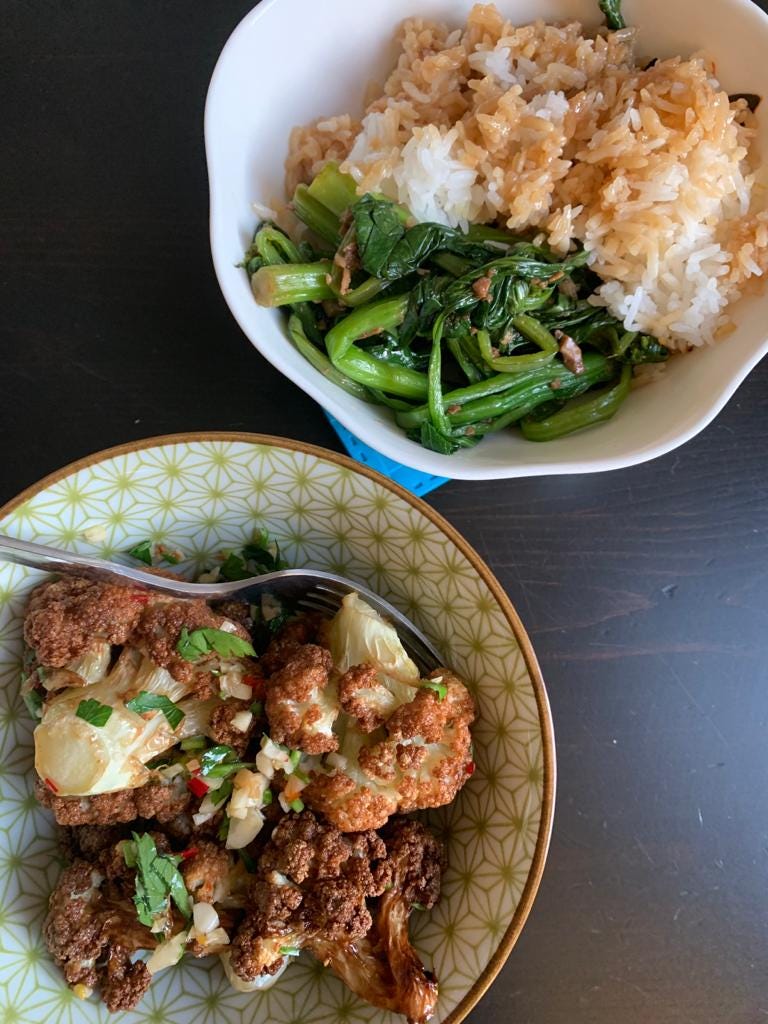 The other deep fried items in Six Seasons rely on a simple batter of cornstarch, flour and soda water that's part of his "toolkit" at the start of the book. We've done snap peas and mushrooms, both great served with homemade mayonnaise blitzed with fresh herbs – but the real standout is his battered and fried cabbage leaves with crispy seeds.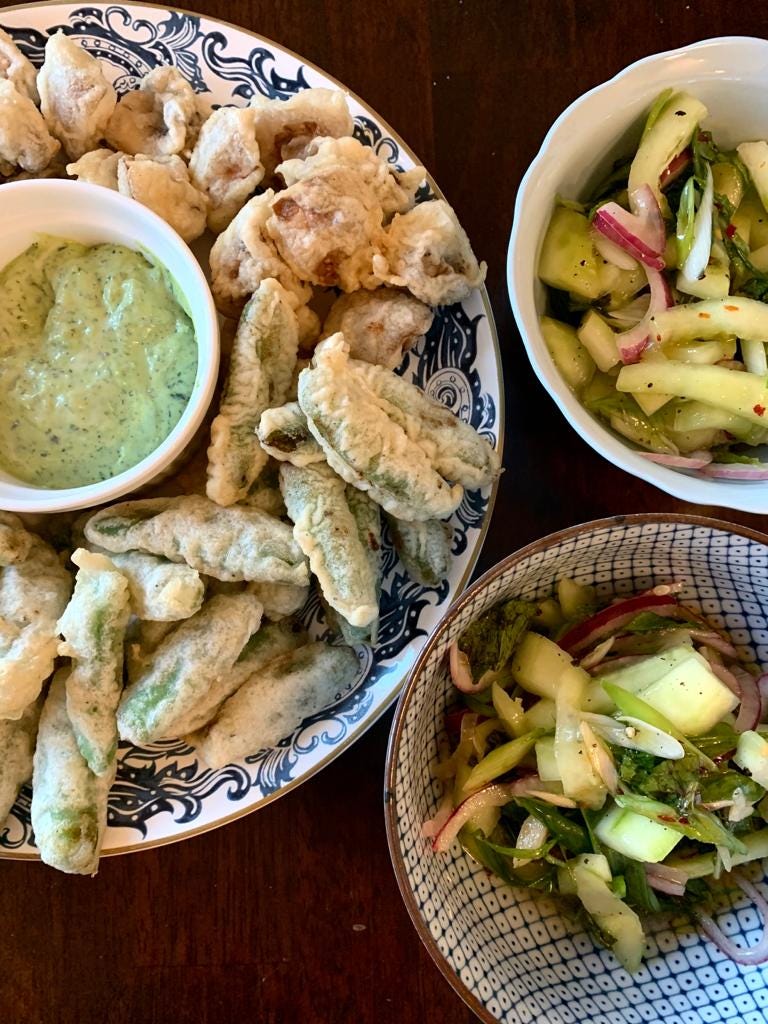 Yes, cabbage leaves! In my case, the "crispy seeds" are fennel, coriander and cumin – I didn't realize you had to store poppy seeds in the fridge so mine were all rancid (boo) and I just bumped up the quantities of the others. It could not be easier, and as long as you're diligent about how you interact with hot oil, you'll be fine. Really. (Maybe wear long sleeves.)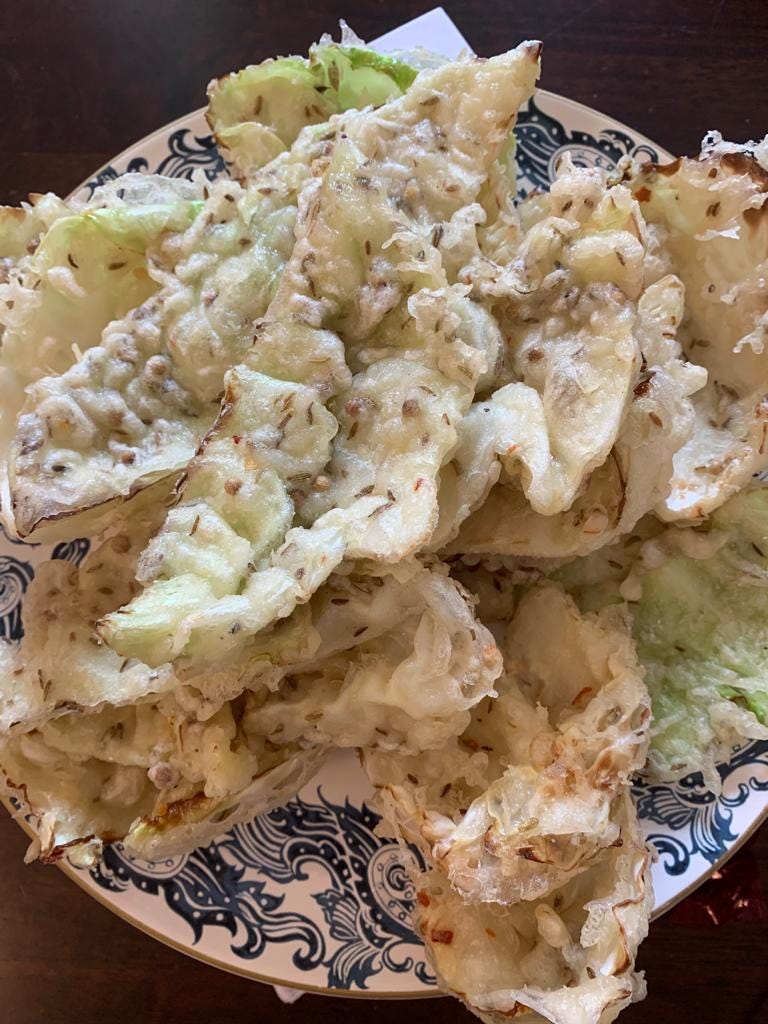 Once I made deep fried cauliflower and cabbage no joke, like five times in two weeks, I was confident enough to try something new. After weeks of waiting for my local market to restock I finally managed to get my hands on chickpea flour (also known as gram flour or besan), which is what you need to make pakoras.
I'd seen Chai Pani chef Meherwan Irani make them on Bon Appétit's instagram highlights a few months ago, and immediately added them to my to-do list. Once I had the flour on hand, it was just a question of what vegetable to use: as Irani explains, they're a great way to transform the half-wilted denizens of your crisper into something transcendent. I chose cabbage, and my sad half-head turned into a giant plate of fried carby goodness. (Side note: if you're not following him on Instagram, I highly recommend it. His cooking tutorials hit the sweet spot of instructive and entertaining.)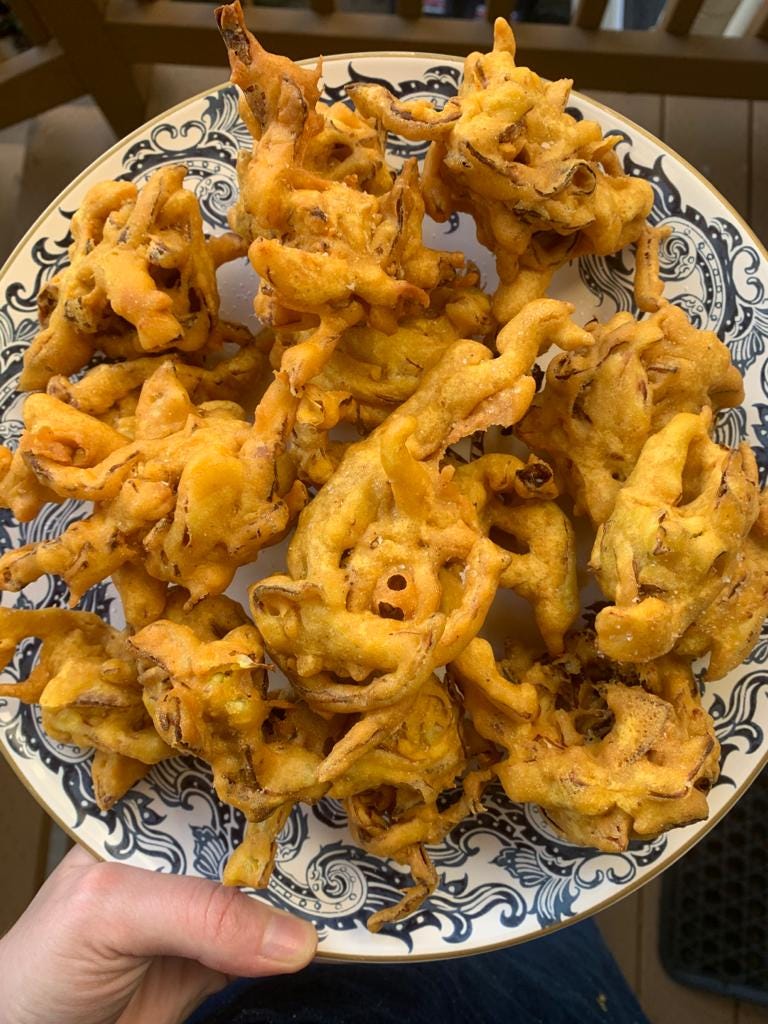 The real annoyances in deep frying are 1) waiting for the oil to heat up to the right temperature, both at first and between batches- this is, alas, very slow on an old electric burner, and as with everything, way more straightforward if you have an instant-read thermometer, and 2) dealing with the oil when you're done. Yes, straining it all into a big glass jar is a little messy, and someday I will cave and just buy a big funnel to streamline the process. You can re-use fry oil a number of times until it gets really broken down, and Kenji López-Alt has a good guide to cleaning it with gelatin to get it to last a little longer, too.
While deep-frying is instant gratification, hot and fast, I've been playing around in recent weeks with braising too. Short ribs are a new favorite cut, seared and simmered for hours in the oven in my little Staub cocotte; right now I'm braising them mostly in tomato sauce, once with harissa and chickpeas, later keeping the vibe more Italian and straightforwardly tomato, with a parsley & lemon zest topping akin to gremolata.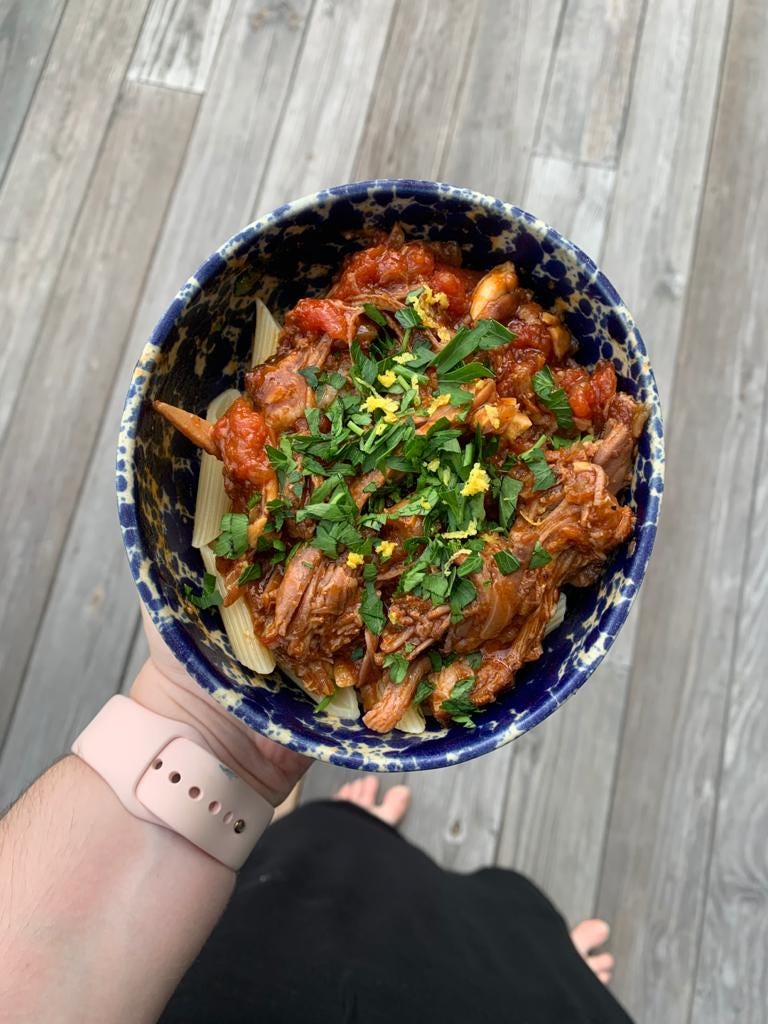 Last night, for our anniversary dinner (7 years!) I rubbed a beautiful Ballerina Farm pork loin roast with salt and sugar and cooked it low and slow until just medium, then blasted it in a hot oven until the fat cap was crisp at the edges. Served with crispy oven-fried potatoes and pork gravy, it was just reminiscent enough of the Sunday roasts we both ate during our years in England to be nostalgic.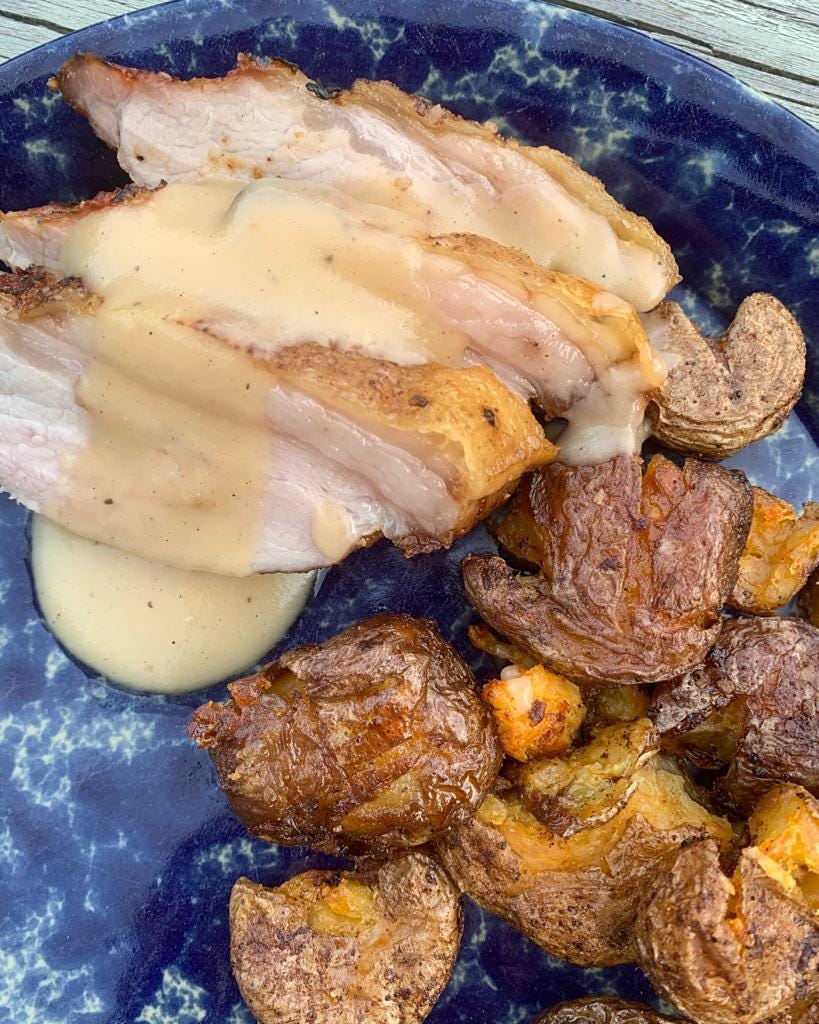 I've also continued my experiments in Turkish cooking. By trial and error, I've gotten a good method together for yesil mercimek yemegi, a green lentil and ground beef stew that is one of my number one childhood comfort foods. Patlican oturtma, a ground beef and eggplant casserole that I eschewed as a kid, is now a house favorite. I've fried up batch after batch of kofte (meatballs) and mucver (zucchini fritters, I leave out the feta) and when we were trying to clear out the fridge and live on pantry items, I turned to an Ozlem's Turkish Table recipe for ezo gelin corbasi, a very spicy lentil and bulgur soup. Pro tip: if you don't have access to Turkish red pepper paste, harissa makes a decent substitute.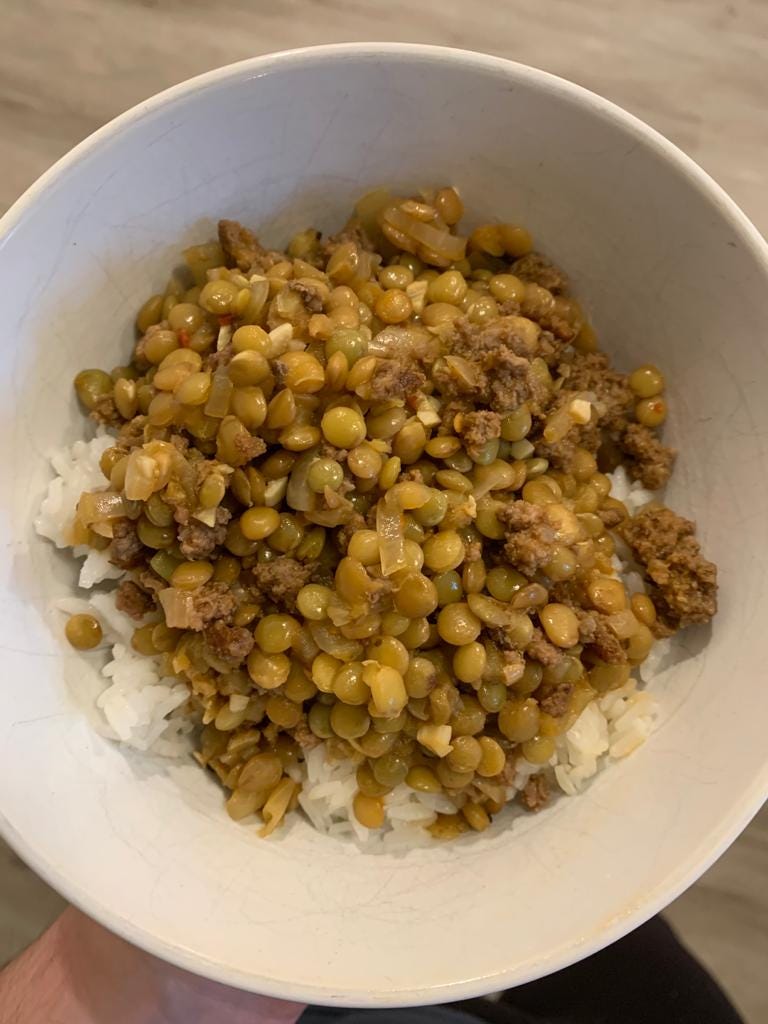 I've realized that the stakes here aren't so low as just learning to make food I like. I've now lived primarily outside of Turkey for eighteen years: fully two-thirds of my life. My vocabulary is mostly frozen at that of a nine year old; I'd still consider myself fluent, but it's obvious to anybody who hears me speak that there's some element of outsider to me.
Wrestling with that on a personal level carries its own set of challenges, but the closer I get to the phase of life where one might think about growing their family, the more I think about what aspects of that heritage any kids I have will inherit. No matter how well they learn to speak the language or how often they get to visit my hometown, these culinary traditions are something I can share with them. And I feel like I'm making up for lost time, teaching myself first before I can pass the knowledge on.
---
Before I wrap, I do want to spend a few minutes talking about healthcare. As I mentioned, we got a drive-through COVID test earlier this week, and I came away thinking it was the most convenient interaction with the healthcare system I've had in years. I got a referral via a video appointment from a local primary care clinic the day before,  drove up and opened the door, a healthcare worker in scuba helmet-esque PAPR stuck the now-infamous swab seemingly most of the way up to my brain – honestly, not fun, but not nearly as bad as I was expecting! – and then we drove away.
We've yet to get a bill, and that's a whole different kettle of fish, but it got me thinking about which COVID-era changes to how healthcare is accessed and administered will persist. A major gripe I have with the status quo in US healthcare is that actually getting to an appointment can be incredibly difficult, especially when 1 in 4 workers — rising to 73% of food prep workers —have no paid sick leave. What do you do if you work 8-6 and your doctor's office is open 9-4? What if you can't afford to take four hours out of your schedule to travel to a far-away provider, as is all too common in many parts of the country? What if every hour you wait for a doctor who's running behind impacts your financial security? It can take months to get care in these circumstances, and many people go without, or rack up huge bills at the emergency room after-hours.
There are ways that you can make things better within our existing healthcare system – Planned Parenthood clinics, for example, are often open late and on Saturdays, and many health systems are experimenting with ride share partnerships to help people quickly get where they need to go. But telemedicine and approaches that allow you to administer care in non-standard locations are also exciting to me.
For example, before we headed out East I realized I was running low on contact lenses and didn't have a valid prescription. Thankfully, my contact lens provider of choice – 1-800 contacts – offers the option to renew your prescription through a 10-minute online eye exam. You prop your phone up on a ledge, stand 10 feet away and record yourself speaking the letters you see in order, and a doctor signs off on your results. Now, this seems pretty easy to game – after all if there's anything COVID has taught us, it's that we're all really bad at judging a 6-foot distance! – but that feels like a solvable problem, and it was wildly convenient.
One clinic in Austin is already doing drive-through blood testing for patients on blood thinners who need regular monitoring. Last week, a federal judge ruled that patients could be sent medication abortion pills by mail for the duration of the national emergency. And more mundanely, did you all know you can probably get much more than just your flu shot at your local pharmacy? I took a nasty fall while hiking last summer, and came to the conclusion that I probably needed a tetanus shot. Instead of trekking across town thing to urgent care first thing Monday morning and scrambling to snag an appointment, I went online and booked an 8:30am visit at the CVS near my office, and was at work 20 minutes later. Game changing.
Whatever happens in terms of healthcare delivery, I'm keeping my fingers crossed that we'll experience cultural shifts towards mask wearing when we feel sick, mandatory sick leave, and easier remote work. At the end of the day, much of the dysfunction with American health and healthcare isn't even about insurance, or payment, or delivery – it's rooted in our basic assumptions about what we, as a society and individuals, owe one another.
That's all for now, folks! See you next week - and on the meantime, I'd love your thoughts and feedback via Twitter, Instagram or the comments section below.
Big thanks to Anna Perantoni for reading a draft of this post.