Breaking through the overwhelm
Plus The Corona Roast, an adorable farm stand, and chickpeas galore
I'll just say it: this week has been overwhelming. Daily text alerts remind me that the air back in California is unsafe to breathe. My mother and sister just arrived, because my sister starts back at college next week; I feel deeply grateful to be able to see them after so long, but keeping ourselves apart and safe before everybody's gotten negative COVID tests requires logistical effort. And Open Enrollment, the busiest time of my work year in a year that's been much busier than usual, is only 70 days away.
I'm trying to make good on my resolution to celebrate my small wins - or, to quote one of my favorite cookbooks, small victories. So: after two weeks of Yoga with Adriene videos and daily walks, I can easily touch my toes again. My chapter-a-day habit is paying off, and I'm almost done with So you want to talk about race. I've felt lucky on numerous occasions this week to work with folks who are not only incredibly smart and kind, but regularly make me laugh until I can't breathe. And I found the cutest possible source of local produce possible.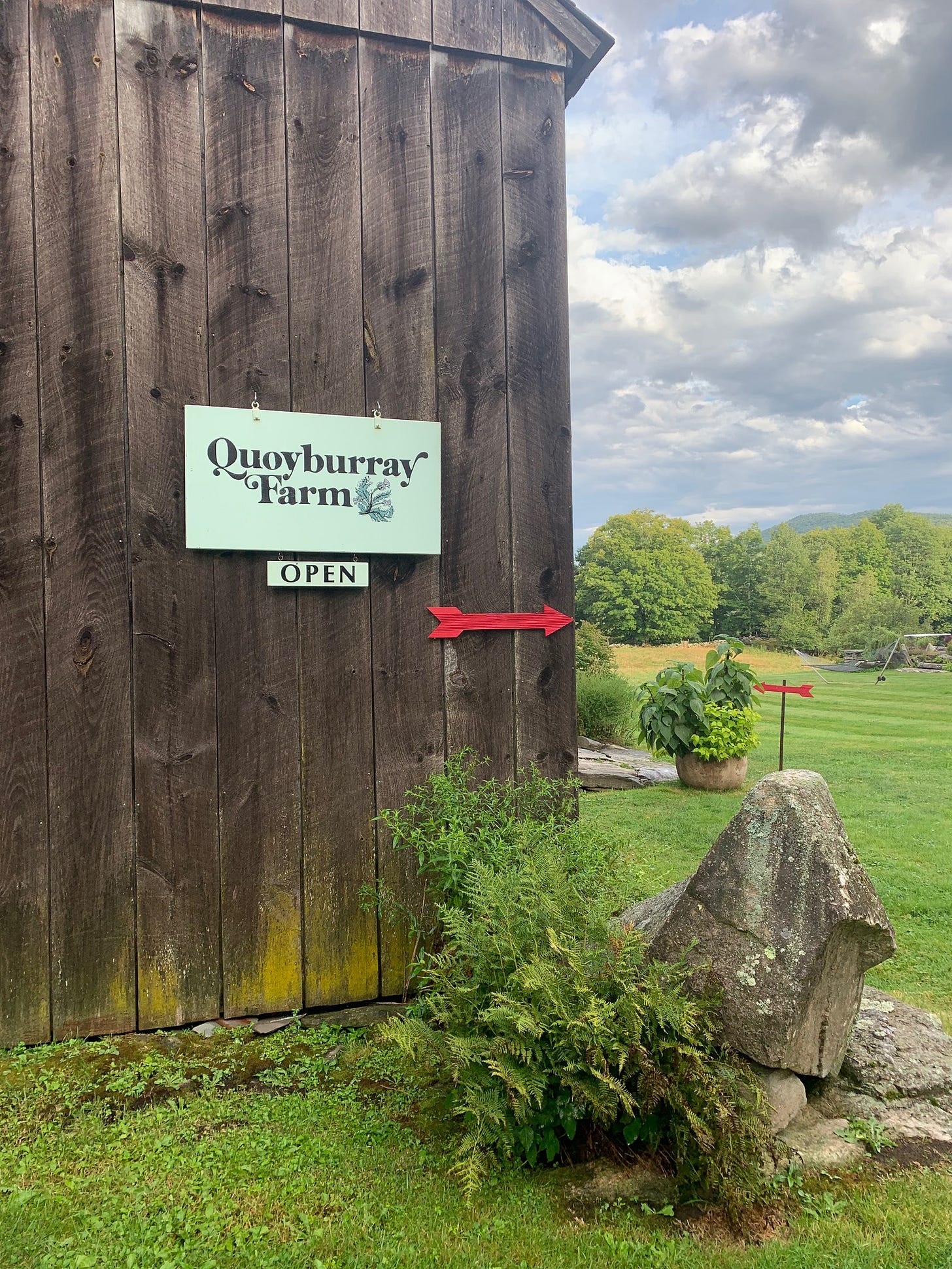 Let me explain. My mom has for weeks been telling me to go check out her friend Carrie's farm stand, and for one reason or another I hadn't done it yet. Then on Friday evening, my grandmother asked me to take her there, so we hopped in the car and drove vaguely in the direction my mom had indicated. And this is what we found.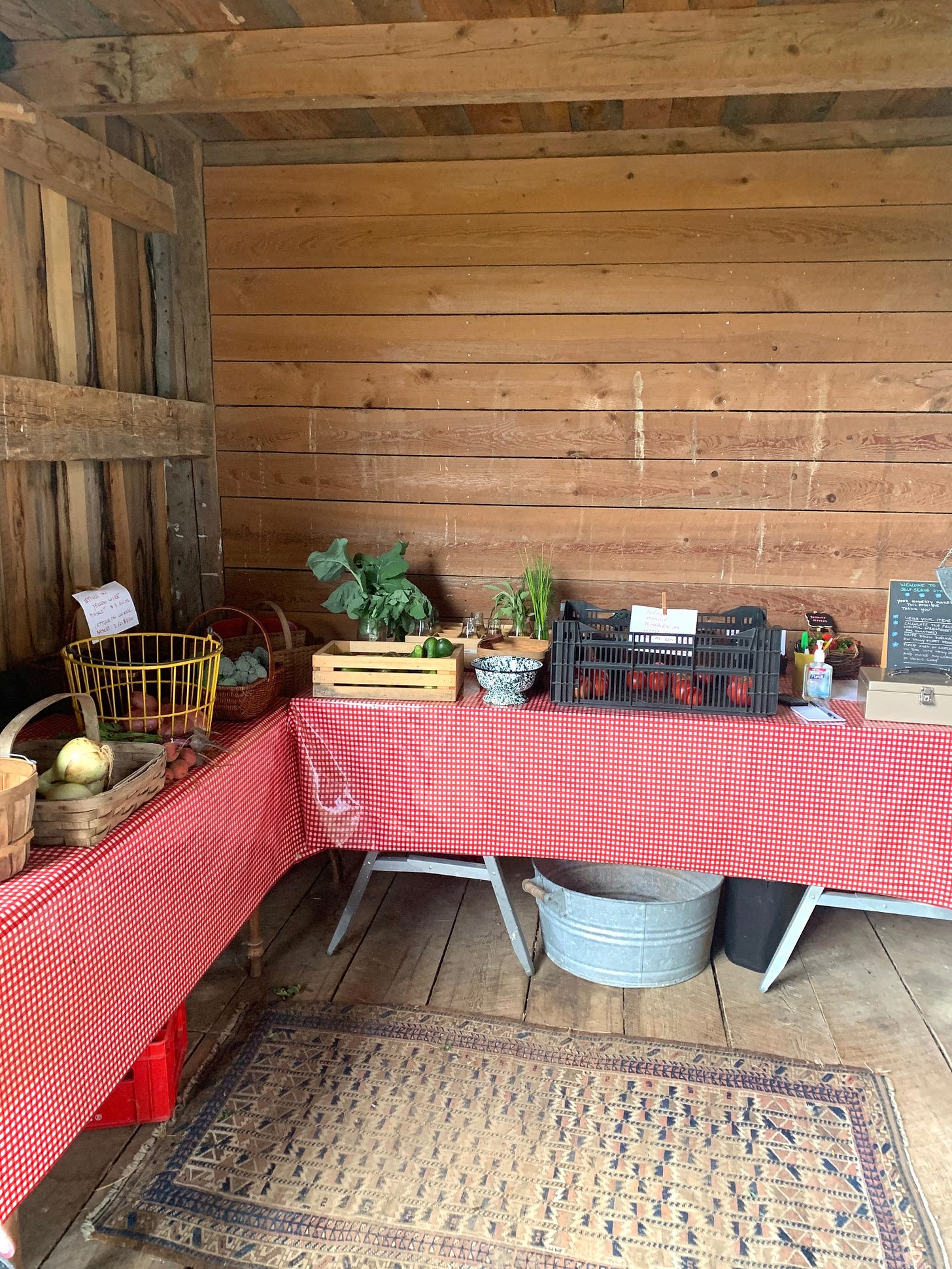 Quoyburray Farm, as it is officially known, sells fresh produce, little bunches of fresh herbs in jars of water, plus lamb cuts and sausages. All of it's available at the farm stand, which operates on the honor system - you weigh your produce, write up the tally sheet, and leave cash or pay by Venmo. Apparently this is quite common in Vermont and I think it's possibly the most charming thing ever. There's even a poem of the day to take a copy of! Plus, the tomatoes we picked up were the best I've had all summer.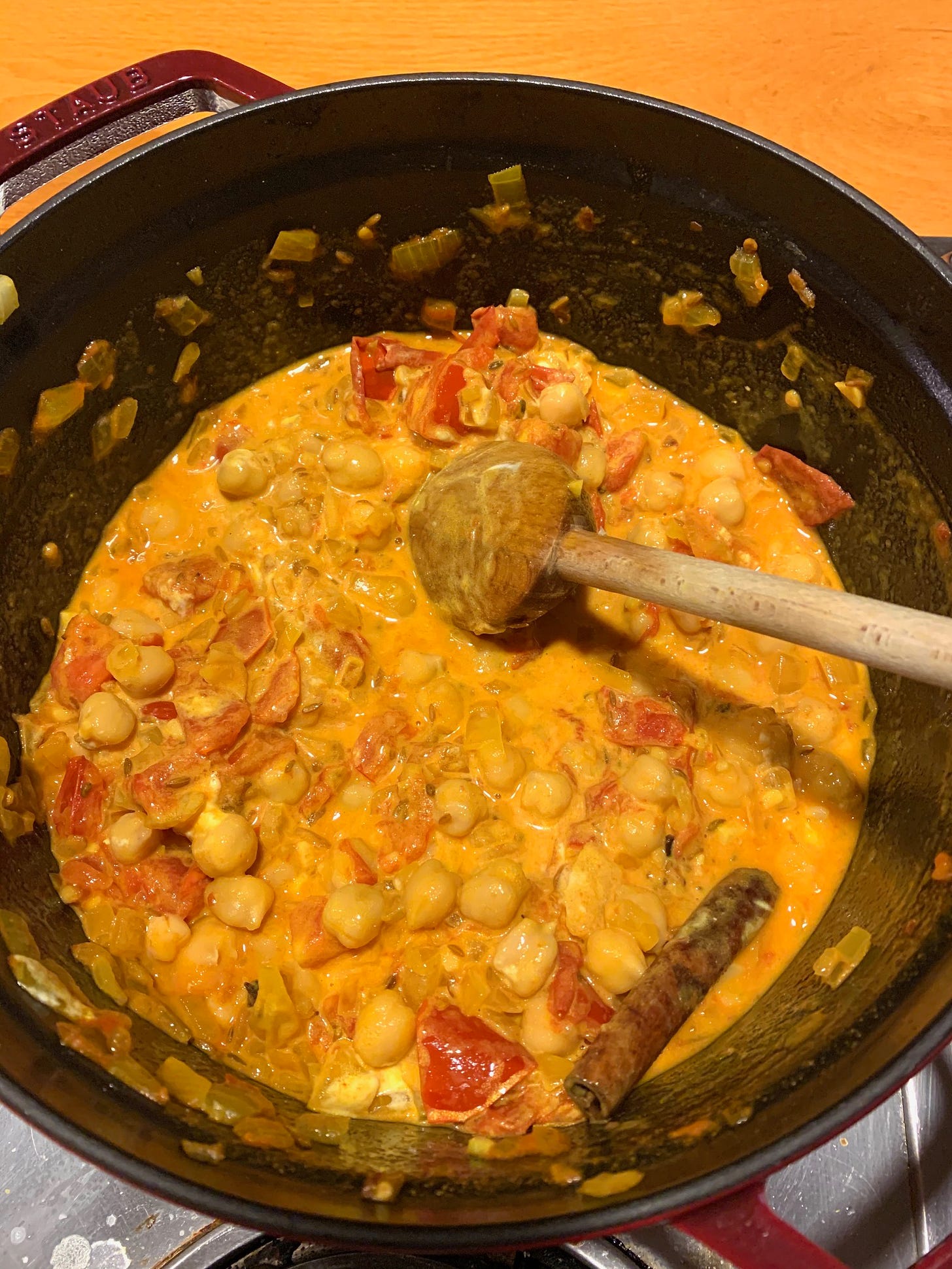 We used three of them to make Priya Krishna's shortcut chhole, an Indian tomato-chickpea stew that's one of my favorite recipes from Indian-ish, full of warm spices and thickened with yogurt. The remaining one went into a batch of Costco Sandwiches™ we made for a socially distanced lunch on Saturday, after the earlier-arriving half of our motley crew made our way down to Rutland to get our day-7-of-quarantine COVID tests.
Alas, a lone tomato cannot feed a family, and so I had to get creative for the other few sandwiches. Earlier in the week we'd made Smitten Kitchen's goat cheese and lemon pasta, which is my go-to zero effort dinner, and that inspired me to whip soft goat cheese with lemon zest, olive oil and I also made good on my intention to use my holy basil to make the Pad Ka Prao I saw on Kenji López-Alt's YouTube feed. It turns out that the recipe comes from Leela Punyaratabandhu, who has authored a number of Thai cookbooks I now have my eye on, and also blogs at SheSimmers.com, where this recipe as also available. It took literally 15 minutes to make and was super flavorful - definitely in my weeknight rotation whenever I can get my hand on holy basil!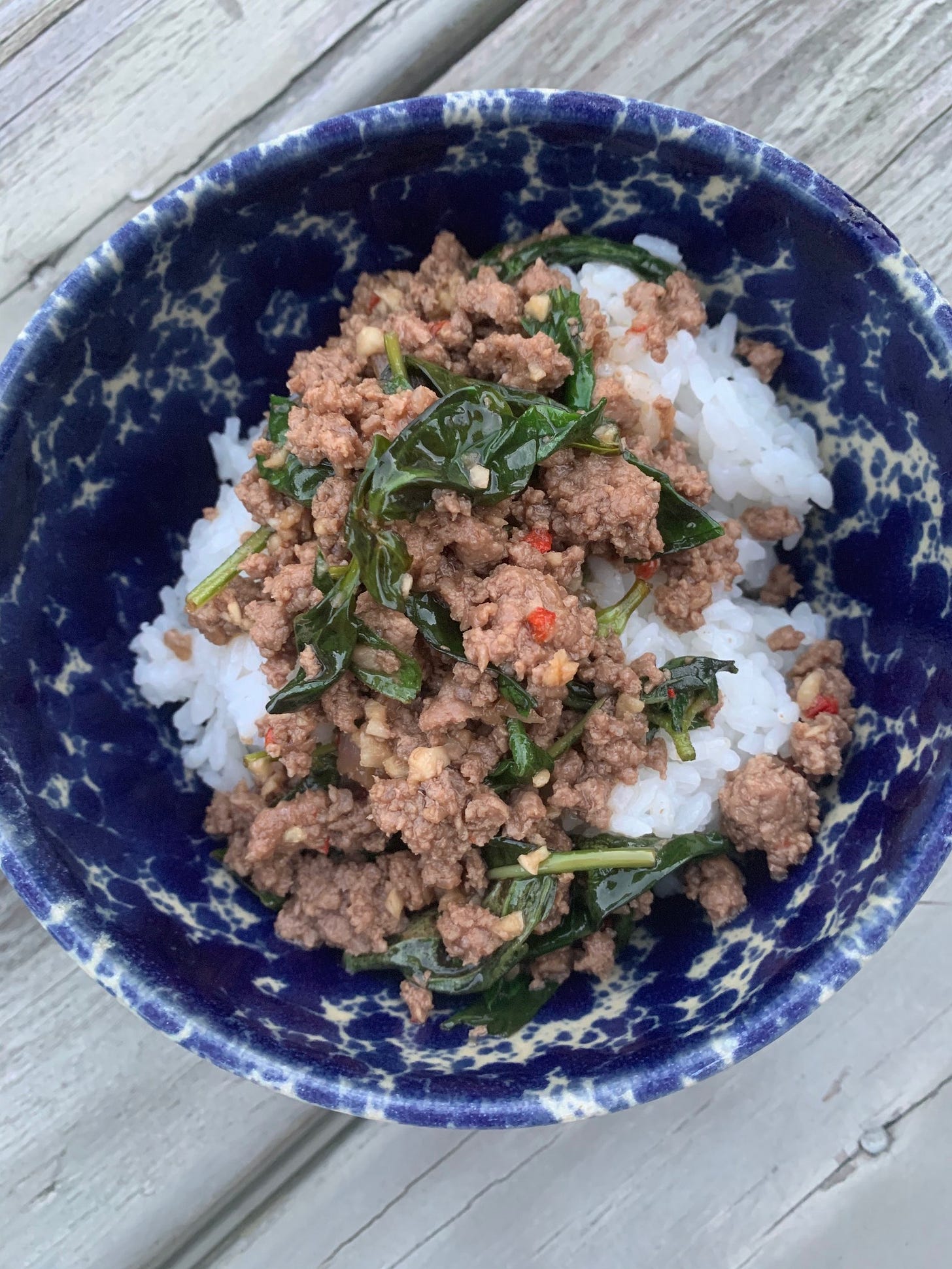 My other weeknight experiment was with a recipe for Sticky Sesame Chickpeas from Eat with Clarity, which I've had Pocket'd for ages, I think after seeing it on Christina Lane's Instagram stories. It was wildly fast and easy and a different spin on chickpeas for me; I'm going to tinker with the sauce to give it a little more oomph.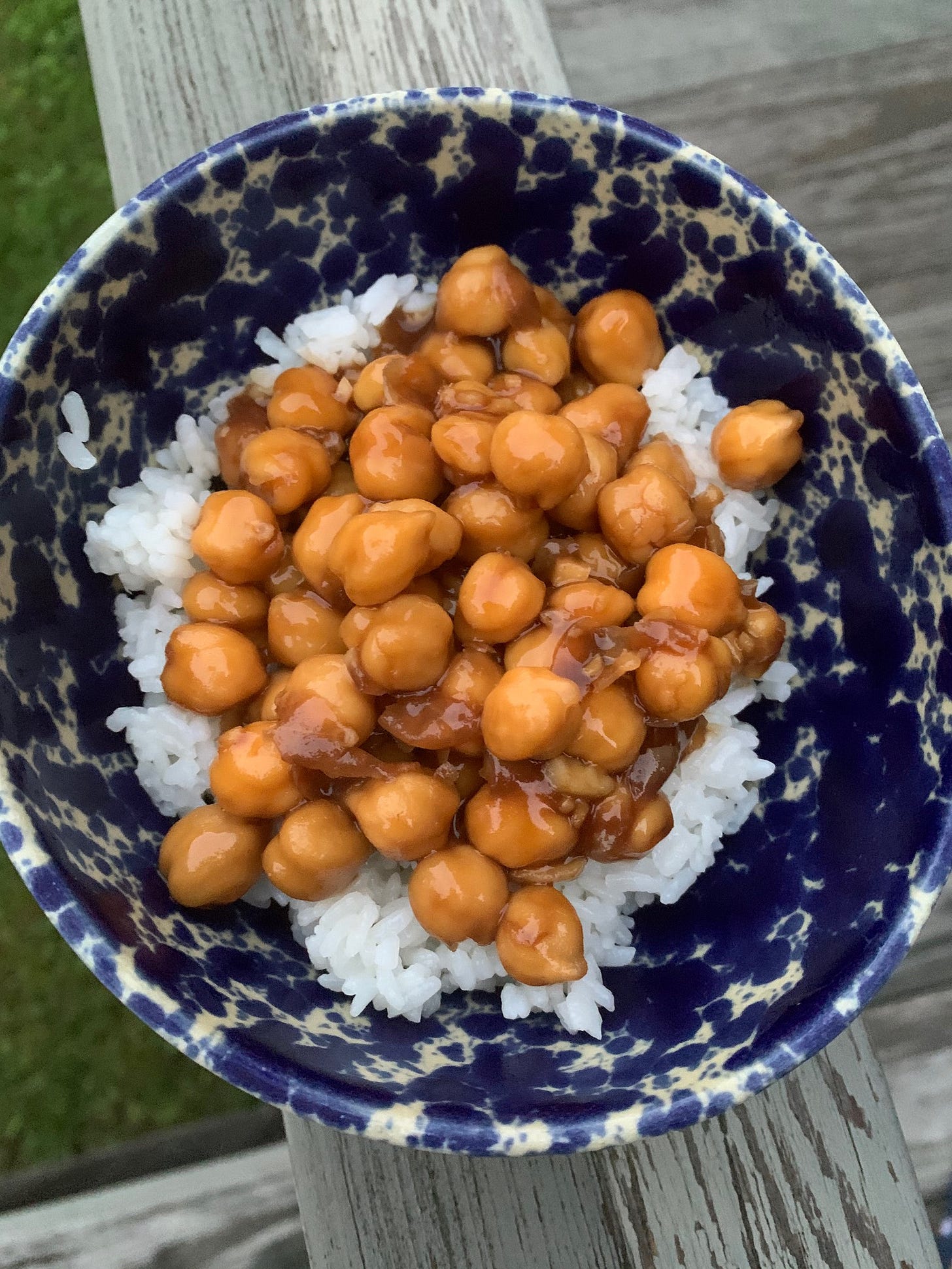 Last Sunday, and again today, I played with a new recipe for Ballerina Farm's pork leg roast that involves braising it with beer and onions. The only beer we had in the house was corona, which naturally led to Sam and Omi gleefully calling it my "corona roast." Pork leg roast is a fairly lean cut which makes keeping it moist somewhat tricky; on the repeat, I dry brined it overnight and cooked it very low and slow just until it hit 140F, which did the trick.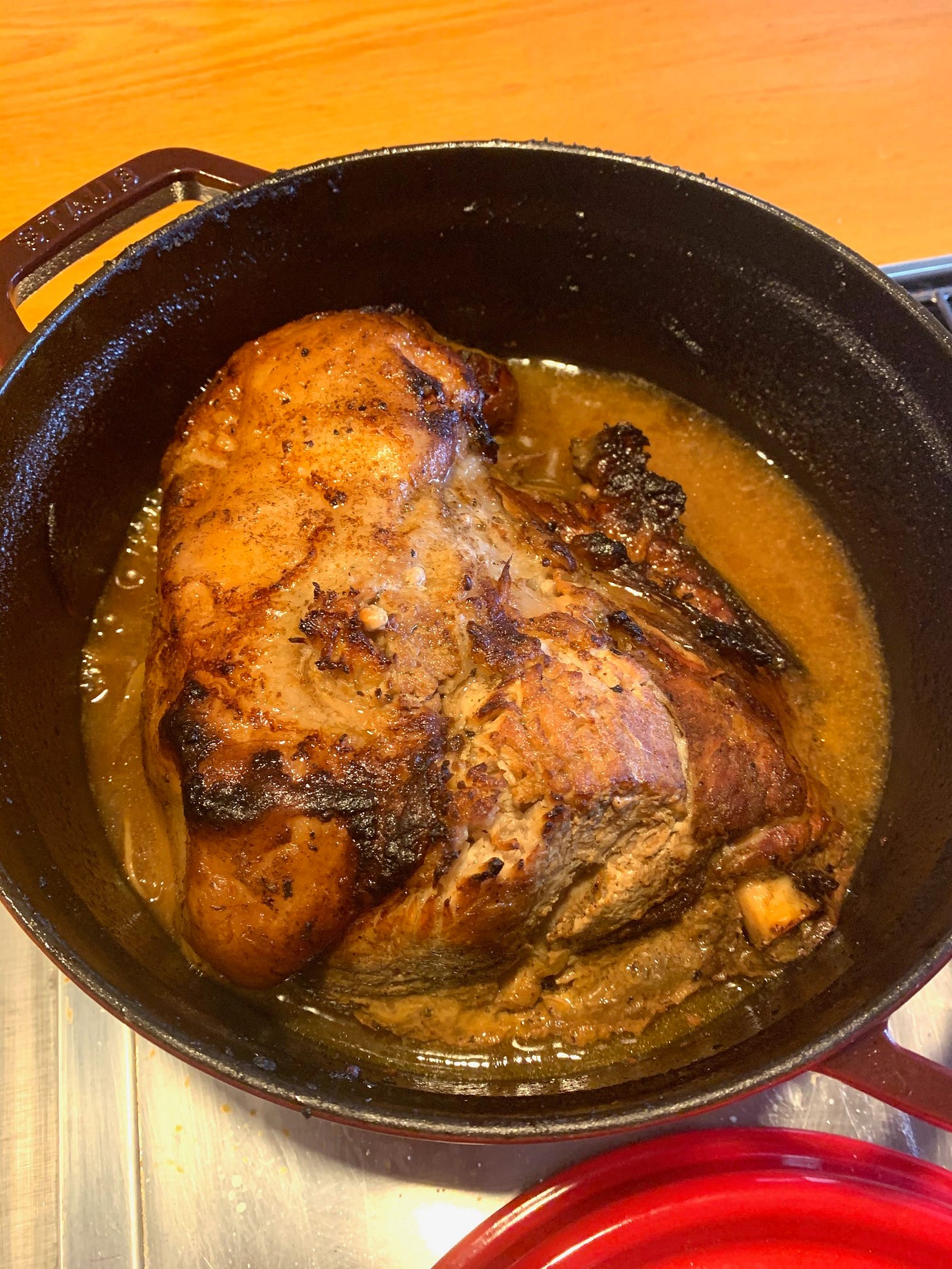 Tonight we served it with coleslaw and green beans from a friend's garden and spaetzle, which Omi taught Sam how to make the traditional way, using a knife to push thin lines of batter into boiling water. The leftovers from last week's corona roast made amazing sandwiches, which I'm very excited to revisit tomorrow.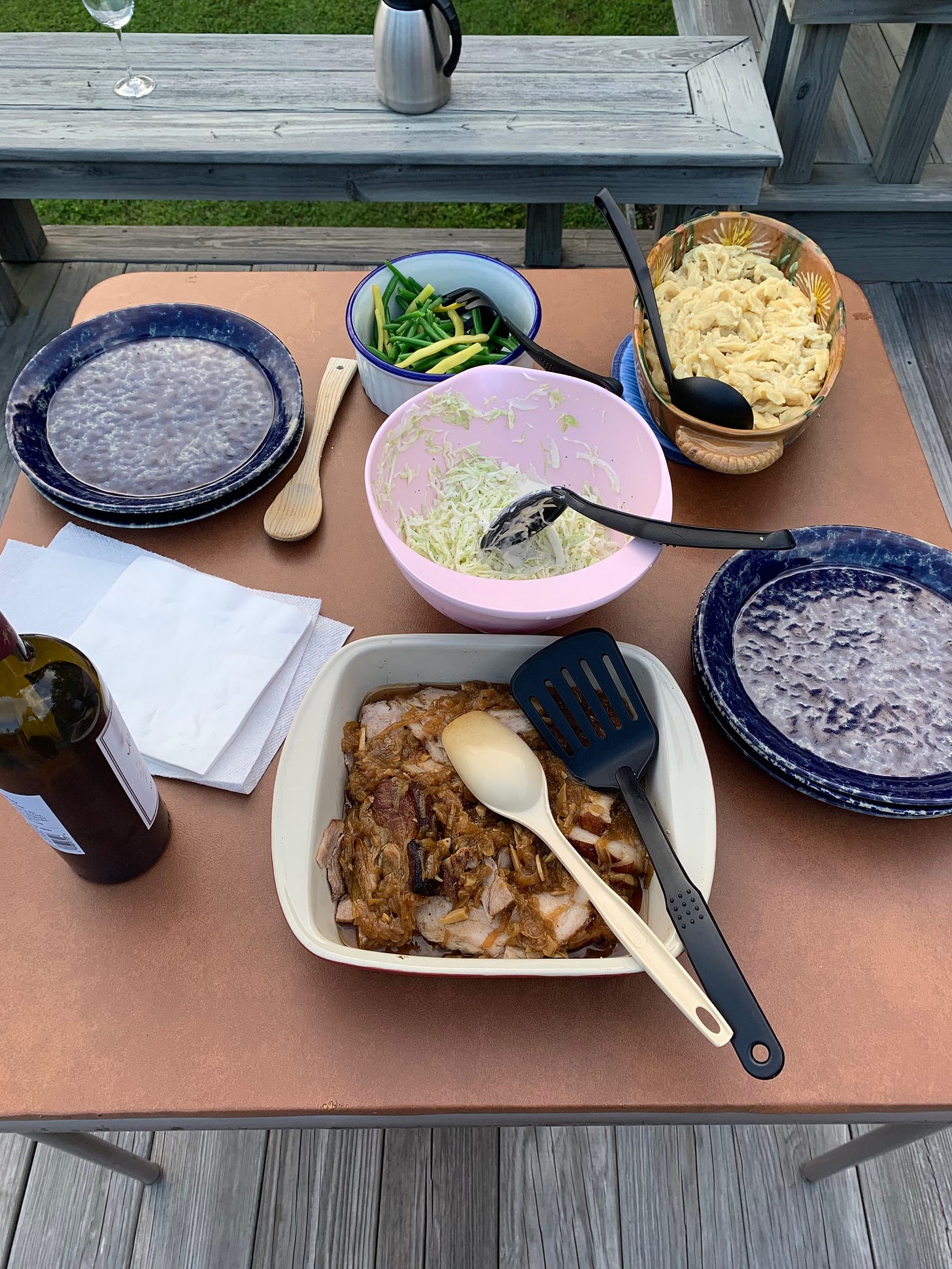 I finally got the chance this week to make Smitten Kitchen's magic cobbler for my family, and it didn't disappoint. We used peaches that were truly on their last legs and it hit the spot— and was even better topped with Wilcox vanilla ice cream, a local Vermont brand that is reliably great. Plus, everything looks more beautiful served in Bennington Potters stoneware. (Let's pretend that serving it in mugs was an artistic choice rather than being due to the fact that we were out of clean bowls.)
There's definitely more pad ka prao in our future, thanks to another delivery of holy basil. I'm also hoping we'll finally fire up the grill for burgers. (Better late than never, right?) Omi has promised to teach me how to make her famous pepper jelly, which is a little hot and delicious served with cream cheese and crackers. But the thing I'm most excited to do when we (hopefully) all get our negative test results back is to drive down to the nearest place that sells Maple Creemees and manufacture myself a guaranteed small victory.
---
That's all for now, folks! I'd love to hear your thoughts in the comments section, or on Twitter or Instagram.